Email of the day on the value/growth ratio
Eoin, congrats for your most recent calls on crypto etc. well done! You were showing a chart re value over growth outperformance and that it could go on a little longer. What in your view is the best way to play it? iShares ETF value long and short iShares growth? Tkx a lot and keep, up your good work! Dani
Thank you for your kind words and the general pattern of outperformance in value is certainly noteworthy. Low interest rates favour growth at the expense of value because expectations for future potential are stretched to the point of incredulity the longer an easy money regime persists. When interest rates change direction the enthusiastic outlook for valuations is harder to justify and the relative attraction of reliable earnings is burnished.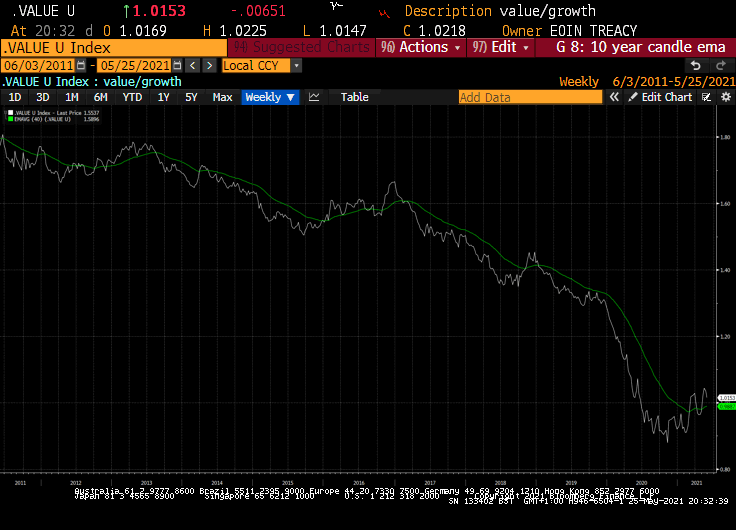 The ratio I depict in my videos is a simple reflection of this relationship. I divide the Vanguard Value ETF (VTV) by the Schwab Large Cap Growth Fund (SCHG). Buying the first in equal size to a short of the second would be the best way to mimic the performance of the ratio.
The broader perspective is that European, Emerging Europe, Asian, Australian, Emerging Asia and commodity exporting markets are breaking on the upside. They are now playing catch up with Wall Street, particularly as the Dollar makes Ex-US more attractive. The other way of thinking of this trend is none of those markets have weighting in the broader FANG sector of mega-caps. Rather than ex-US, perhaps the play is ex-FANG as a recipe for outperformance.
Back to top