Email of the day on the gold/gold miners' ratio:
Thank you very much for your excellent analysis of the precious metals on Friday's video. If possible, can you please also comment on the gold/gdx ratio in one of your future videos and/or comment of the day. As always thanks very much for your excellent service.
Thank you for your kind words and I am delighted you enjoyed the Big Picture video. It's been a big month for gold and gold shares but the relationship between the two deserves a special mention.
I prefer to look at the ratio the other way around and I use the Gold BUGS Index because it has a more back history.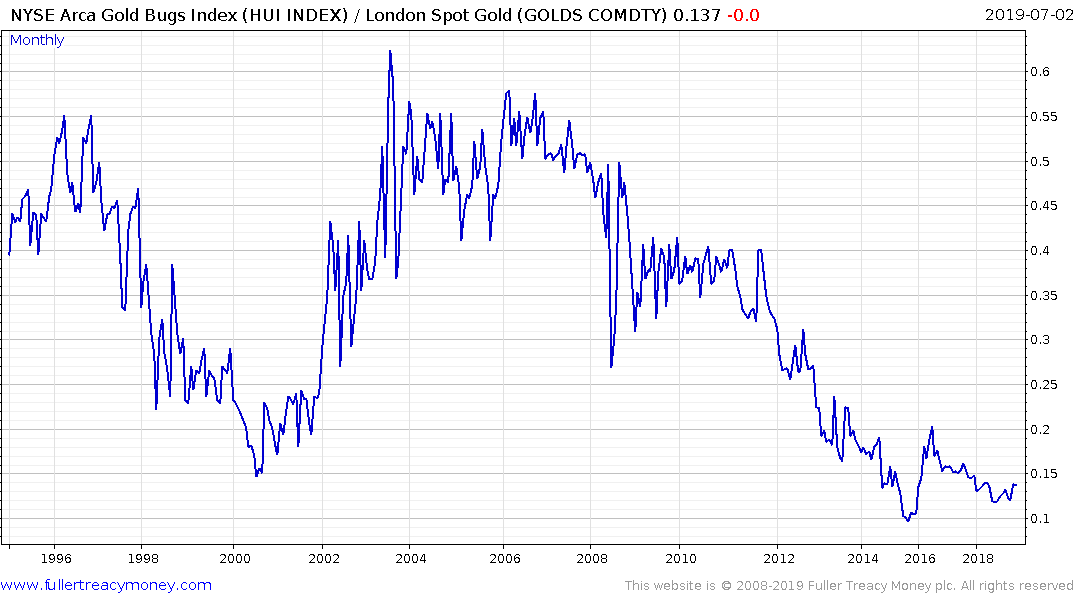 Gold shares massively outperformed in the early part of the last bull market. They had a lot of leverage to the gold price because they had not been able to invest in new supply for years and were running very tight operations. The focus was on survival rather than expansion. As profits rose and confidence improved the majority of gold miners went on a spending spree in an effort to replace depleted reserves. That erased their free cash flow and loaded their balance sheets with debt. Gold miners' performance relative to gold peaked in 2003 and investors moved on to ETFs and leveraged products.
The downtrend for gold prices from 2011 was disastrous for gold miners and the ratio trended downwards to post new lows by late 2015. That represented a painful process of rationalisation for the mining sector, with many expansion plans being shelved. With the nominal price of gold finding support in 2016 miners popped back to outperformance for the first time in more than a decade.
This is the point in the cycle when we can expect miners to offer leverage to the gold price. They are still shy about spending on expansion and banks won't lend them the money even if they were. As long as M&A activity predominates the supply situation will remain relatively unchanged. It is when big spending plans appear for new greenfield projects that investors need to be particularly wary.
The ratio rallied over the last month to break the more than yearlong sequence of lower rally highs. That suggests a period of miner outperformance is beginning again.
Back to top