Email of the day on the first trillion-dollar company:
Apple market capitalization now is $950 billion and it seems, this time it may be able to hit $1 trillion in the foreseeable future. The stock seems to have broken up out of a six-month range and it has to rise just about 5% to reach $203.45 which will give it $1 trillion capitalization. (Though, Financial Times notes that "pinpointing the moment when Apple will officially become the first trillion-dollar public company is trickier than it may seem, largely because of the company's mammoth stock buyback programme." $203.45 is based on Apple's latest official share count given in its quarterly filing on April 20.)

What do you think of this? I also attach recent FT article about Apple business, just in case you find it interesting.

And thank you once again for your valuable service.
Here is the link to the FT article referenced above.
Thank you for this question which may also be of interest to subscribers. Before I got a Global Entry card, when I went through passport control on the way back into the US, the border control agent would ask why I was awarded an EB-1 visa and I would tell them because I am a global strategist. Coming back from Ireland in April, the agent said "Oh really, which company do you think is going to get to a market cap of $1 billion first; Apple or Amazon?"
I was intrigued by the question, since it was a reflection of just how pervasive it has become. At the time my answer was Amazon because smartphone sales look like they are peaking and Amazon has more business lines. That is now looking like the wrong answer.
I am also struck by the almost schizophrenic nature of the stock market since the February peak. More than a few subscribers were expressing anxiety at the historically high levels of the CAPE when the market was close to the MA and in the last couple of days the tone of emails has been more ebullient as we think about the potential for more upside and the first trillion-dollar company. It's easy to think that $1 trillion is only a number but it's going to be a decision point for a good many investors where they reassess their positions.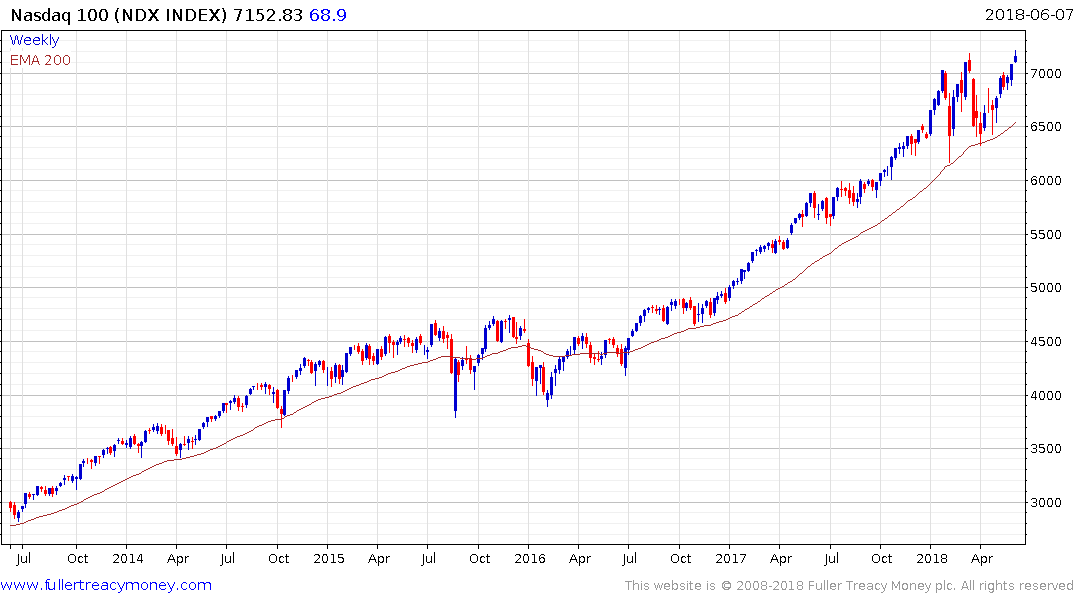 The Nasdaq-100 hit a new high yesterday and pulled back by about 1% today suggesting at least some consolidation of the short-term overbought condition is now underway.
Back to top