Email of the day on The Chart Seminar and crypto-proxies
A very interesting commentary Eoin and thank you for all of your wisdom during these very trying times.

I have been watching crypto price action very carefully over the past 8 months and can fully comprehend the attractions as an alternative to fiat money and even gold.

However, like many investors I am very reluctant to purchase into crypto given the lack of regulation and the past references to the dark and unsavoury investors in Bitcoin and other cryptos. I think you expressed similar reservations in last Friday's video or comment of the day.

I therefore decided upon another way to access this opportunity with improved protections and less smoke and mirrors. I purchased in May shares in Argo Blockchain (ARB.L) a quoted company on the London market. They are Bitcoin miners and as you would imagine there has been a strong correlation between their share price and the Bitcoin price action.

I am mindful to either take some profits or open a trading position if we see acceleration as part of a Santa Claus rally.

Finally, I hope that all the positive vaccination news will enable you to go back on the road with the Chart Seminar later in 2021. It's been far too many years since I last attended in London and it will be a retirement present to myself to attend the first London date post Covid. Any up to date thoughts on the subject will be much appreciated.
Thank you for your kinds and this email which may be of interest to the Collective. I can confirm I looking forward to getting back on the road with the 52nd year of The Chart Seminar in 2021. To be on the safe side, it will probably be in the second half of the year.
I looked into holding online seminars but we did not have enough interest and the geographical dispersion of potential attendees made it unworkable. I have done online courses for select clients in the past. They do not offer even close to the same experience of working through problems in the market as a personal social setting.
Bitcoin miners are a viable way to play a bull market in cryptocurrencies. Bitmain, the world's largest producer of bitcoin mining rigs, filed for an IPO at the beginning at the end of 2018 but it was scuppered by infighting. The price they could get for the share is probably a lot higher now than it was 12 months ago.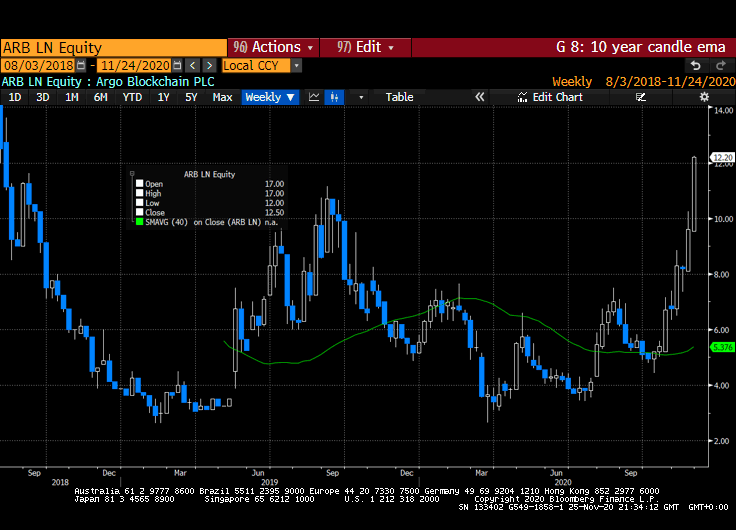 Argo Blockchain is a single stock way to play the trend for UK investors. It has a market cap of £28 million so there is likely to be more difficulty selling than buying when the time comes.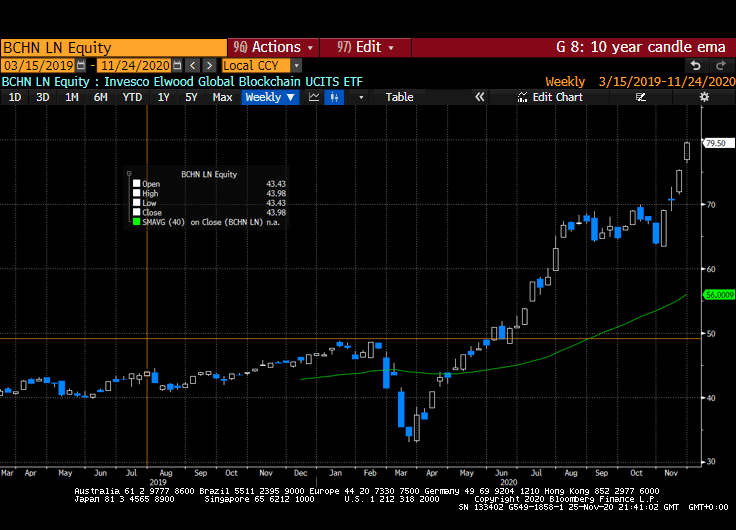 The Invesco Elwood Global Blockchain UCITS ETF is a UK listed ETF with a market cap of £330 million. It invests in companies that benefit from demand for cryptocurrency mining equipment.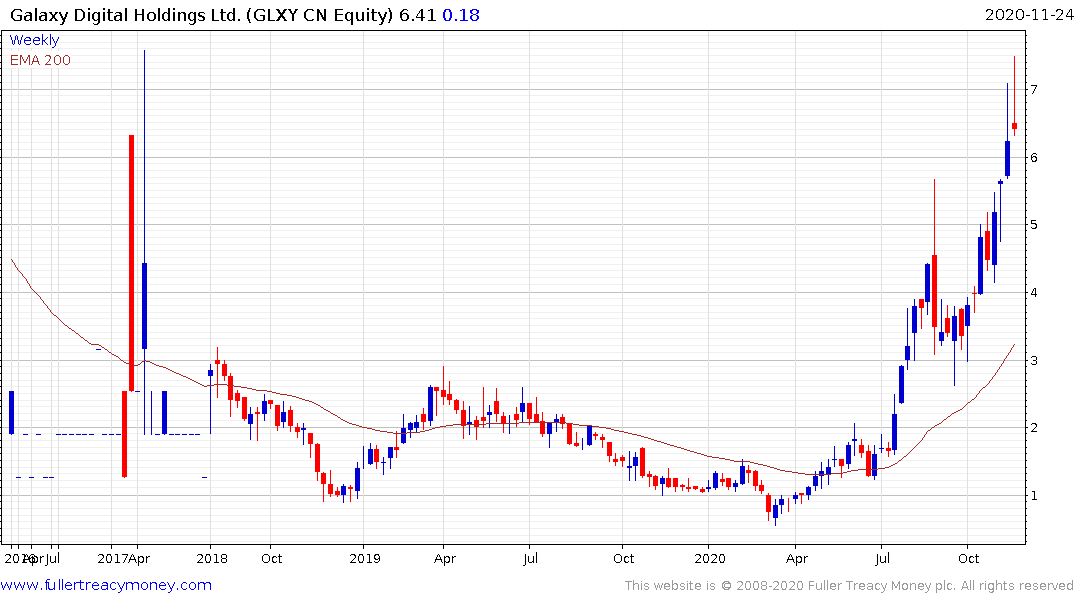 Galaxy Digital Holdings tends to perform in line with bitcoin.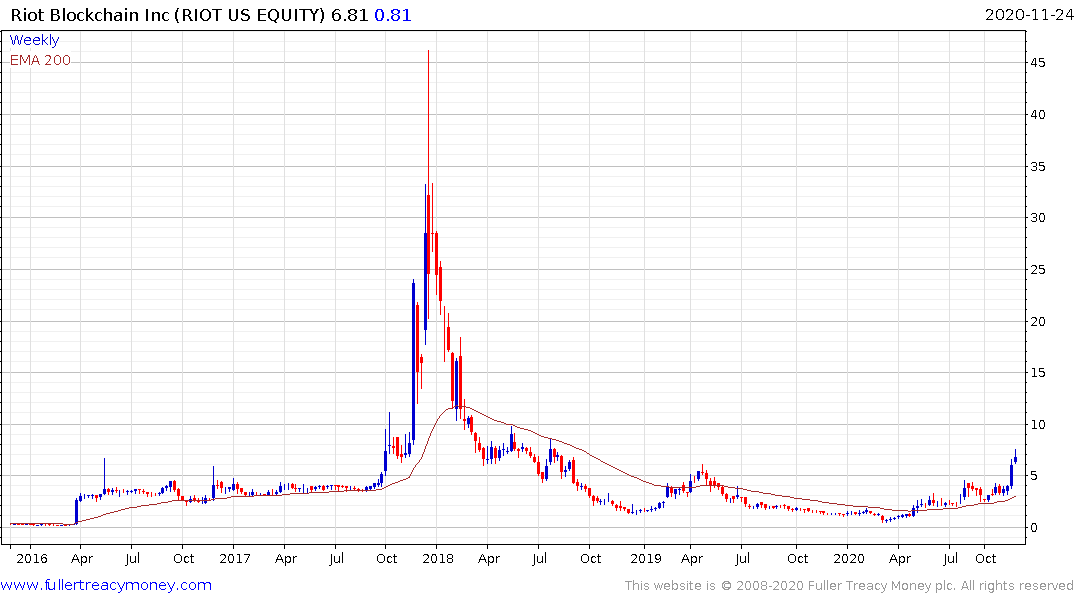 Riot Blockchain sprang to life two weeks ago as interest in alt coins picked up.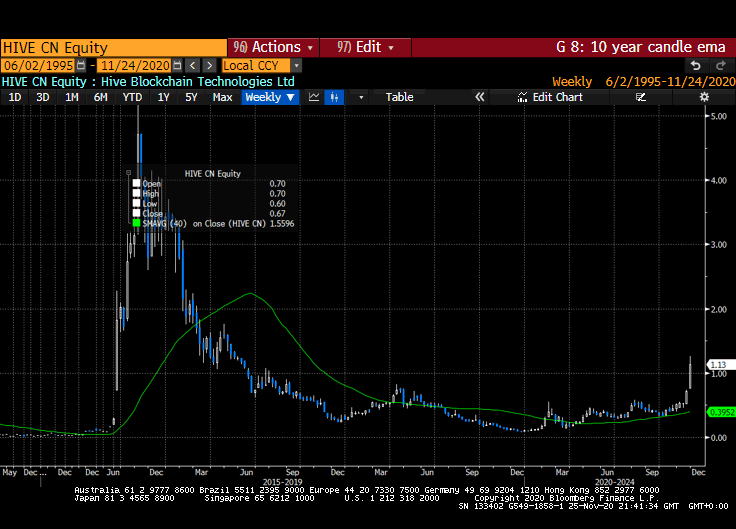 Hive Blockchain has a similar pattern.
Back to top