Email of the day on Tesla's prospects
I remember a few years ago that you wrote in one of your articles that Tesla could well go broke! It could yet happen but they seem to have found a firmer footing since then for the time being.

Could their joining the S&P Index be an early warning of trouble ahead for the market generally as this Bloomberg report suggests?

https://www.bloomberg.com/opinion/articles/2020-11-17/will-the-stock-bubble-burst-as-soon-as-tesla-joins-the-s-p-500?sref=O3zvoUBa
Thank you for this question. I've written a lot about Tesla over the last decade. It's a highly leveraged company so there is always a risk it will not be able to achieve its goals. At its current valuation it cannot afford to disappoint. If we listen to Elon Musk, the company was about a month from bankruptcy during the ramp up of Model 3 production but it successfully pulled through.

Entrance to the S&P500 is a major event for the company and will represent a significant reweighting for passive funds since it will become a top-10 holding; eclipsing Johnson & Johnson with today's surge. The company's success in achieving some measure of mass production has been impressive and demand for its cars is still robust. The challenge is competition is increasing, battery technology is going to be commoditised and the company will need to deliver on its promises of technological advances to remain competitive.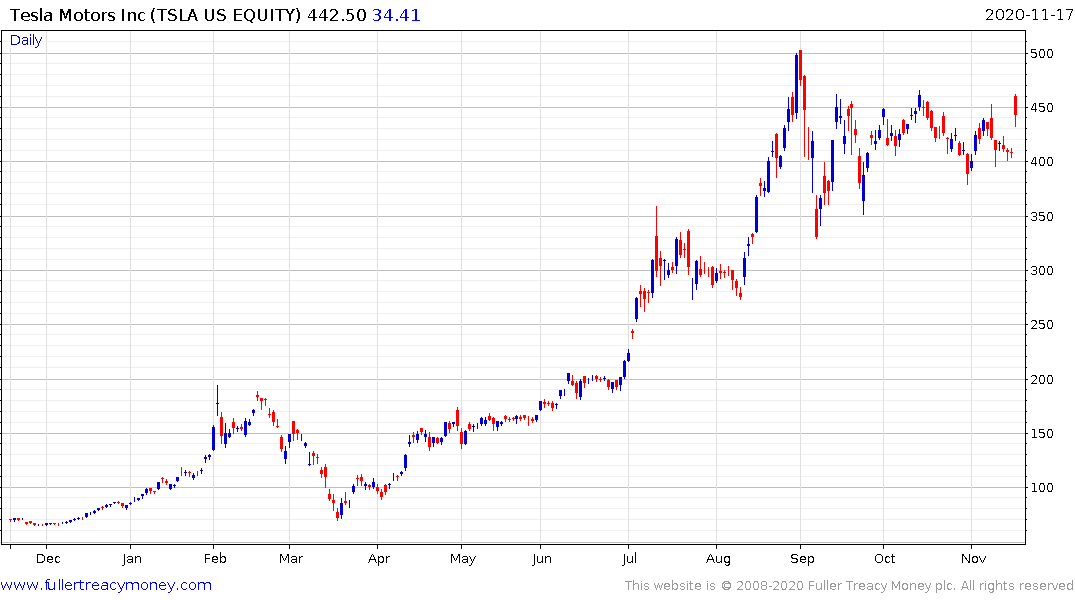 Tesla has been the prime beneficiary of the carbon credits sector which has penalised its conventional competitors. Meanwhile companies like Nio and BYD benefit from overt assistance from the Chinese government. It's worth considering that the failure of companies like Yahoo was as much about rising interest rates as it was about the advent of competitive forces.
Highly leverage growth-oriented companies tend to do well in a liquidity rich low interest rate environment. Profits are secondary to liquidity as long as interest rates are low. If interest rates rise for any reason they come under extraordinary pressure. At present, the Federal Reserve believes they will not raise rates for a couple of years so that should be beneficial for the high growth sector overall if that belief is credible.
Back to top