Email of the day on Tesla's gigafactory
If one assumes a breakthrough in battery composition and manufacturing in the near to medium term future, then one would have to question Musk's wisdom in investing in building his battery mega factory which apparently is designed to build conventional lithium batteries.
By going for scale even in conventional battery production Tesla has in many respects broken the mould of what had been the battery manufacturing sector by introducing economies of scale. It is true that the gigafactory is churning out batteries that are in many respects scaled up versions of what we have in our phones, but what else is the company supposed to put in its cars today?

A great deal of research is being poured into solid state, polymer and liquid salt solutions but none are yet commercially viable. When a better solution is available factories will need to be retooled. In the meantime, Tesla has a significant challenge in producing as many vehicles as possible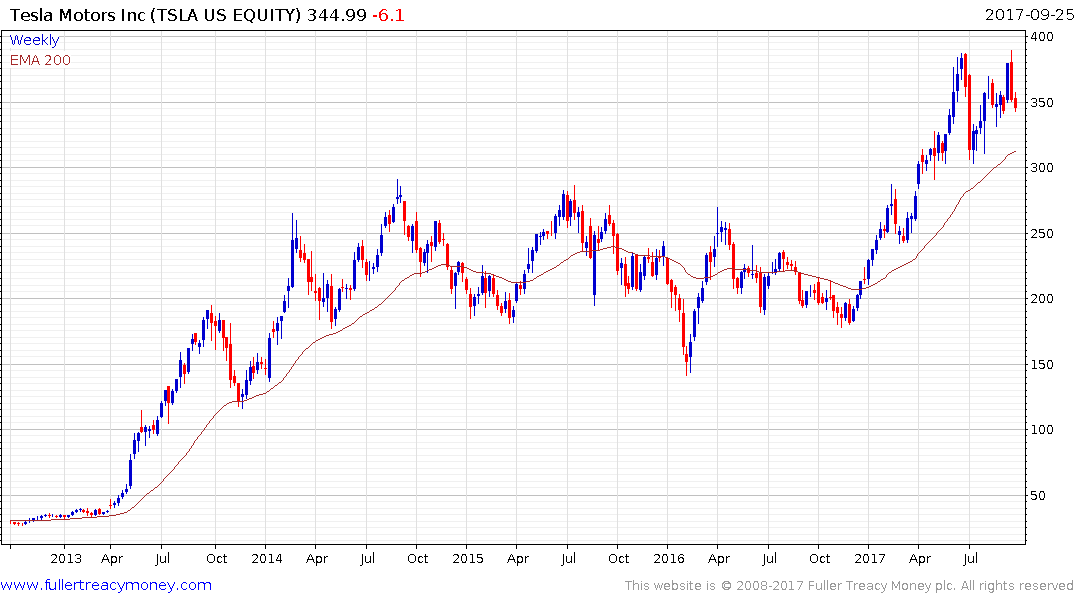 The share broke out of a three-year range earlier this year and is now consolidating that move. A sustained move below the trend mean would be required to question medium-term scope for additional upside.

Meanwhile Dyson announced today it is investing £2 billion to release its own vehicle in 2020 which will use solid state battery technology. Toyota pushed back its anticipated release of solid state batteries until 2022 a couple of months ago, but if Dyson can solve what is a complex problem it will gain a substantial lead in the race to gain a technological edge. BMW is also working on solid state batteries. That suggests Tesla is going to face substantial competition in the coming years and will have to come good on its own research if it is to retain its competitive advantage.
Back to top