Email of the day on robotics, Crowd Money and The Chart Seminar
As Robotics is a theme mentioned with some frequency on FT Money I wanted to enquire whether you are aware of a relatively new Robotics ETF, with the Nasdaq ticker ROBO, and which was listed on 22 October 2013. I would appreciate if ROBO can be added to the chart library, as I believe it is the first purely robotics ETF of its kind and mirrors the performance of the world's top robotics companies, from the US, Japan, Taiwan, Korea and Europe. Following is the link to the Robo-Stox website, listing the fund's holdings, its prospectus and an updated report, as well as other useful insight into the global robotics industry. http://www.robostoxetfs.com/fund-holdings.aspx

The October report was of particular interest as it provides details of holdings by company by country. The link is: http://www.robostoxetfs.com/Data/Sites/16/docs/fp0008959_ETC-RoboStox_Semi-Annual_2013_FINAL_web.pdf

As this is a theme of personal interest, I would appreciate David or Eoin's insight as to whether this represents a reasonable method to participate in the robotics story without taking on single-company risk, and given Nasdaq's current overextension relative to its 200 day MA, whether ROBO's more international exposure would provide some insulation should the Nasdaq correct and revert to its mean. Thank you for your service.

I have almost finished reading "Crowd Money", and even though I have been a long term FT Money subscriber since the hard-copy days of the 80's, I must admit that I am guilty of regularly committing every single costly mistake Eoin identifies as typifying mass investor psychology. Consequently I feel that the only logical next step for me is to sign up for the Chart Seminar and Global Strategy Session next month in Sydney! I will be in touch with Sarah shortly. Best wishes to you and your family for healthy and successful 2014. Kind regards.
Thank you for this informative email and I'm delighted you enjoyed Crowd Money. With only six weeks to the Sydney Chart Seminar and Global Strategy Session, I'm busy preparing the course material and greatly look forward to discussing themes such as robotics and other future focused topics with delegates.

While some worry about the role of robotics in contributing to high unemployment figures, there is no denying that they represent a major source of productivity growth and value creation for the companies that use them. While companies that manufacture robots have considerable growth potential, the companies that make the greatest use of these machines are likely to also be some of the greatest beneficiaries of this trend in technological innovation.

This article from foodproductivitydaily.com highlights how Adept Technologies is targeting the food sector for part of its growth strategy. This example also helps to illustrate how the growth of the robotics sector is likely to be a win-win for manufacturers and consumers by contributing to productivity growth on aggregate.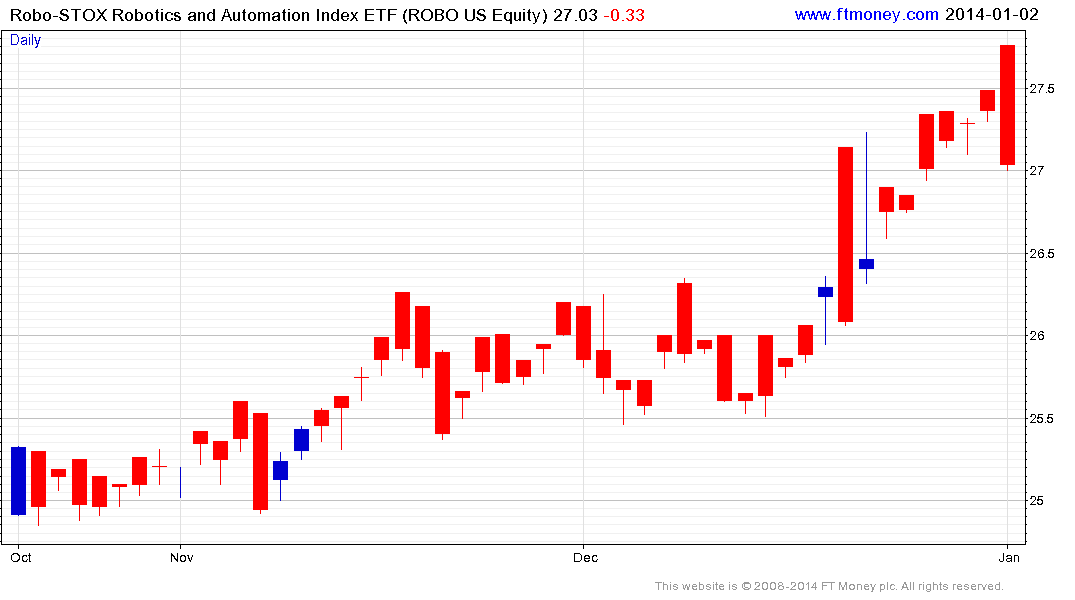 The Robo-STOX Robotics and Automation Index ETF has a market cap of approximately US$40 million and this chart indicates that it is not particularly liquid. However, its list of constituents offers a useful insight into companies related to the robotic, industrial automation and 3-D printing themes.

3-D printing has seen a great deal of consolidation in the last few years so that the 3-D Designs, Stratasys and The ExOne dominate the sector. Both DDD and SSYS continue to extend steep uptrends but are becoming increasingly susceptible to mean reversion.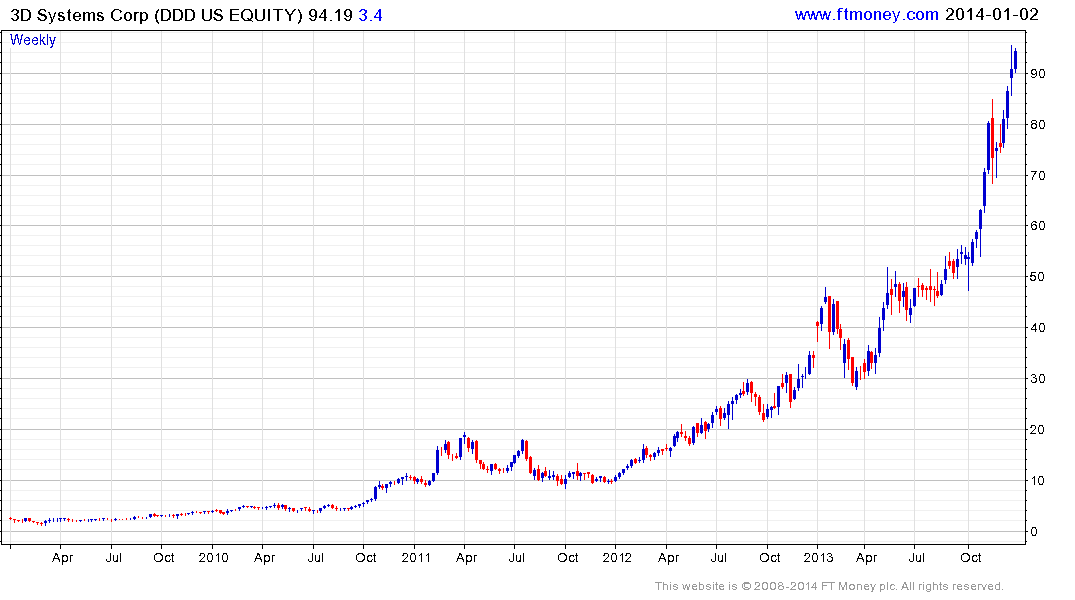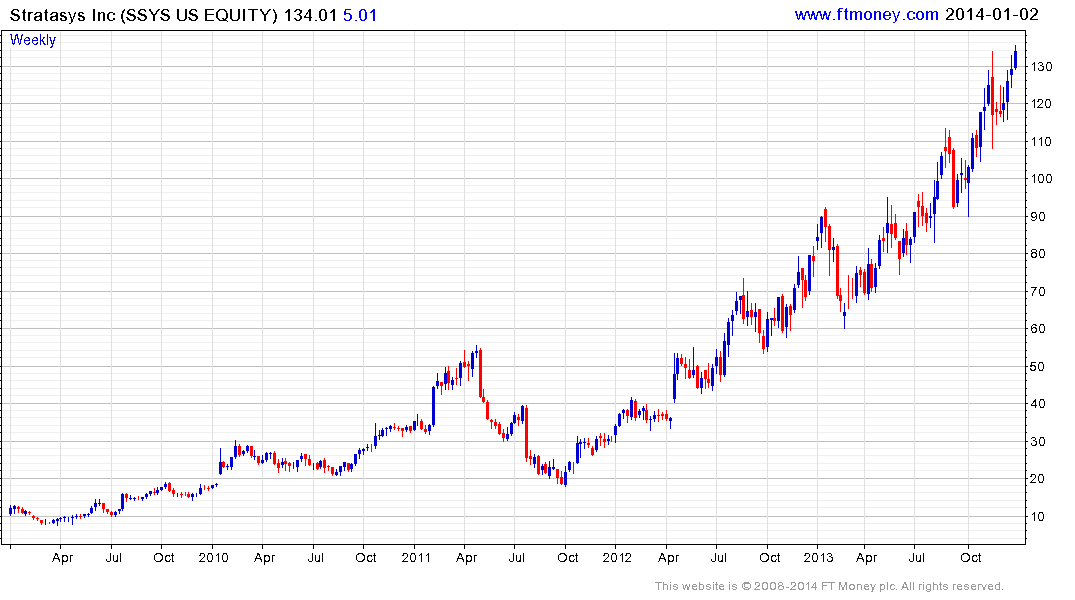 As a leader in the production of embedded processors ARM Holdings is noteworthy. The share hit a medium-term peak in May 2013 and pulled back sharply to close the overextension relative to its 200-day MA. It rebounded impressively over the last six weeks to post a new high and while some consolidation of recent gains looks more likely than not, a sustained move below 900p would be required to question medium-term upside potential.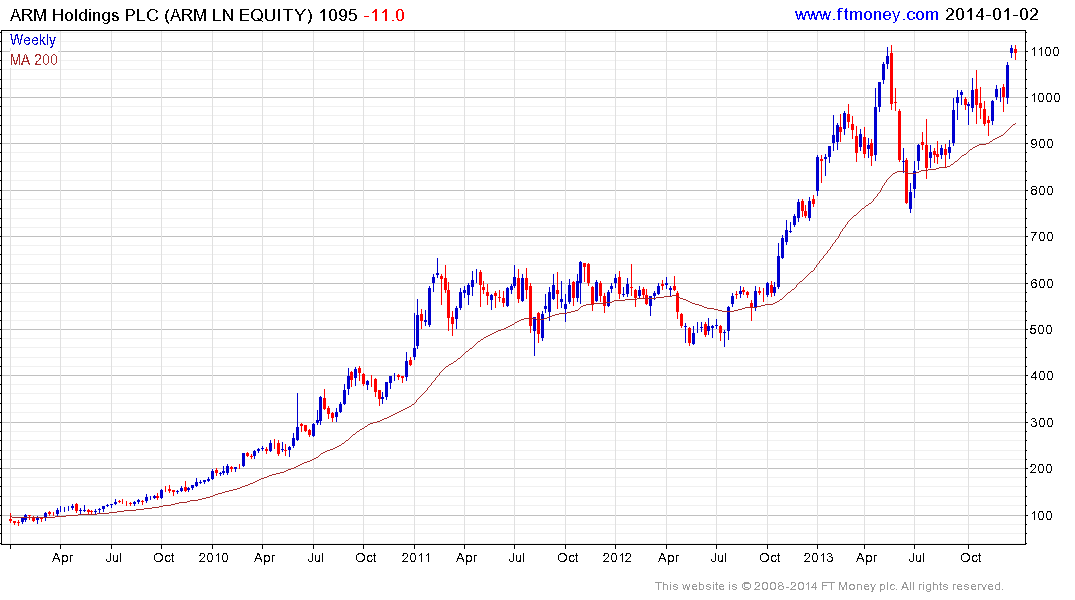 Fanuc is among the global leaders in robotics manufacturing. In local currency terms, the share spent most of 2013 in a range before breaking out in December. Some consolidation of recent gains is a possibility but a sustained move below £¤15,000 would be required to begin to question medium-term scope for additional upside.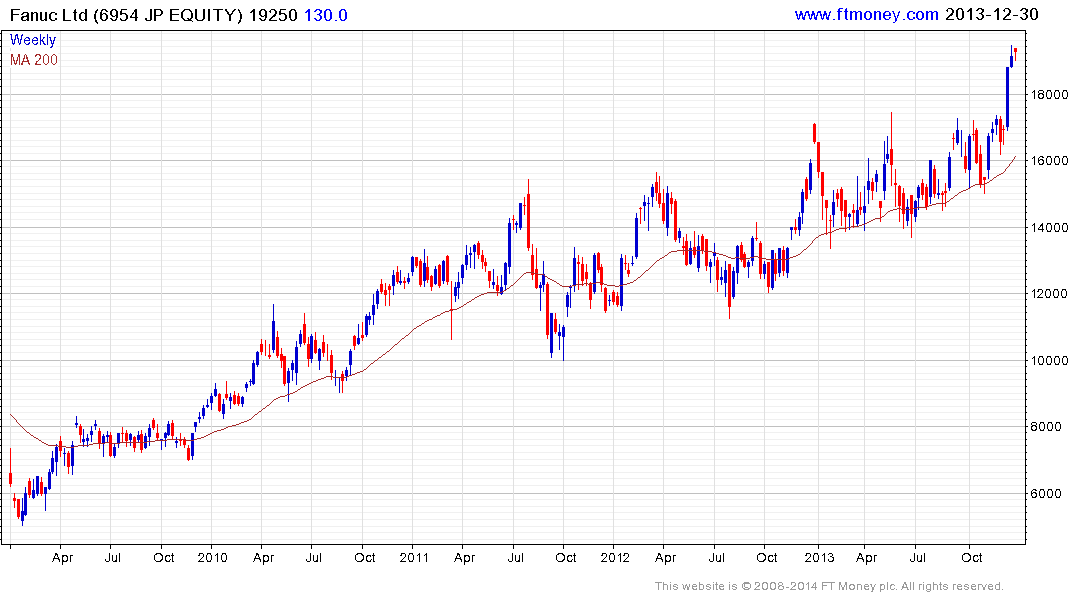 Back to top