Email of the day on recovery candidates versus stay at home champions
Thank you for bringing Rolls Royce to our attention recently. Thanks to you I was able to open a position which looks excellent now. Do you think the volatility in the share will continue for much longer? And what are your views about this share now? Thanks again very much.
Thank you for your kind words and congratulations on taking opportunities in the market. The big question at present is about the trajectory or interest rates and bond yields. It will shape where risk appetite focuses. Investors will either favour recovery candidates on the basis that survivors will have more market share to expand into or they will continue to favour high growth/high leverage plays as they continue to disrupt incumbents.
The profoundly large availability of credit boosted the ability of all companies to borrow money this year. Big mainline businesses shored up their balance sheets to weather the pandemic. Concurrently, the Fed's commitment to support the corporate bond market compressed borrowing costs so refinancing could take place at extremely accommodative levels. Companies gobbled up that liquidity by borrowing profusely. That increased corporate leverage but the maturity on the debt is years away.
For the industrial sector, the pandemic posed a unique challenge. Many businesses have been engaged in rationalisation for years already. The pandemic led to revenues evaporating and it forced some extreme choices. Most companies have "kitchen-sinked" write offs. In other words, they took every available loss now while bad news can be blamed on the pandemic. That suggests the industrials sector is heavily leveraged to recovery with little in the way of additional negative surprises.
At the other end of the spectrum, there is a large number of new companies with negative earnings which are totally dependent on the pandemic-driven demand growth continuing indefinitely. They are extremely interest rate sensitive because they are wholly dependent on access to liquidity to drive expansion. The significant declines in shares like Beyond Meat, Zoom Media, Shopify, Dynatrace etc have all coincided with the rise in Treasury yields.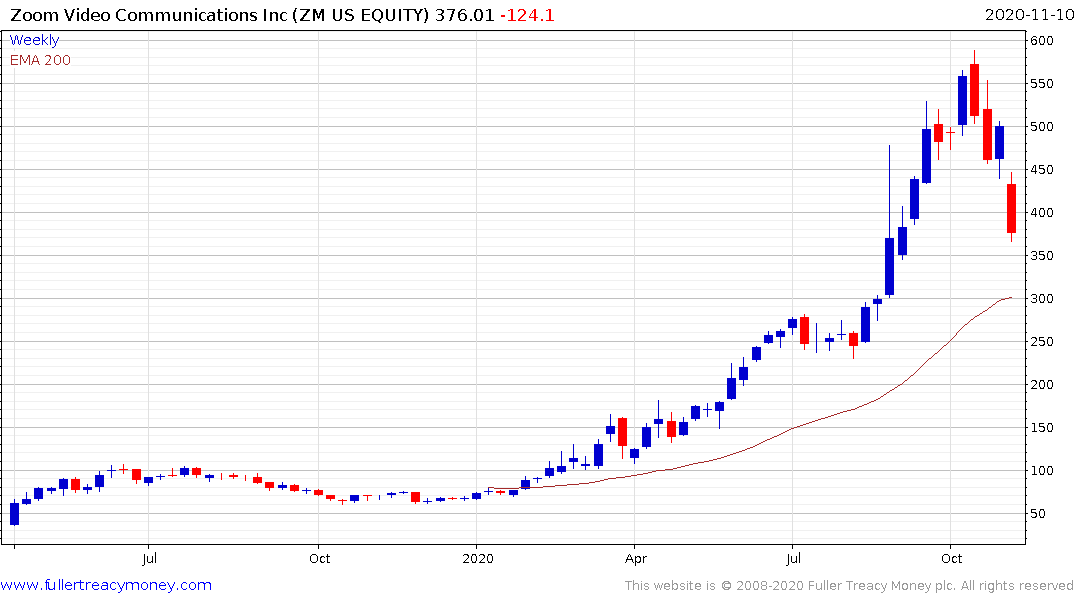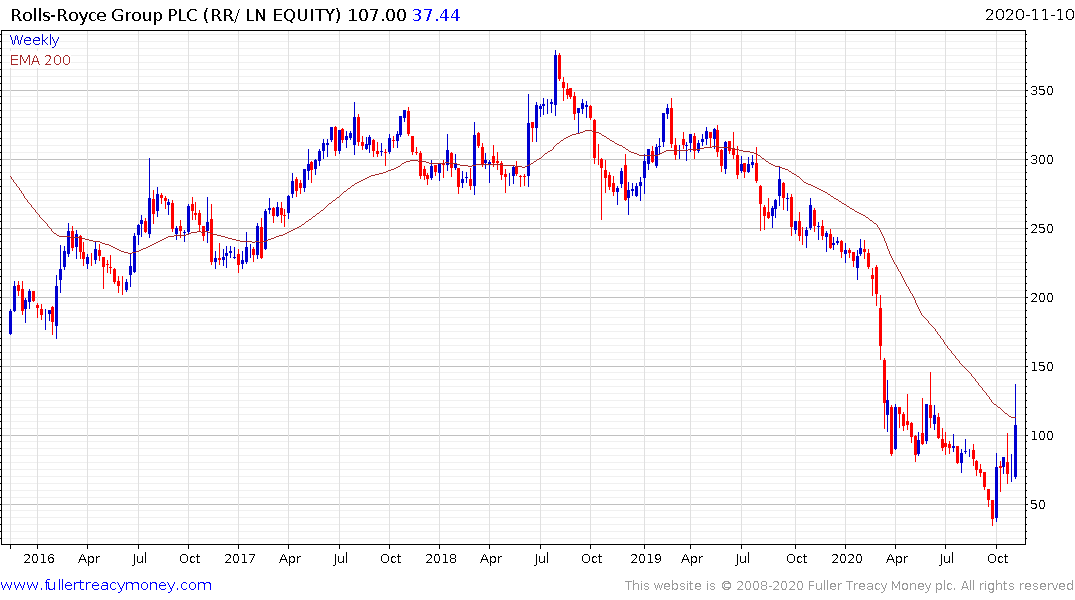 Rolls Royce has rebounded from a low of 34p to test the psychological 100p level and the region of the trend mean. Some additional pause and consolidation in this area is possible. In my opinion the short covering rally unwound the immediate threat of dissolution. The next phase of the recovery will be driven by airline miles flown.
Back to top