Email of the day on rare earth metals
Rare earths are in increasing demand in several fields of high tech. Lynas Corporation, the world's biggest rare earths producer outside China, has had a chequered life but under new management appears poised to benefit substantially. It may be of interest. A copy of its Quarterly Activities Report taken from the company's web site ( https://www.lynascorp.com ) is attached.

Needless to say, I am long this stock.
Back in 2010 China made sure everyone knew it is in command of the global rare earth metals market, when it restricted supply to Japan, in particular, but also to a number of other importers. The result was a surge in metal prices as supply was constrained and considerable investment in additional supply outside China.

Lynas was one of the companies that IPOED to secure capital to bring Australian supply to market. It is also one of the few that survived when the market crashed as China reversed course and flooded the market with supply.

Today rare earth metals are no less useful but there is greater understanding that it is the heavy rare earth metals which are most valuable. The primary obstacle to additional supply growth outside China is most of the mines failed to reach production before prices collapsed and have been starved of capital since. Additionally, there are very few refineries for the raw ore. The majority are in China, there is one in Vietnam, which is owned by a Chinese firm and Lynas has succeeded in reaching production with its Lynas Advanced Materials Plant in Malaysia.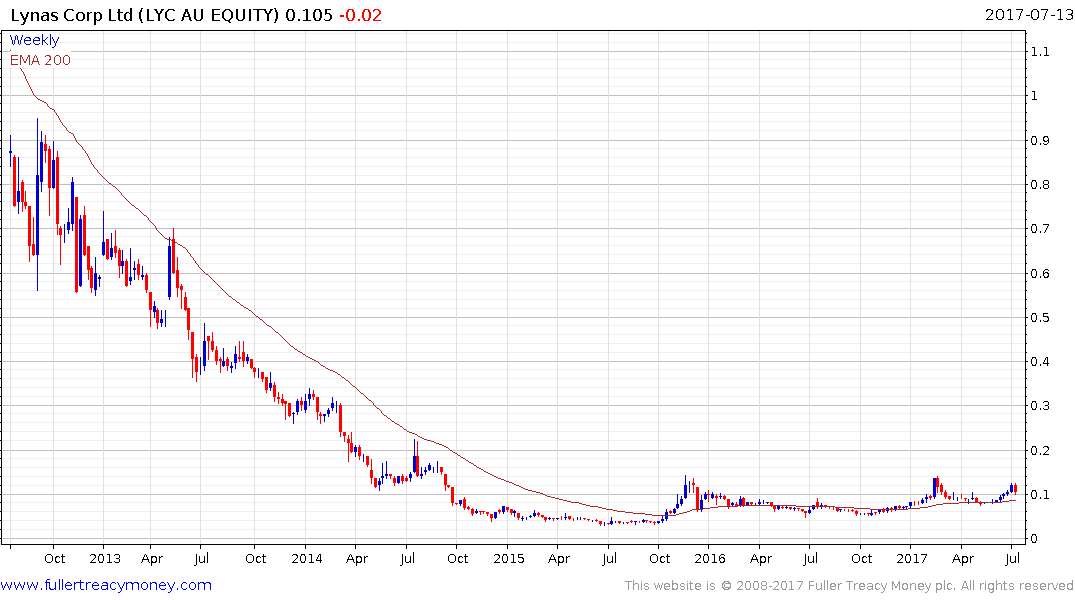 Lynas has encountered resistance near A$0.15 on two separate occasions since 2015 and is pulling back from that level again now. In order to demonstrate a return to demand dominance beyond the short-term, it is going to have to sustain a move above that level.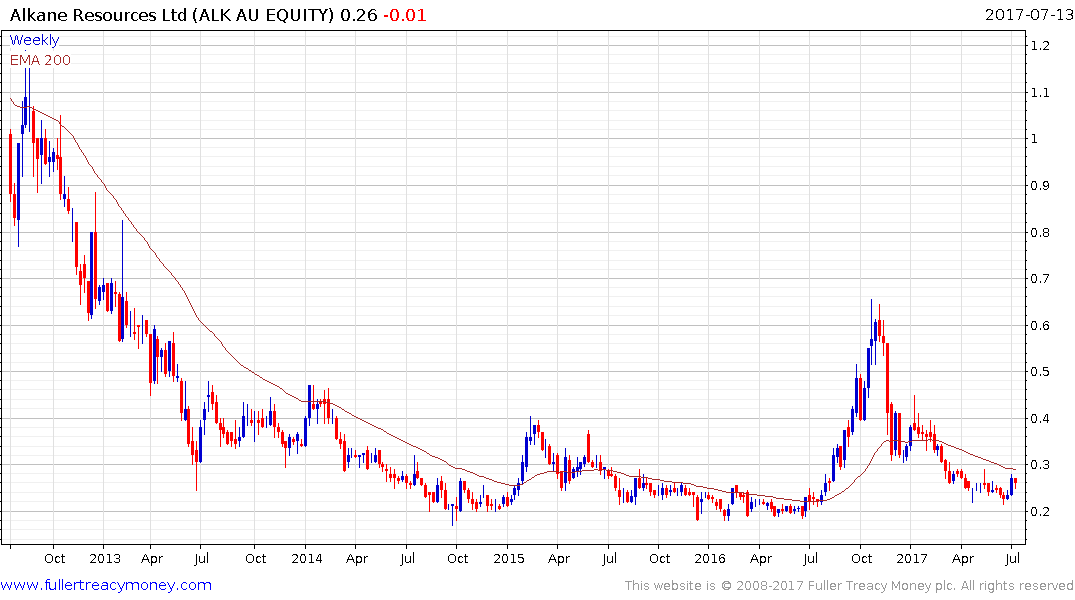 Alkane Resources is a gold producer but it deploys all of its available cash into developing a heavy rare earths mine in New South Wales. The share is heavily influenced by the gold price but because of the steady flow of capital should eventually reach production of rare earths. The share bounced over the last few weeks from the region of the 2015 and 2016 lows.


Greenland Minerals is a development stage rare earths metals company and is currently firming from the region of the trend mean.
Back to top