Email of the day on North Korea
First of all: thank you for a terrific service! It is an indispensable part of my day! There is an increasing tension around North Korea, this article from Zero Hedge is an example: I wonder: what is going to happen if the situation blows up? What are the threats, and what are the opportunities in your opinion?
Thank you for your kind words and support. In just the same way that Hezbollah is a proxy for Iran on the Mediterranean coast or Ukraine's Russian population is a proxy for Russia we can draw parallels with the increased assertiveness of China on the geopolitical stage with the uptick in North Korea's sabre rattling.

It might also be considered that North Korea's missile tests may have been engineered to deliver Trump's first geopolitical challenge so that China could test his mettle. Sending three carrier groups to the Korean peninsula would appear to answer that question and recent tests of China's South China Sea island security zones send similar messages.

This is a critical six months for Xi's Chinese administration because so many vacant positions on the Standing Committee need to be filled. They will want everything to run as smoothly as possible until the October or November meeting and that includes ensuring North Korea remains a hot topic but without it turning into an international incident. To me at least that seems like a risky strategy.

If on the other hand North Korea does instigate a worrisome incident it would probably suggest Xi's political strength is being questioned with the resulting need to appear strong. I find it interested that Guo Wengui's recent videos seem to take direct aim at Wang Qishan rather than Xi suggesting there may be more to the upcoming party reshuffle than meets the eye. From that perspective it could be better for China to invade North Korea than the USA because it would continued Chinese control of the North of the peninsula.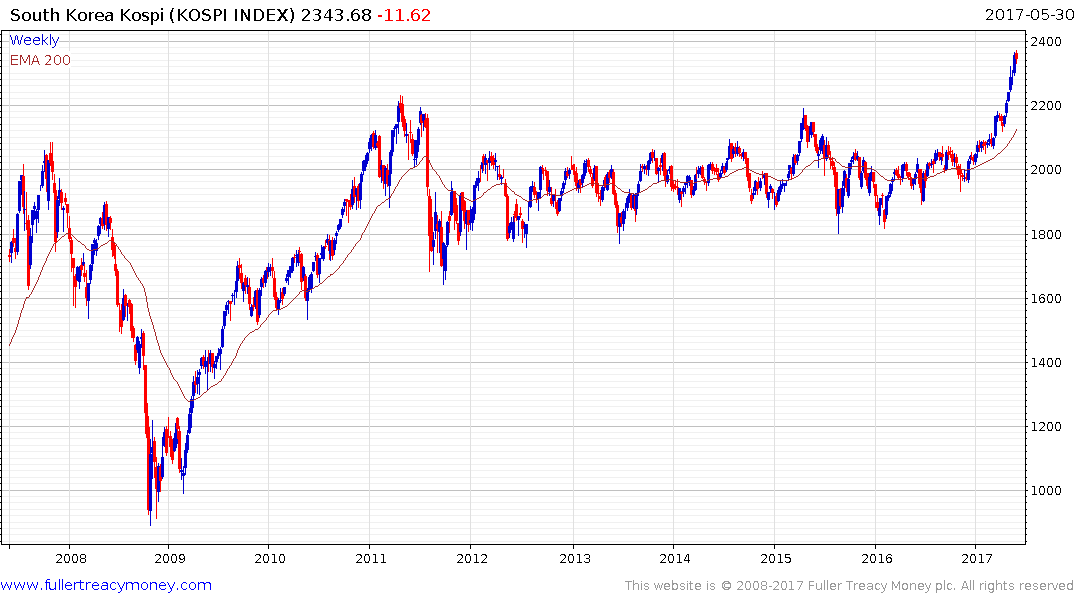 Meanwhile the South Korean market has broken up out of a six-year range and a sustained move below the trend mean would be required to question medium-term scope for additional upside.
Back to top