Email of the day on Market Cap / Nominal GDP
"Here is a chart of the US stock market. Keep up the good work"
Thank you for responding to my request for a chart of Market Cap / Nominal GDP with more back history. This one from the Federal Reserve is sure to be of interest to subscribers.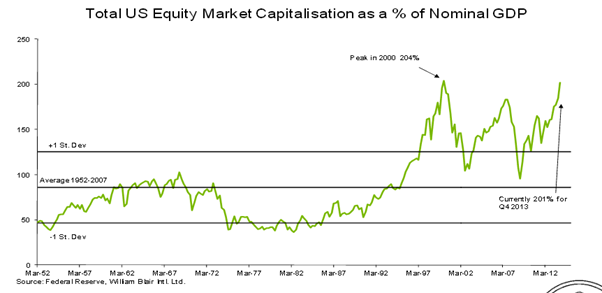 On an initial inspection we can see that the ratio is testing the historic peak near the 1999 highs and has superseded the 2007 peaks. This suggests the medium-term bull market is maturing but there is little evidence just yet to confirm that it has ended.
At a total market cap of over 200% of US Nominal GDP it is also worth considering how much of the earnings of the companies concerned are focused on the domestic economy. Many of the USA's highly successful multinationals derive substantial percentages of their revenue from overseas markets. Therefore looking at very long-term standard deviations is unlikely to prove fruitful since what the ratio depicts has changed over time.
This chart from the St. Louis Fed depicts Total World Market Cap / Global GDP. Unfortunately, the last update was in 2011. If subscribers know of a more up to date ratio I would be happy to post it.
Back to top