Email of the day on Japanese stocks and 6G:
I hope you and the family are handling the new normal? You certainly seem to, as there has been no decline in your daily's, in fact if anything they are like a good wine, getting better with age/experience.

I have recently checked all the Topix industrial indexes. Virtually all of them look like the majority of most world stock market indexes, except for two,

The Topix Telecommunication Index and the Topix Pharmaceutical Index.

They both compare more to the NASDAQ and one or two other stronger US indexes.

If you remember, late last year I sent you a list of Japanese 5G related companies, some of these are what my portfolio has consisted of most of this year. Many are performing in line with the NASDAQ, but when markets were selling off during March and April I added KDDI and DOCOMO to my list. I came across a DOCOMO white paper confirming their research into 6G!

Unfortunately, I do not have very much experience of the Pharma sector, except for the big names. So, if your collective could offer any ideas it would be much appreciated.

Thanking you in advance.
Thank you for your kind words and I am delighted you are enjoying the servide. This report from Sandvine highlights the fact 80% of all internet traffic is occupied by video streaming, gaming and social media. YouTube alone represents 15% while Netflix is 11%.
The requirement for high speed connectivity is only going to trend higher as the way in which we consume entertainment continues to transfer to the internet. The evolution of big data, artificial intelligence and deep learning will all piggy back on the rollout of lag-free connectivity.
Even today we still have to content with lag in phone calls over the internet or when using video. Within the next 18 months that will become a thing of the past which will open up the potential for real time remote management of data, applications and hardware. The Telecoms companies are the initial beneficiaries. A new group of companies that provide super-computer-in-your-pocket software as a service (SaaS) applications is also likely to emerge. The mega-cap companies are doing everything they can to ensure they succeed in transitioning to this emerging reality but they will inevitably have upstart competition.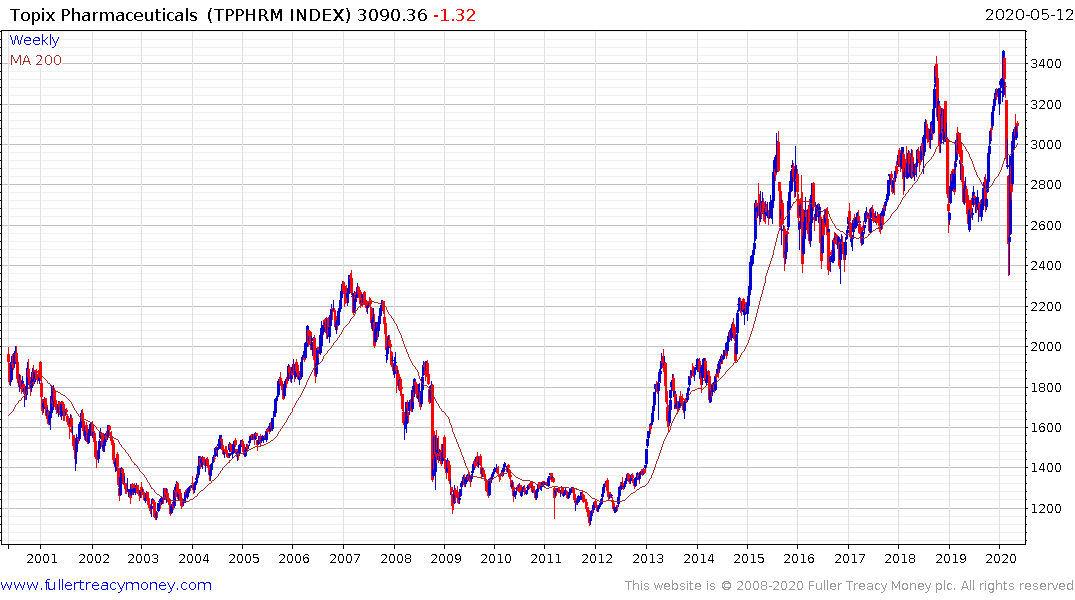 The Topix Pharmaceuticals Index has a broadly similar pattern to the Nasdaq Biotech Index but is lagging somewhat of late.
Back to top