Email of the day on Japanese bank leadership
"If the Japanese market does move up, do you expect the financial sector to be a leader or a laggard?"
Thank you for this question which may be of interest to other subscribers. Generally speaking banks, as liquidity providers, tend to do well in the liquidity-fuelled environments that one associates with bull markets. They often lead, not least because they are sensitive to these liquidity flows. We look for banks to do at least as well as the wider market as a new bull trend evolves because they act as confirming signals that a new trend, which can persist beyond the short-term, is beginning.

To answer your question, I expect the major banks to perform at least in line with the wider market but as I pointed out earlier this week, in a review of the Pan Asia Dividend Aristocrats, a number of the regional banks are already leading to the upside.
Banks did not lead to the upside in Wall Street's bull market since 2009 because they represented the epicentre of the previous crisis. However, they have performed at least as well as the wider market subsequently. The outperformance of regional banks during this time was an important confirmation that the economy had avoided what many feared would be a depression.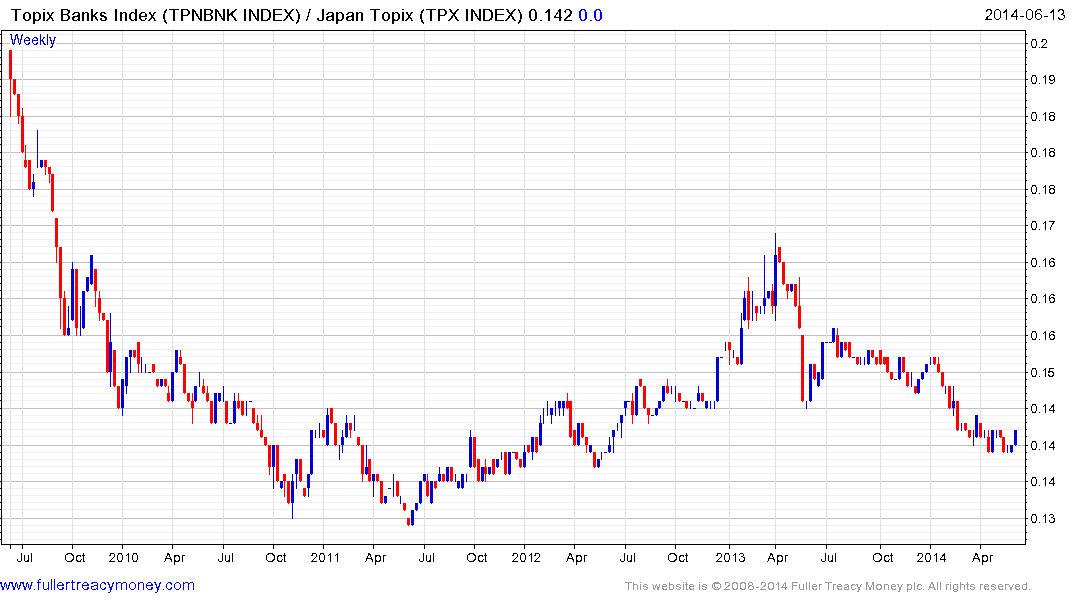 Japan's banks outperformed for two years before the explosive breakout by the wider market early last year but have underperformed since. The ratio found support over the last month near 0.14 and a sustained move above 0.145 would break the yearlong progression lower rally highs.
Back to top