Email of the day on Japan
"Thank you for covering Japan today [Ed. Friday], a market that Fuller Treacy Money has been favourably disposed towards for a while now. I always read with interest your views on potential or existing major market moves. I have some feedback to share, which I hope is taken constructively and not as criticism.

In your comment above, you state the following: "The underperformance of the banking sector is a cause for caution however." As a reader, I wonder what I'm supposed to do with that knowledge. Investors are faced daily with the choice to buy, sell, or do nothing. Japan is a market that FTM has encouraged investors to look at (and presumably invest in). With that in mind, assuming that some readers are long Japan, what is one supposed to *do* with today's market review? I found it difficult to interpret what you wrote today into something actionable: buy, sell, or do nothing.
Thank you for sharing your opinion and I also covered this issue in last night's audio. You are correct that we have been favourably disposed towards the Japanese market since late 2012. This is because we believed that the Bank of Japan would follow through on its commitment to weaken the Yen and that the government of Shinzo Abe would deliver on the reforms necessary to promote growth.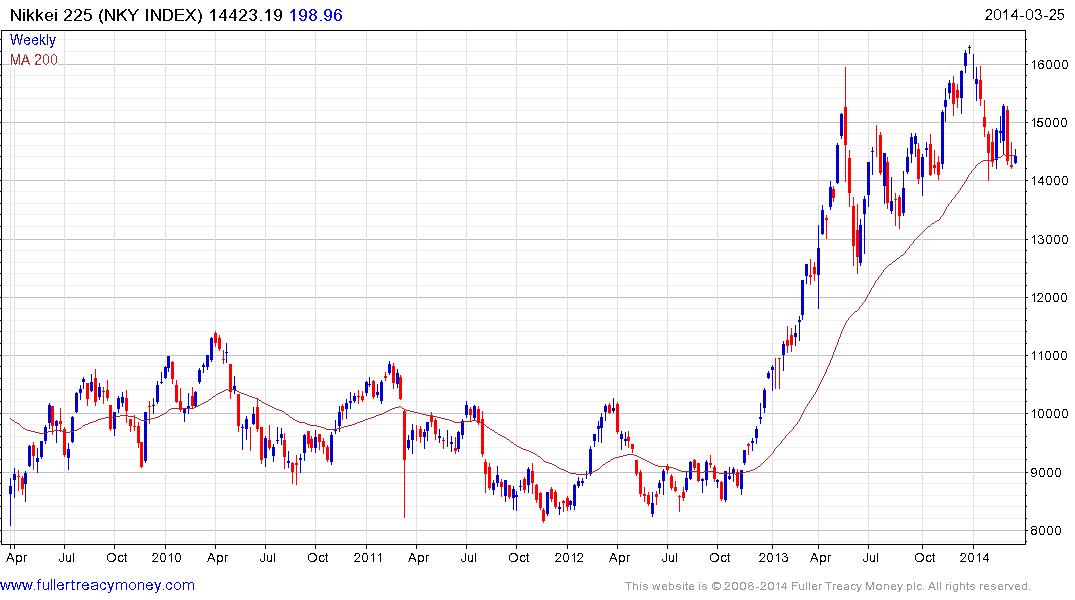 As you will also be aware we have long said "Governance is Everything". These developments represented a significant improvement in the trajectory of Japanese governance. Investors were rewarded by a near doubling in the Nikkei-225 between late 2012 and May 2013, while the Yen fell by more than 35% over the same period.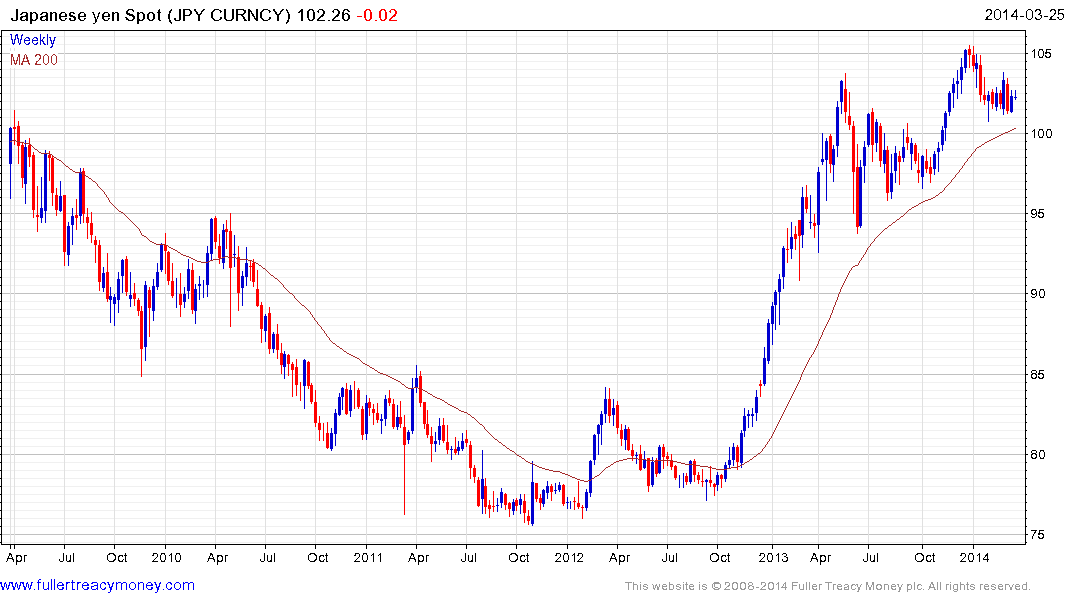 Generally speaking, the more favourable risk-adjusted time to initiate long positions in a reasonably consistent uptrend is following a reversion to the mean represented by the 200-day MA. The Nikkei-225 is currently testing that area so one could conclude that this is a favourable time to initiate longs or increase positions. However I have not done so because the pace of reform in Japan has slowed down and the underperformance of the banking sector may be reflecting this.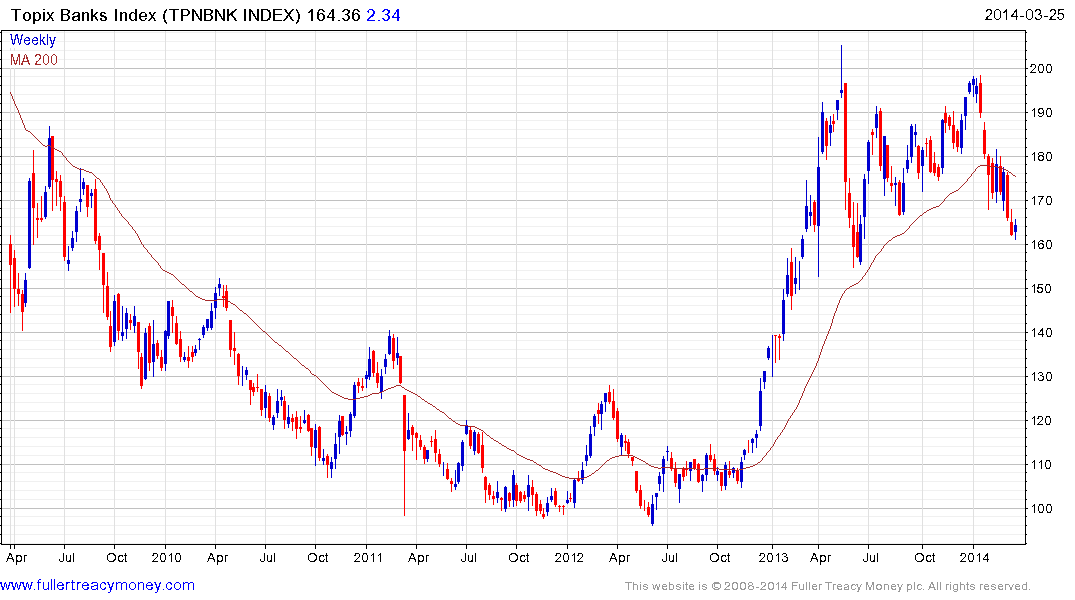 As liquidity providers, banks sector should do reasonably well in a bull market environment where demand for credit increases. However, the government has felt obliged to push through a VAT increase in order to keep government finances under control and to avoid upward pressure on JGB yields which would endanger the sustainability of the nation's high debt to GDP ratio.

Bold action is required to reignite the growth argument. This will need to take the form of a solution to Japan's energy problems as well as a way to reinvigorate the dynamism of the domestic economy. If these additional reforms are delivered upon investors are likely to conclude the trend of governance continues to progress and they will support the stock market. In any case the current level is one to watch for signs of support.
Back to top