Email of the day on investing in emerging technology themes for a UK investor:
New Year greetings to you and David and all FT members. About a year ago on the site there was a presentation on the new technological revolution, given by Mr. David Brown. It covered AI, robotics, cyber security, biotechnology, healthcare and the like. It was all wonderful stuff, but how do I deal in the shares and ETF's mentioned? I'm with Barclays - an ISA and spread betting account - and they have little coverage of these areas.
Happy New Year to you and to everyone in the Collective of subscribers Thanks for this question which is sure to be of interest to other subscribers. This article from the Telegraph dated 2014 explains how to invest in overseas shares through your ISA. Here is a section:

A crucial question: can you put your overseas stocks in your Isa or pension? HM Revenue & Customs' rules forbid foreign currency in an Isa, so you have to use the costlier, sterling conversion approach to buy foreign shares in your Isa, converting back to pounds when you sell. The Isa accounts operated by Hargreaves and TD allow foreign stocks to be held in this way.
Disappointingly, Barclays' systems do not allow any overseas stocks to be held within an Isa.
With self-invested pensions, or Sipps, you can hold and trade in foreign currencies. So you can have part of your Sipp denominated in dollars if your broker (such as TD) offers the facility. Hargreaves Lansdown doesn't offer the service and Barclays, again poor in this respect, doesn't allow any overseas stocks within its pension accounts.

If Barclays still has not changed their position allowing ownership of overseas shares then perhaps it is time to think about changing providers. Large spread-betting firms like IG Index has ample access to technology related shares in my experience but the spreads on shares tend to be rather wide.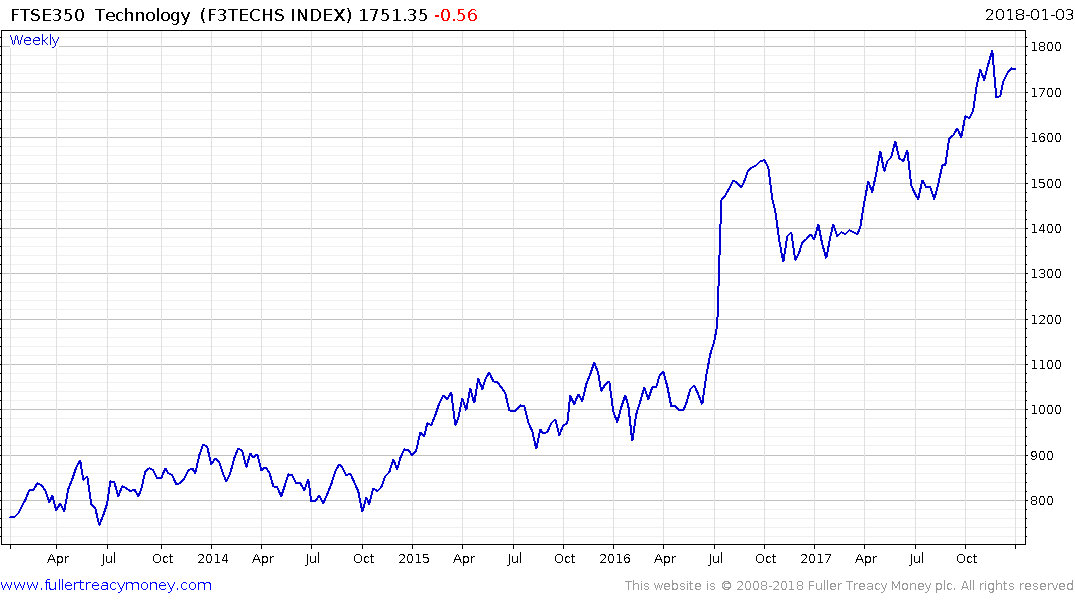 The FTSE-350 Technology sector replaced the information technology hardware index about a year ago and is dominated by Micro Finance (40%) and Sage (32%) both of which are software providers. The Index remains in a reasonably consistent advance.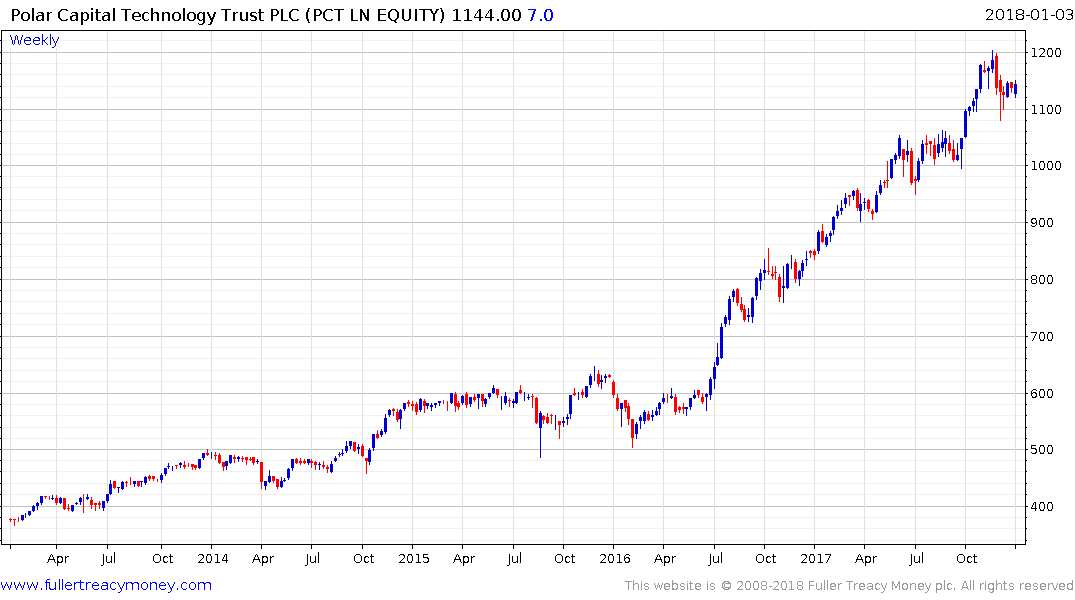 The UK listed Polar Capital Technology Trust trades at a mild premium to NAV of 1.28% and its constituents are dominated by large cap technology shares.
Back to top