Email of the day on India focused investment trusts
"I noticed that a few of the Indian investment trusts seem to be lagging the market (JPII-close to 13% discount to NAV; New India -14%). Any thoughts?"

And

?"Just saw comment of day-sorry. More specifically-should we expect the ITs to lag the underlying as they are doing (far off from their all-time highs), or is there something in the ITs themselves that would result in such a lag. Thanks"
Thank you for this question which may be of interest to subscribers. The value of investment trusts is often influenced by fashion rather than the book value of the assets they hold. Over the last few years, the perception of the Indian government's ability to tackle structural issues deteriorated considerably. If we recall why India has made headlines over the last few years, we can quickly get a picture for why investment trusts are trading at discounts.

The Commonwealth Games in 2010 was plagued with complaints about the quality of facilities, hygiene and athlete safety. The safety of women in society has been an even bigger story over the last 12 months. Corruption scandals and an increasing awareness of how graft contributes to the slow pace of policy reform have influenced perceptions. Despite the fact that Manmohan Singh is a gifted economist his government has been mired in policy sclerosis and investors gave up hope that reforms would ever be initiated. The devaluation of the Rupee that occurred last year was the last straw for a number of foreign investors. At the Singapore venue for The Chart Seminar last month, the majority of delegates were expressing scepticism that the country would ever get its act together.

On the other hand let's look at some of the positives. The first is that the new central bank governor, Raghuram Rajan, has made the stability of the Rupee a priority. With a more stable currency, India's impressive services and automotive sectors are being appreciated for the enhanced competitiveness they now enjoy. Market friendly, Narendra Modi looks increasingly likely to become the next prime minister, following the May election, which will welcomed by investors.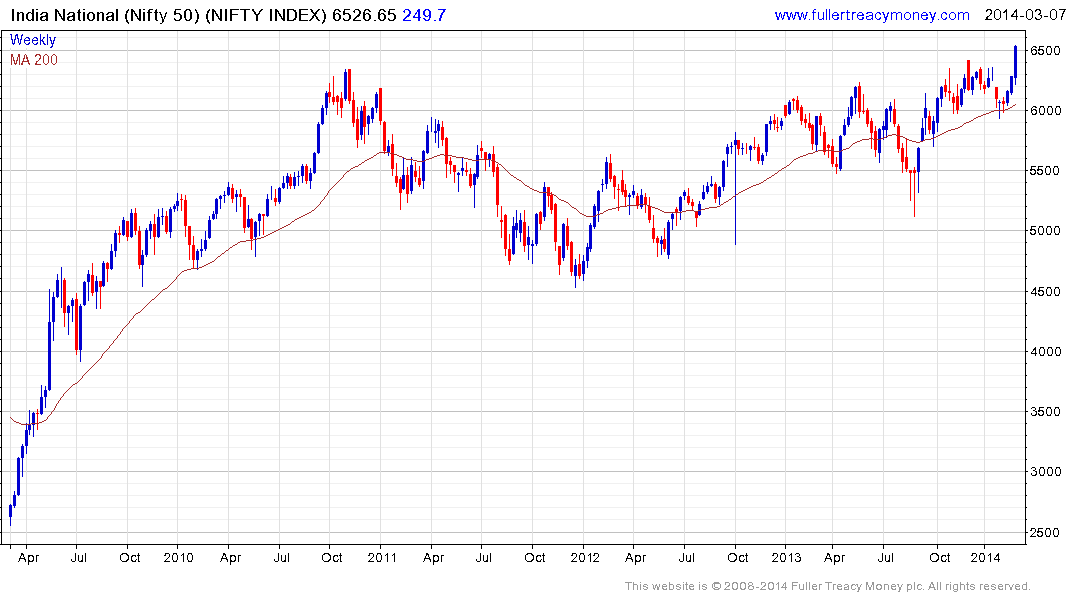 The Nifty Index surged to a new high today and the Bombay Banks Index, which has been a notable laggard, also rallied impressively. The pieces appear to be falling into place for India to return to the good graces of international investors. (Also see yesterday's comments on India.)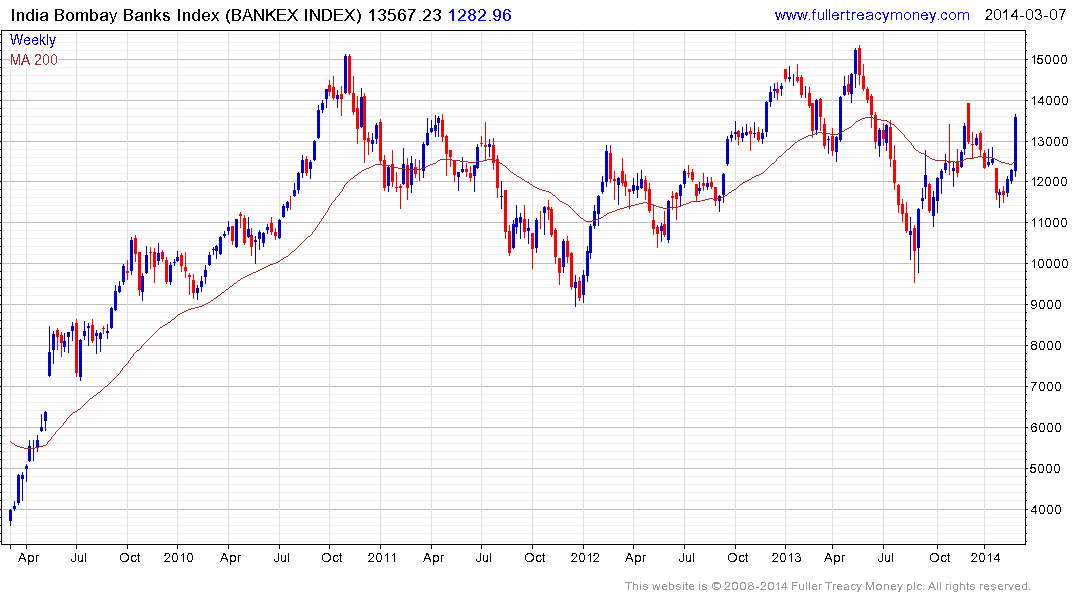 Back to top