Email of the day on how to invest in African frontier markets
Very good weekly video last Friday, Eoin. Your comment that Africa could be the next India in 20 years was very interesting: I agree given the demographics, but am sure it will be a bumpy ride, with different countries as winners and losers. Can you recommend some good Africa funds / ETFs for a UK based investor?
Thank you for your kind words and I'm delighted you enjoyed the weekend big Picture Long-Term Audio. It is hard to fathom just how underdeveloped Africa is so the bumpy ride is virtually assured.
The continent is truly vast; encompassing a land mass equal to China, India and much of Western Europe combined. It is home to a massive diversity of peoples and languages, but more important than those factors is to appreciate just how underdeveloped the continent's capital markets are. There are 1528 companies listed on the continent of Africa. 405 of those are listed in South Africa and 259 in Egypt. Therefore, two countries account for almost half the listed companies in Africa.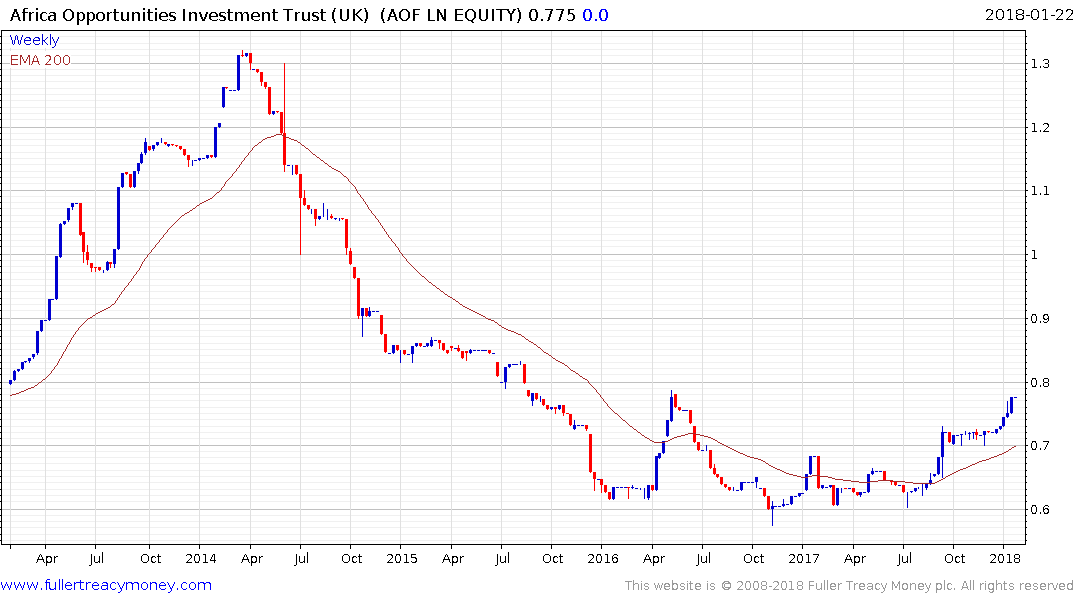 The UK listed Africa Opportunities Trust trades at a discount to NAV of 18.75% and tends to concentrate on Sub Saharan Africa. The Trust rallied in September to break the medium-term downward bias and is currently pressuring the 80¢ area which represented resistance in 2016.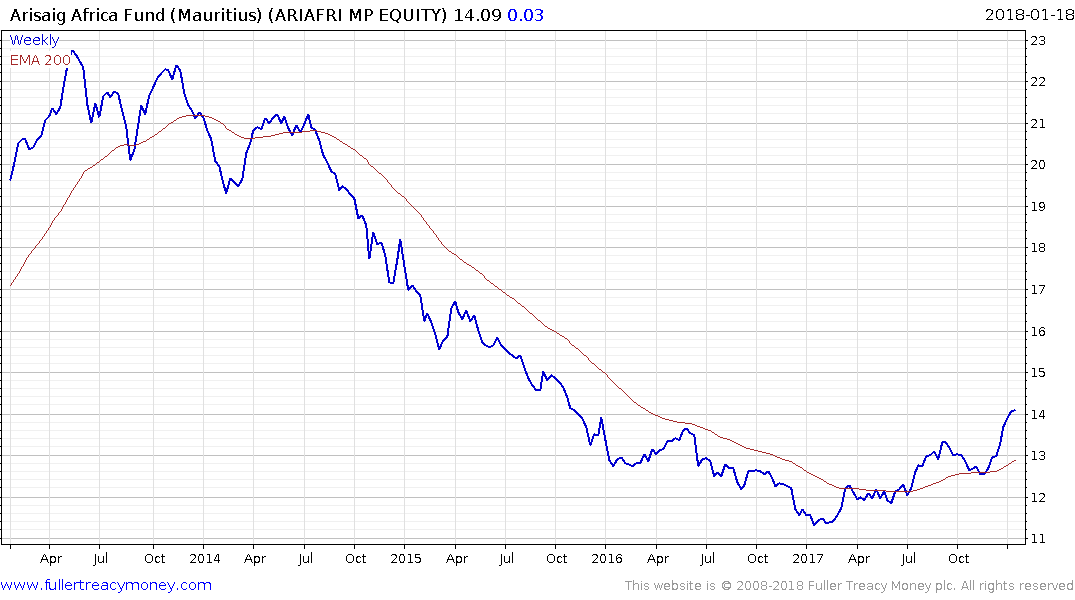 The Arisaig Africa Fund is listed in Mauritius and trended lower until July of 2017. It rallied from the turn of the year to reassert demand dominance. Its fees include a 1.5% management fee, 10% performance fee, with 1% each as front and back end loads which could potentially be negotiated down.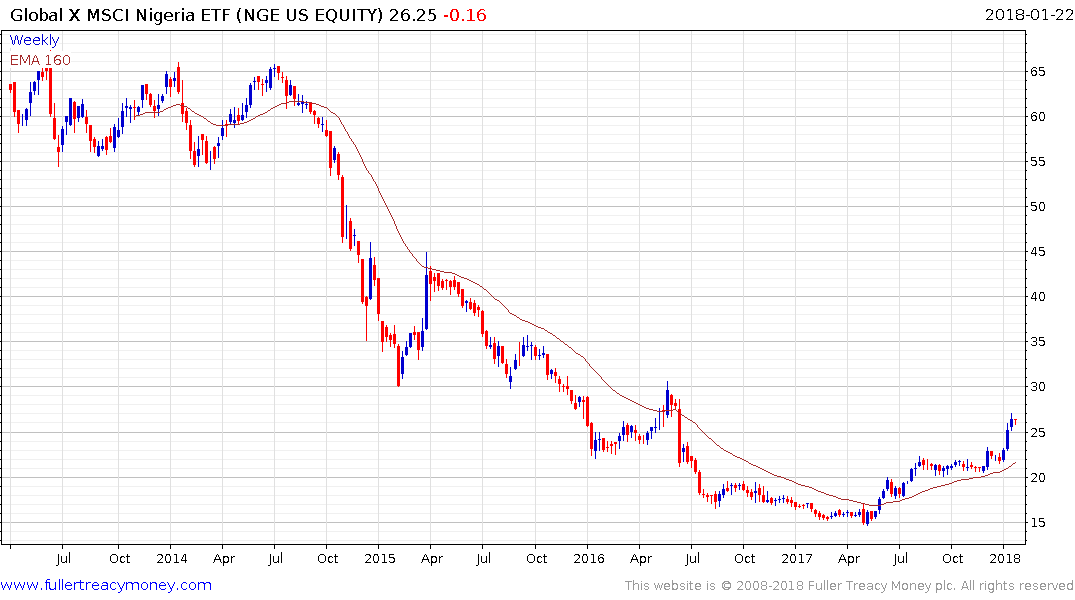 The US listed Global X Nigeria ETF has a similar pattern to the Arisaig Fund.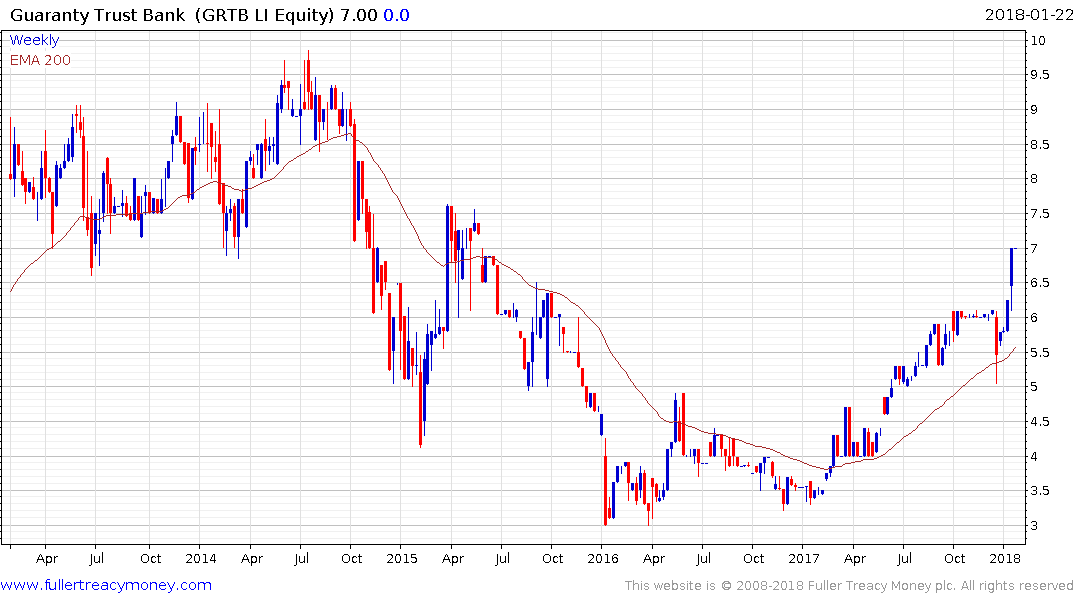 The UK is home to a significant number of Africa focused Global Depository receipts. For example, Nigeria's Guaranty Trust Bank is listed on the International Exchange and remains on a recovery trajectory.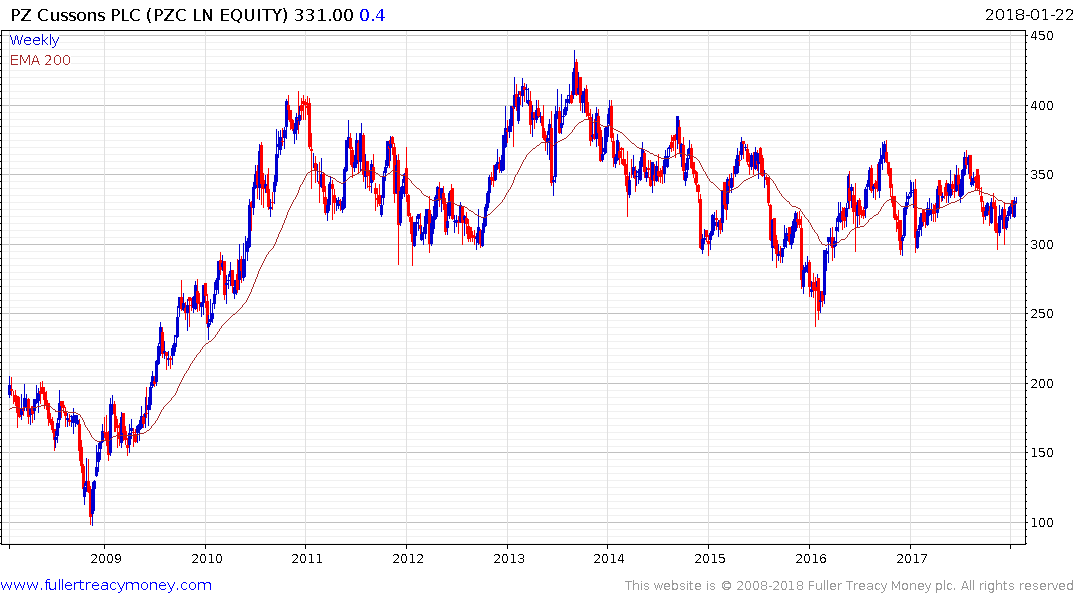 Within the FTSE-350, Africa is Cussons' (Imperial Leather soap) largest market sector. However, the share has been largely rangebound for seven years.
Taking a step back the recent resurgence of interest in Africa gels with the return to performance of cyclical sectors in line with the trend of synchronized global economic expansion.
Back to top