Email of the day on gold and David's health
Was that not a key-day reversal by London spot gold on July 3? Wonderful service. News about David would be welcome.
Thank you for this email and I am happy to say David is increasingly active and up to walking a few miles a day. He is as interested in the markets as ever but internet connections are not all they might be in rural Devon where he is convalescing. His heartfelt wish is to return to commenting on the market in a limited capacity at some stage but is not up to that challenge just yet.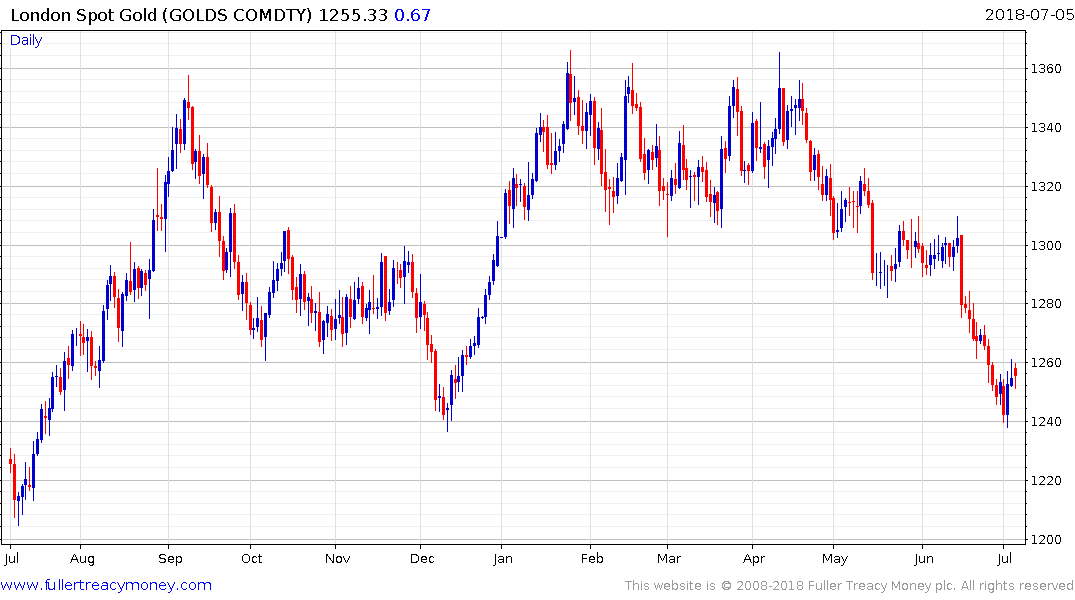 Gold posted an outside day on Monday. It is not an upside key because while it made a new intraday low, it did not close above the high of the previous day. In such circumstances upside follow essential to confirm the low. So far, the return to demand dominance has been tepid but there is ample scope for the overextension relative to the trend mean to be unwound.
I did not buy my precious metal positions at the most opportune time and have been burning for the faith over the last few months. I'm torn between whether to add to the positions at this stage, in order to lower the average entry cost, or to wait and let the losing positions unwind. This area represents the most recent in the progression of higher major reaction lows evident since early 2017 so it is a natural area for support to be found. My current thinking is I have enough of a precious metal position that I increasing it is perhaps not the best idea at this stage.
Back to top