Email of the day on electricity generation and carbon emissions
Electricity is not an energy source in itself, but a means of getting energy from source to where it is required. Until all the energy sources of a country (or, at least, of an electricity grid) are clean, with clean energy to spare, the electricity required for EV's will have to come from fossil fuel sources. True, this will all be mixed together on the one grid - making the whole grid slightly less clean. But the outcome will be the same as if all the energy supplied to EV batteries was unclean. Thus, for the foreseeable future EV owners will not be reducing their carbon footprint, even though exhaust emissions will be zero. This is no doubt why the government is pushing for extra nuclear plants at Sizewell and Hinckley Point.
Thank you for this email. I totally agree. Transportation will not be carbon free until the electricity used to charge batteries is generated without using fossil fuels or some form of carbon capture is deployed. If we are to be fully correct, the carbon used in the production of the components of vehicles should also be incorporated in the calculation of intensity. I also agree that substituting reliance on coal, natural gas and oil is not practical without additional nuclear capacity.
The question from an investment perspective is how carbon will be treated from a tax perspective. Governments are actively subsidising some sectors and penalising others. That kind of top-down central planning by writ, seldom ends well. However, it is the reality we are dealing with nonetheless.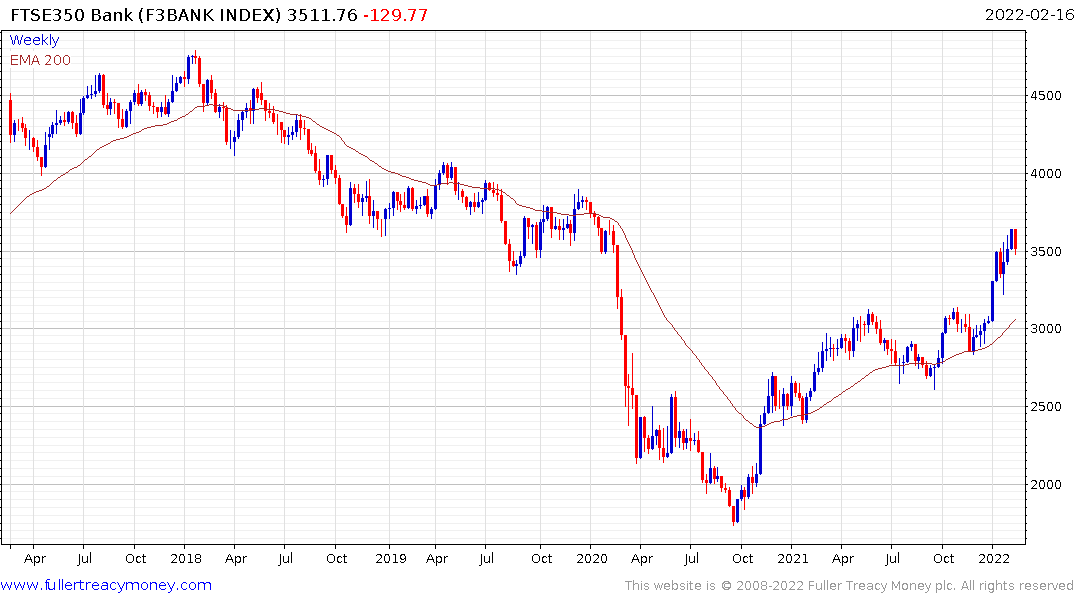 Governments need additional revenue. They have restive populations, high debt, and few options for raising revenue. Carbon taxes and "saving the planet" are the least likely to elicit strong resistance so they will increasingly form the basis for new taxation. The economy will be reshaped around the companies best placed to thrive in that environment. Here is a link to the Bank of England's Productive Finance Working Group report for example.
It's one of the reasons banks are doing well. Governments are encouraging banks to lend into favoured sectors and providing credit insurance to ensure money gets to where it is directed. With nominal yields low and a flat yield curve margins are not driving profitability. Protection from default on the other hand encourages greater risk taking and potential for returns.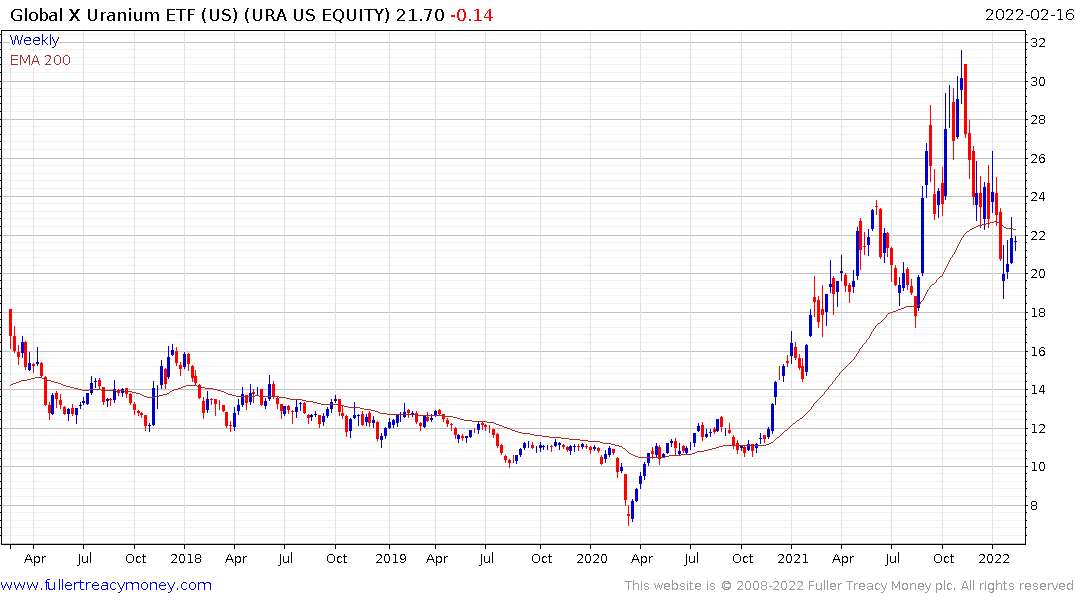 The Global X Uranium is currently firming in the region of $20 but will need to sustain a move above the trend mean to confirm a return to demand dominance.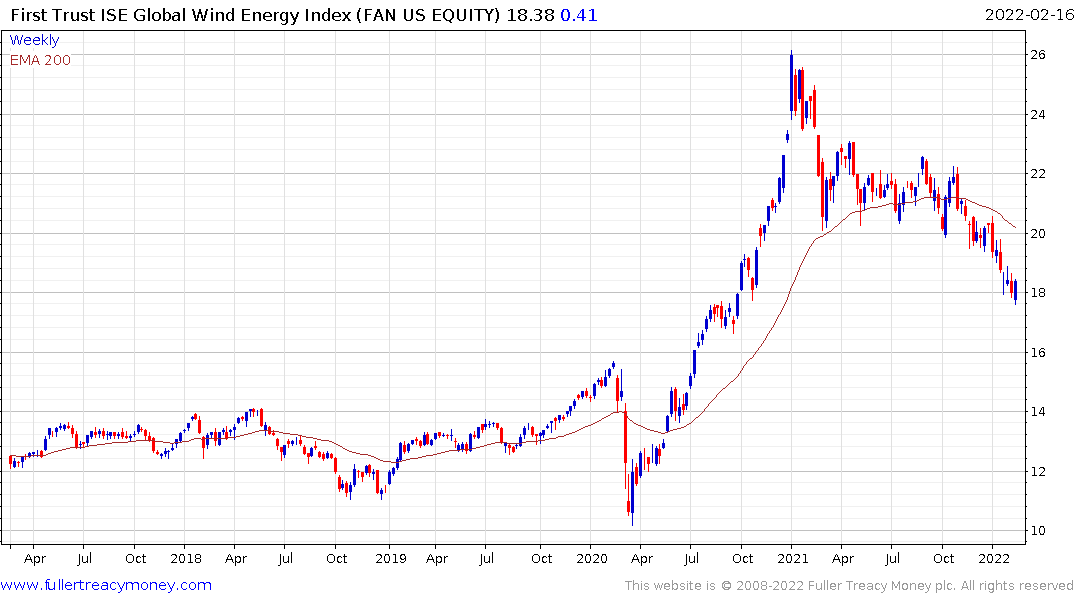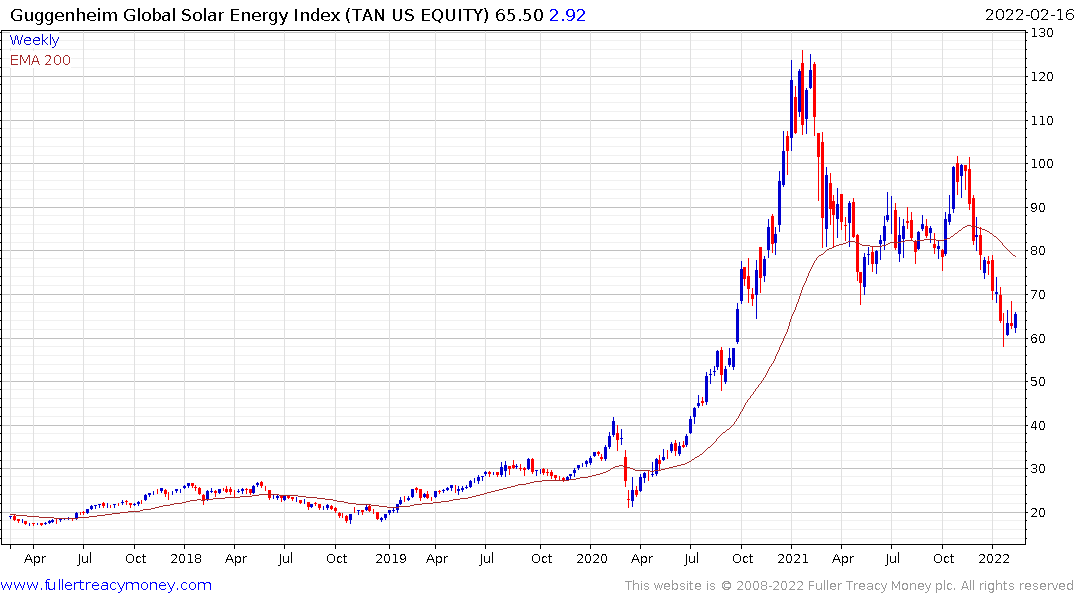 Both the Wind and Solar ETFs have experienced steep declines because of interest rate sensitivity and are now testing the region of the 1000-day MA. This is a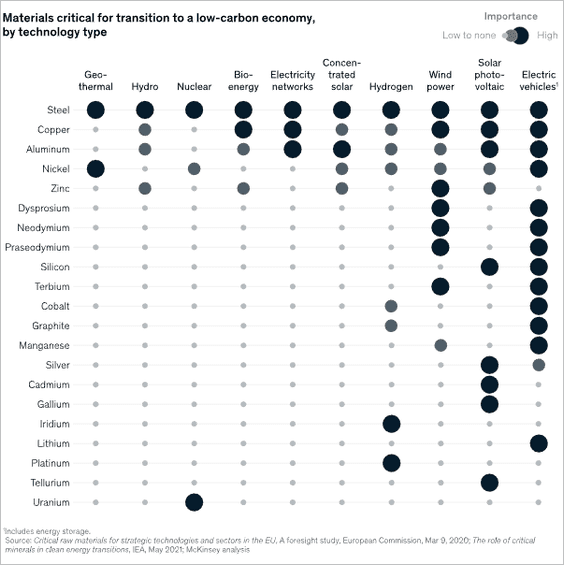 Ultimately, to provide the resources necessary for any kind of energy transition is going to require a massive increase in the supply of industrial resources. That implies more carbon emissions rather than less. This article from McKinsey covers just how metal intense most alternative energy sources are.
Back to top