Email of the day on diet and South African politics:
On diet. I have followed the recent discussions on diet with great interest. Having been in the veterinary profession for the last 50 years my own experience may be of interest. Two dictums I have always followed. You are what you eat and moderation in everything. For the last few million years or so humans have been omnivores and have a gut designed with that in mind, so a diet of vegetables, nuts, berries, meat and fish is ideal.

When I joined a small animal practice on the North Yorkshire border so long ago I was given a tip by my then boss who incidentally was a great friend of James Herriott and was featured in his books. He had observed the huge beneficial effects that certain formulations of the antioxidant Vitamin E had on elderly canines prone to mini strokes and heart problems. Some forty years ago I decided to take a daily dose myself. At any rate, I have reached the age of 76 (David's vintage) Mild blood pressure, normal cholesterol and in possession of all my original joints in good working order. I now have a pretty stress-free life spent for the most part in South Africa and the only thing now that tends to affect my blood pressure is the politics of the place!
Thank you for the valuable feedback from a lifetime of healthy living which I'm sure will be appreciated by the Collective. I notice that your list of what is healthy in moderation conspicuously avoids carbohydrates and other processed sugars. In the meantime, the politics of your adopted home were on full show today.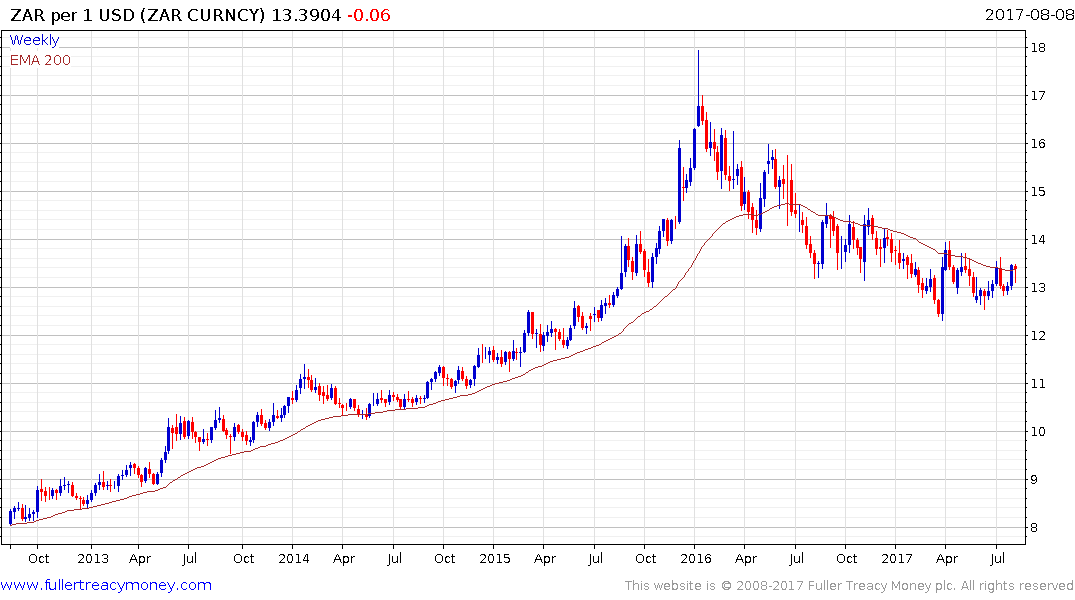 Zuma has survived the latest threat to his tenure with the ANC choosing internal cohesion in typical political party fashion. That suggests he will likely survive until his tenure runs out in 2019. It's not great news for the Rand which had rallied on the potential for him to be ousted. It is now looking increasingly likely the ZAR13.50 area will not hold and Rand will be subject to some additional selling pressure.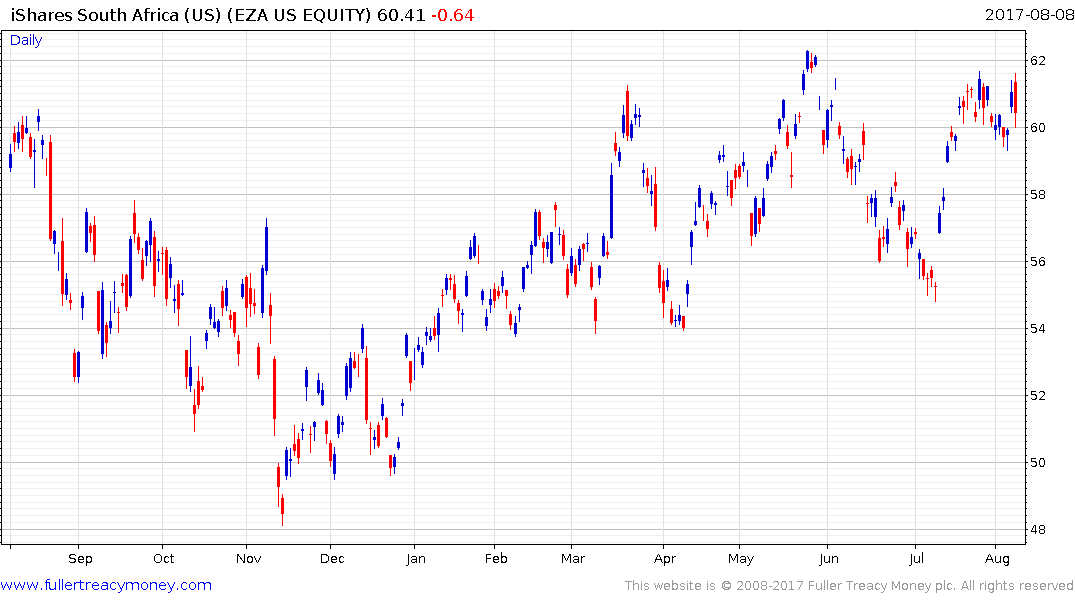 The iShares MSCI South Africa ETF posted a downside key day reversal on the news, from the $60 area which has been a previous area of resistance.
Back to top