Email of the day on demand surges versus supply disruptions
The author of this article in the FT argues that the current rise in inflation is a demand side event and not due to supply shortages. He argues that the statistics show that global supply has risen in 2021 but not as fast as global demand.
Thank you for this insightful email and related article. Here is a section:

There may be a case for such a policy turn, but the main factual premise of the new resilience-cum-autonomy doctrine is false. The pandemic put capitalist globalisation to the test, with sudden and enormous surges in demand, and it passed with flying colours.

Take durable goods. Headlines about shortages are the only thing that seem in ample supply, and everyone is experiencing delays in obtaining items, such as cars, that could previously be had with instant gratification. But the actual supply of durable goods is at record highs. Since the summer of last year, American consumers have been obtaining them in volumes much larger than the pre-pandemic trend. Many EU economies, including Germany, Italy and the Netherlands, have also matched or exceeded 2019 levels of durable goods consumption.

What about semiconductors? In a short paper published a month ago, Daniel Rees and Phurichai Rungcharoenkitkul of the Bank for International Settlements showed that semiconductor exports from Taiwan and Korea in 2020 exceeded the volumes recorded in 2019, and 2021 exceeded 2020. Exports currently appear to be running at a good 30 per cent above two years ago. The BIS's Hyun Song Shin has added that semiconductor sales in the US are much higher than in the years before the pandemic.
When I think about my family. Since early 2020 we fitted out a whole kitchen, did some modest repairs, bought a couple of iPads, Macbook, Surface, a Quest VR headset, six new phones, a table tennis table and too many small household items to count.
There is no question demand surged during the pandemic. Millions of people moved home and more had to set up work from home environments. I've been living at work for 14 years and can testify that having a well laid out office makes all the difference to productivity. I suspect everyone understands that now, so demand for bigger homes is still strong.
The challenge for manufacturers is they are under a great deal of pressure to boost supply to satiate this rising demand. That doesn't change the fact that the market for durable goods is cyclical. I won't but a new phone for years, I expect my new kitchen appliances to last twenty years. The pandemic has pulled orders from the future into the present and that represents a significant future headwind for everything from semiconductors to consumer electronics and other durable goods. Even a modest dip in consumer sentiment could result in a significant retrenchment in the demand growth forecasts for durable goods.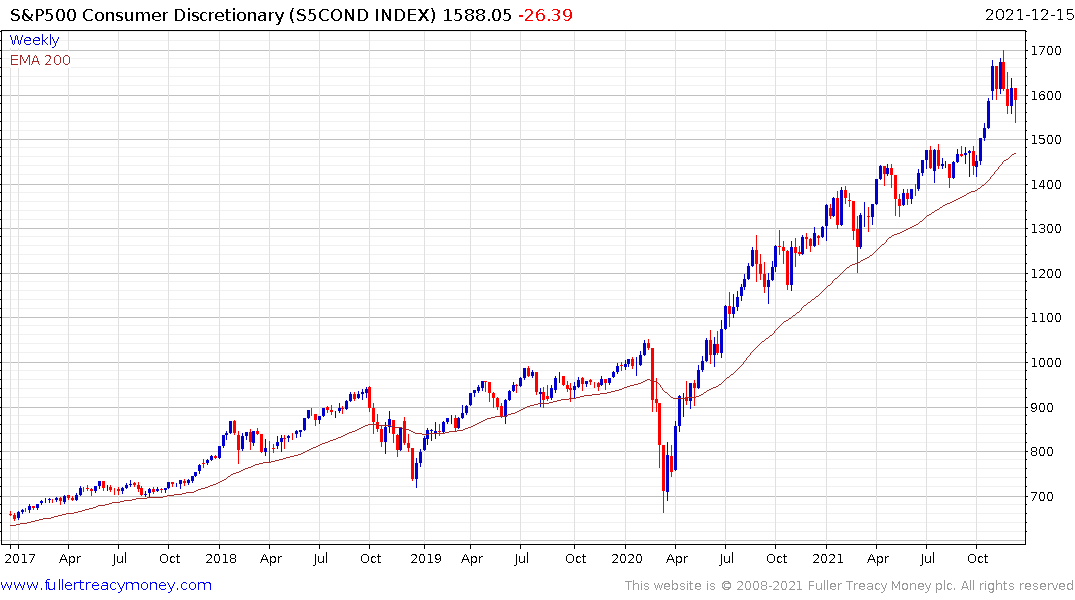 The S&P500 Consumer Discretionary Index rebounded from above the previous peaks today to confirm a near-term low.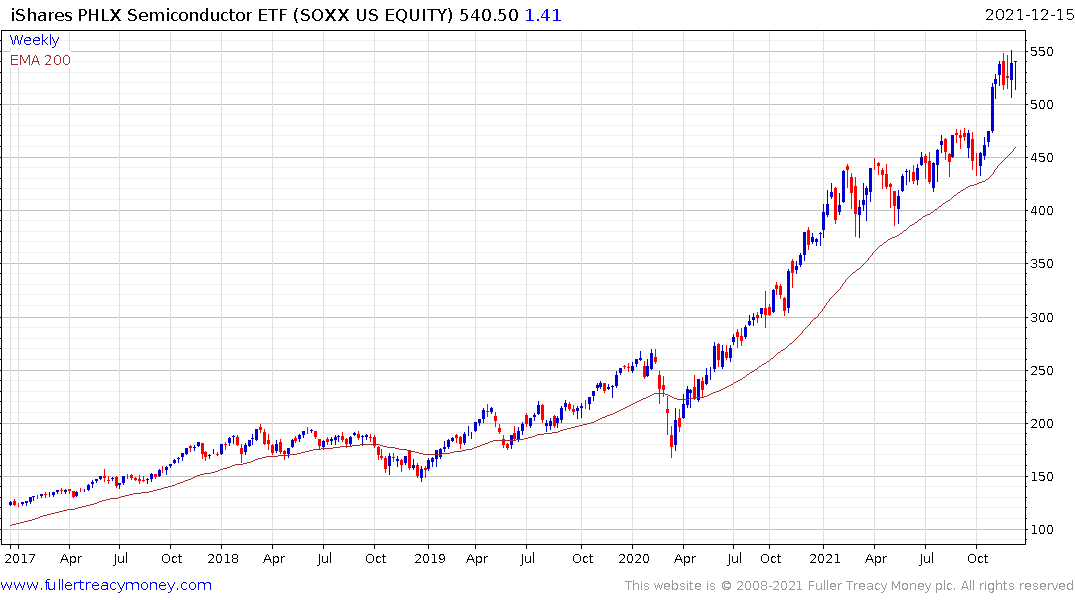 The Philadelphia Semiconductors Index has a similar pattern.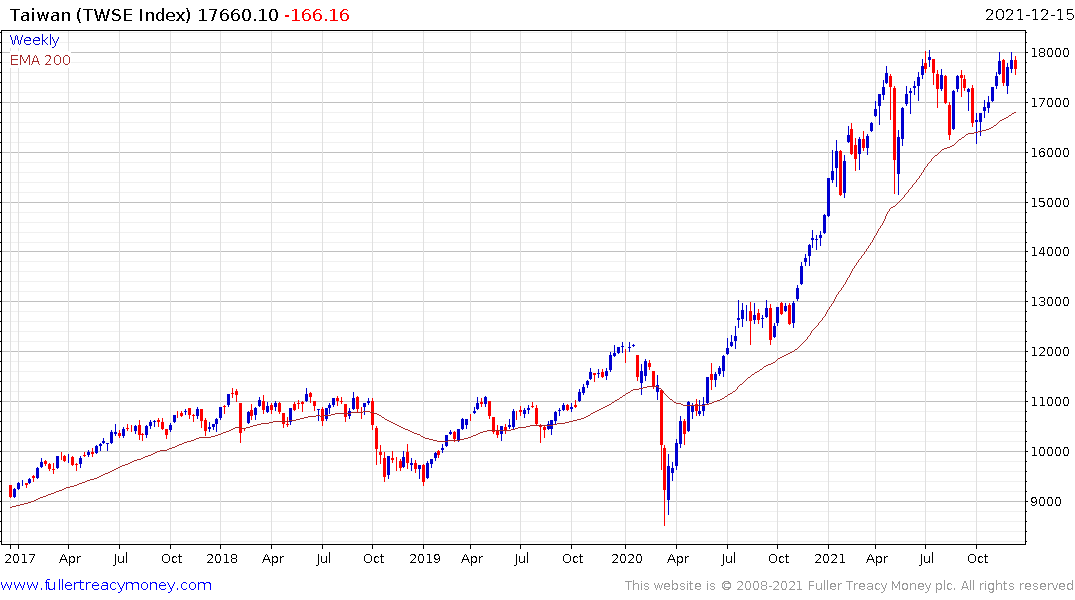 Taiwan's TAIEX continues to pause in the region of the all-time peak and is susceptible to some additional consolidation.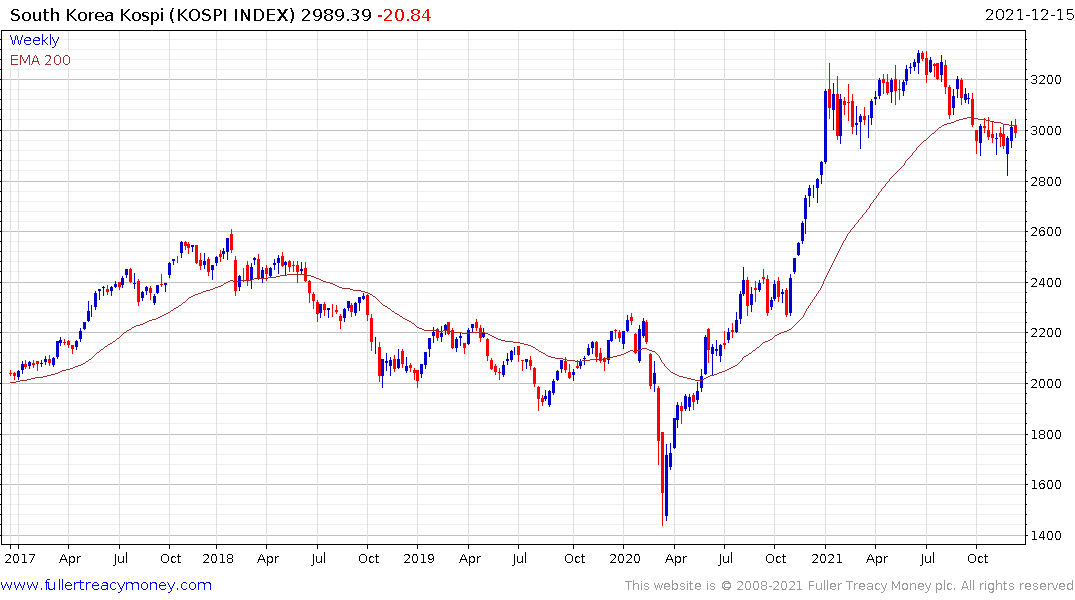 South Korea's KOSPI continues to encounter resistance in the region of the 200-day MA and has suffered considerable consistency degradation.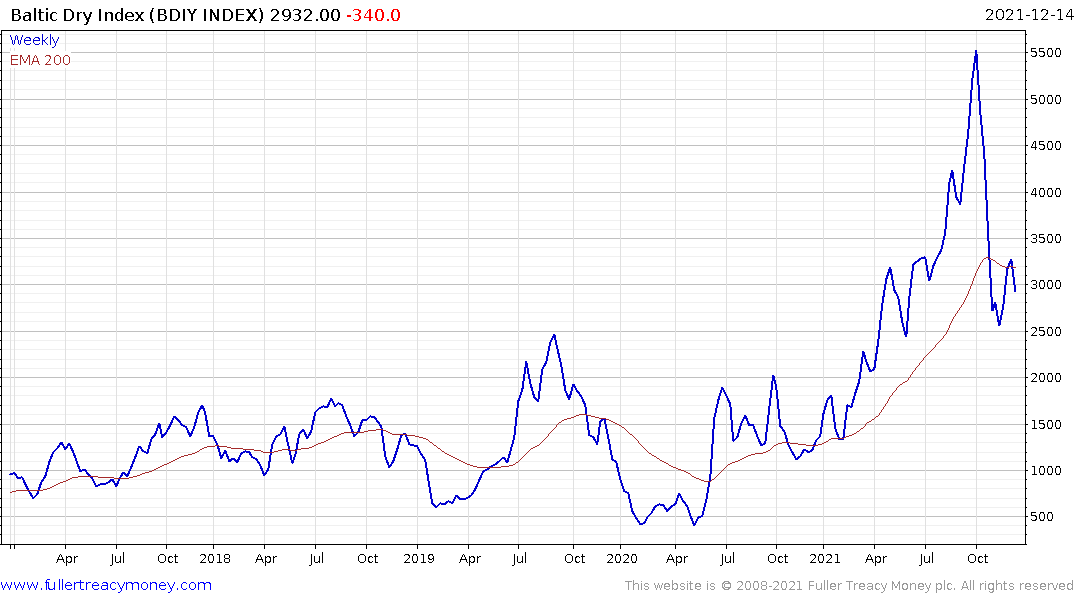 The Baltic Dry Index is easing back from the region of the 200-day MA following a brief reversionary rally. It needs to find support above 2000 if the return to medium-term demand dominance is to be given the benefit of the doubt.
Back to top