Email of the day on cryptocurrencies and distributed data
I tuned in to most of your Webinar. Excellent, and as always it gave me much to ruminate on.

Here is something also to ponder; pretty speculative but also with much to think about and references to many initiatives in this space that I had not heard of. Not sure if it should be of interest to the FTM collective.
Thank you for your kind words and I'm delighted you enjoyed the presentation. It has now been uploaded to YouTube.

I agree this article is speculative but it highlights some important points that are worthy of consideration. There is an undeniable trend towards digitisation of just about everything. If information is power, then it has a value and protecting it is more important than ever.

The methods we now have for protecting our online personal information are not efficient enough to deal with what is a constantly growing threat. The Anthem, Target and Home Depot hacks mean that huge quantities of what we consider our private information are now in the quasi-public domain. This is in addition to the information people share about themselves on Facebook, Gmail, Twitter, Tinder, Snapchat, Pinterest etc.

Companies are racing to develop both the hardware and software necessary to provide us with the security we need. Blockchain ledgers, cryptocurrencies and distributed data have the potential to represent major innovations in this field but these are still very new technologies. Bitcoin was released on January 1st 2009 and so far there are no US listed companies I know of with a market cap of greater than $50 million that have earnings. Two Chinese companies, Sinosun Technology and Westone Information develop crypto-hardware.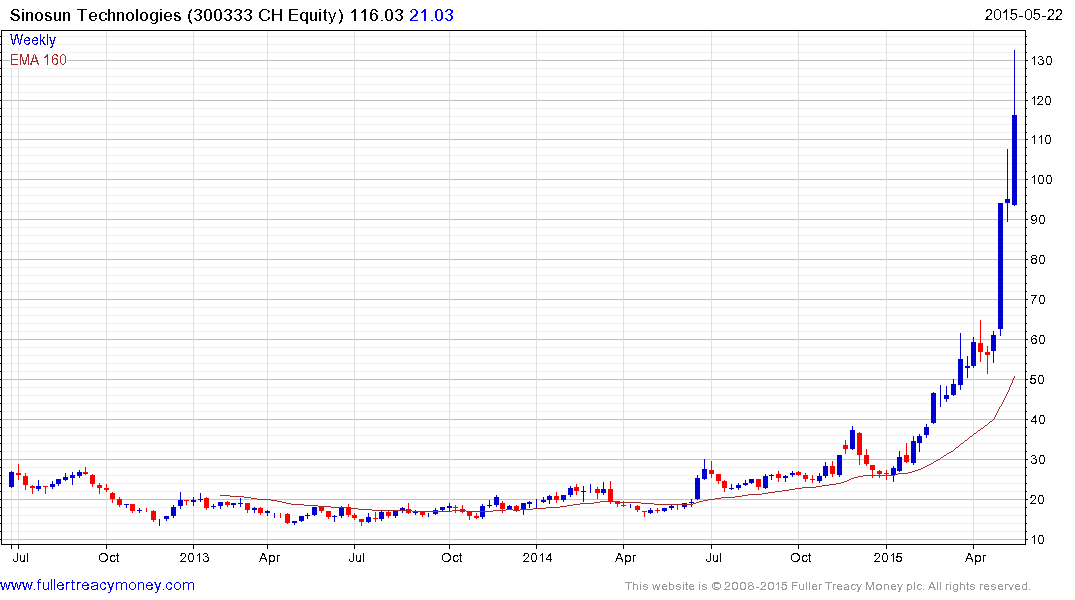 Sinosun Technology has accelerated higher over the last three week and is susceptible to consolidation.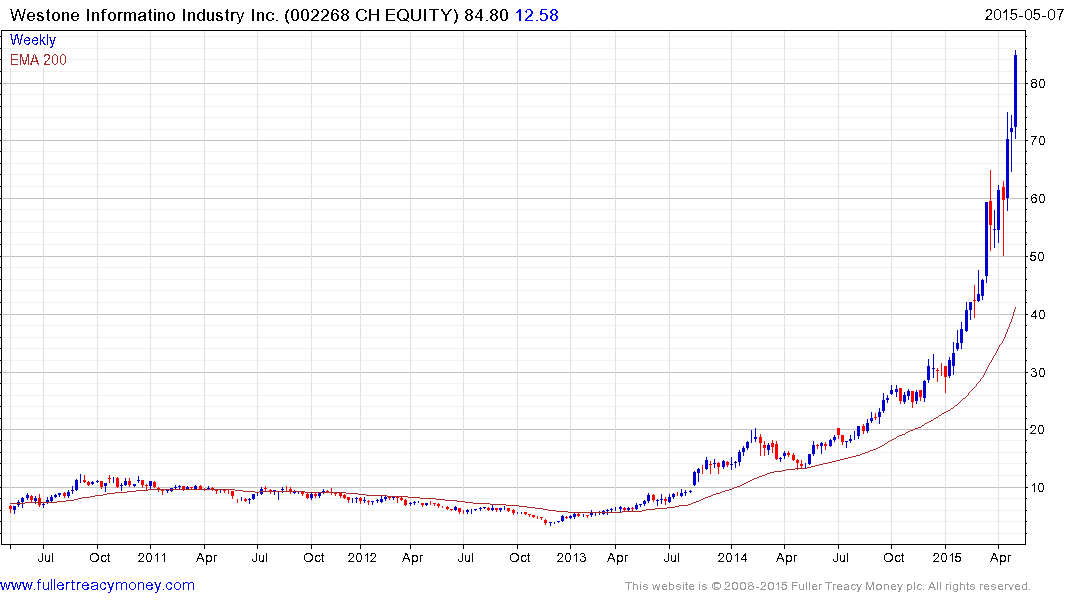 Trading in Westone Information was halted on May 7th following its outsized move. .

Among Western cyber security companies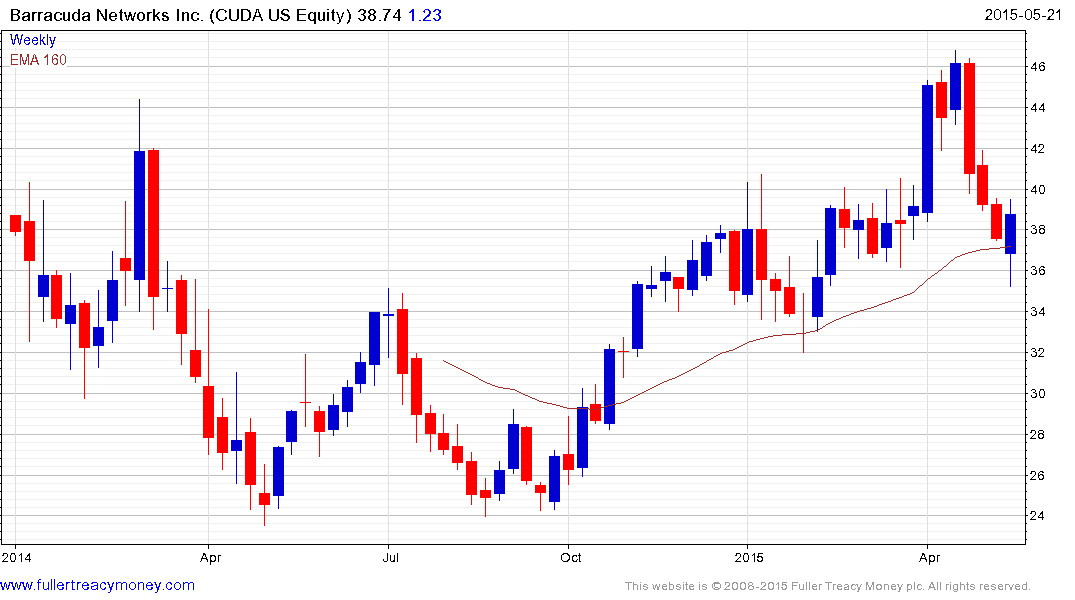 Barracuda Networks has returned to test the region of the 200-day MA and appears to have found at least near-term support.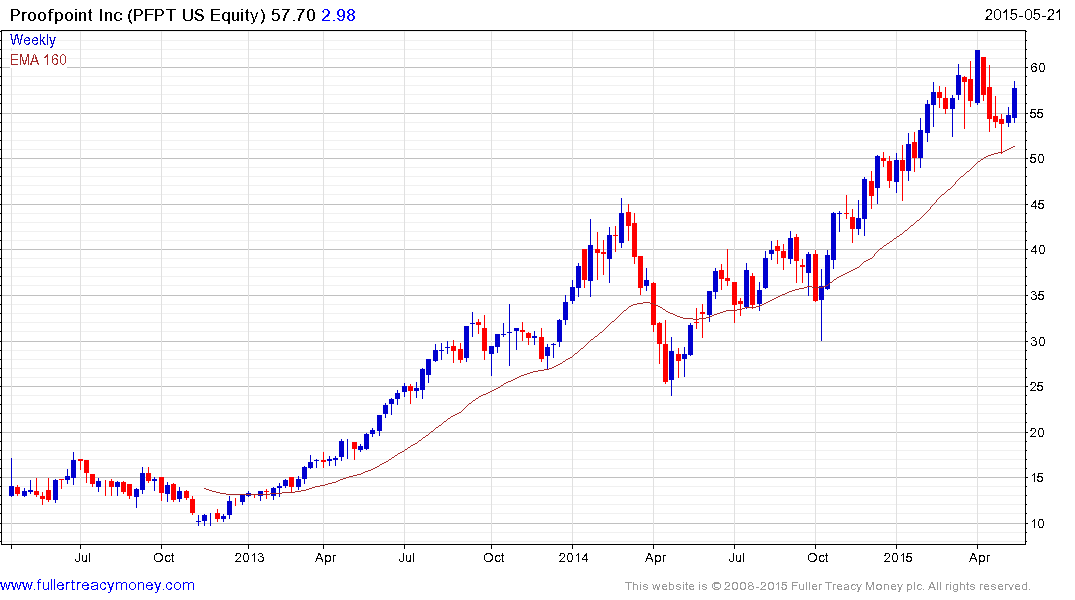 Proofpoint Inc is also rallying from the region of the trend mean.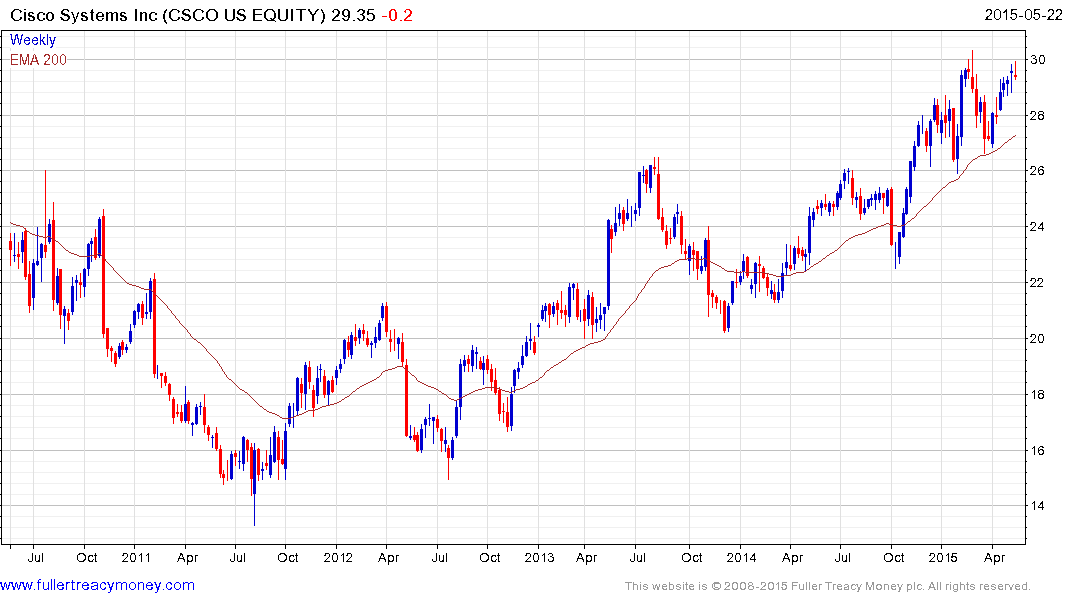 Cisco Systems continues to trend consistently higher.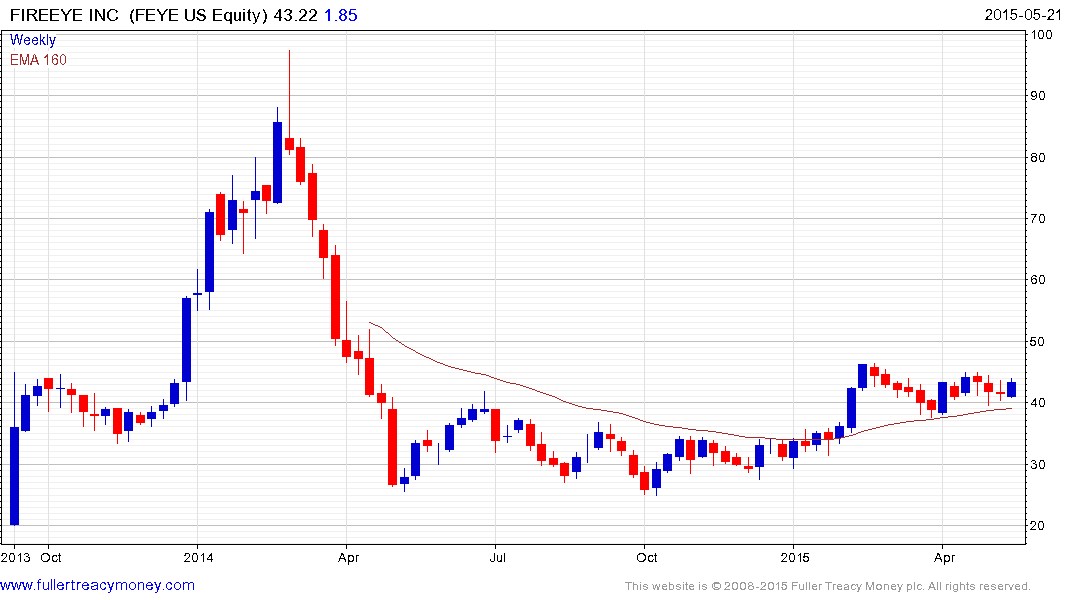 Fireeye continues to form a first step above its 2014 base.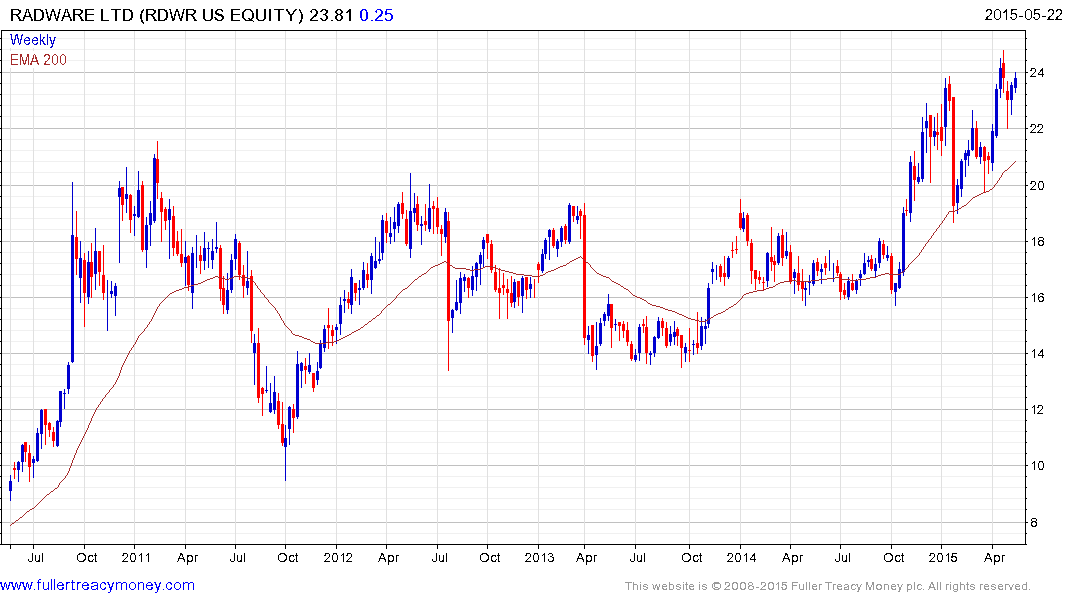 Radware continues to extend its rally following a breakout from its four-year range late last year.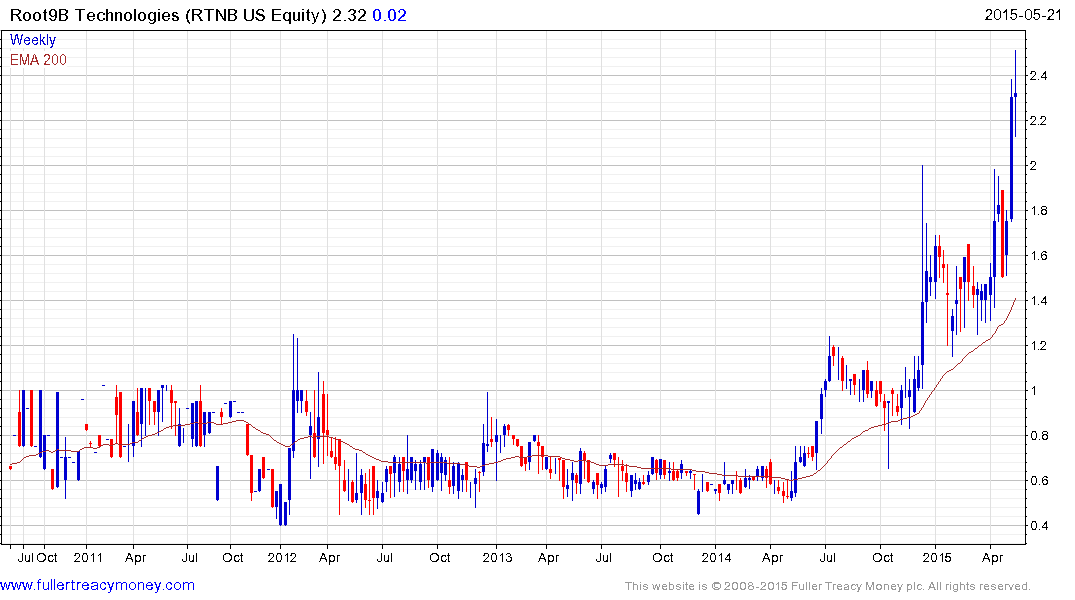 Root9B might one of the smaller companies but it continues to trend consistently higher.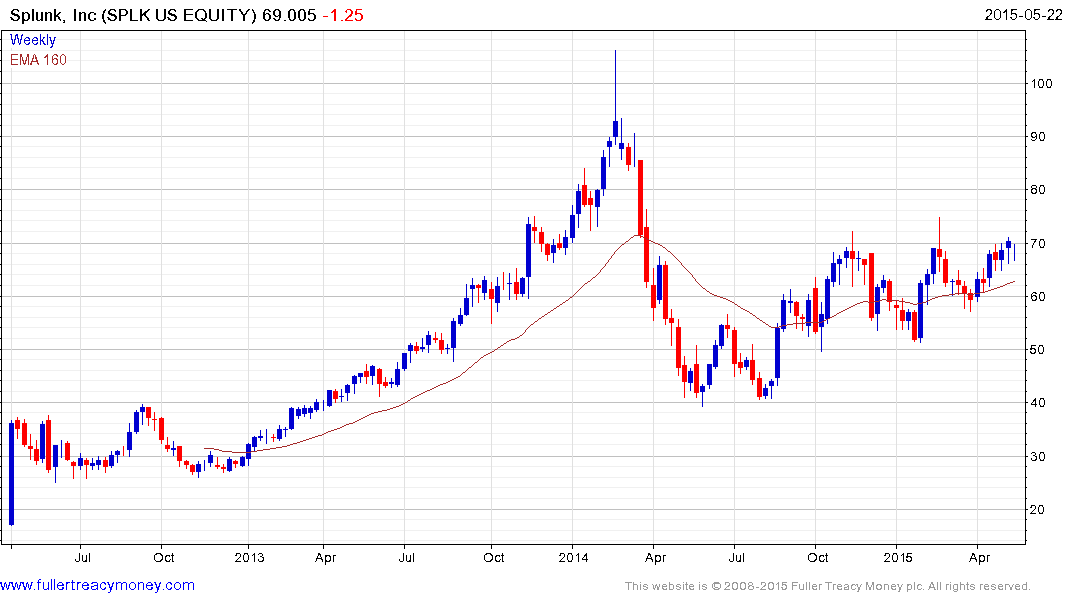 Splunk is testing the upper side of a 9-month range and a clear downward dynamic would be
required to question potential for a successfully upward break.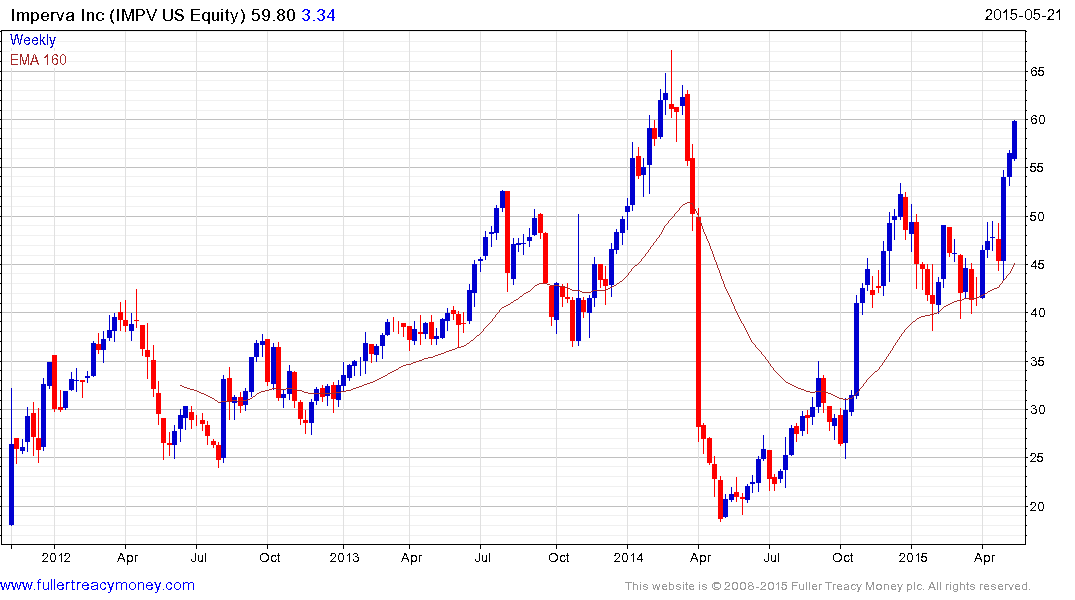 This report from Imperva focusing on responses to hacking threats may be of interest. The share continues to extend its breakout from a four-month range.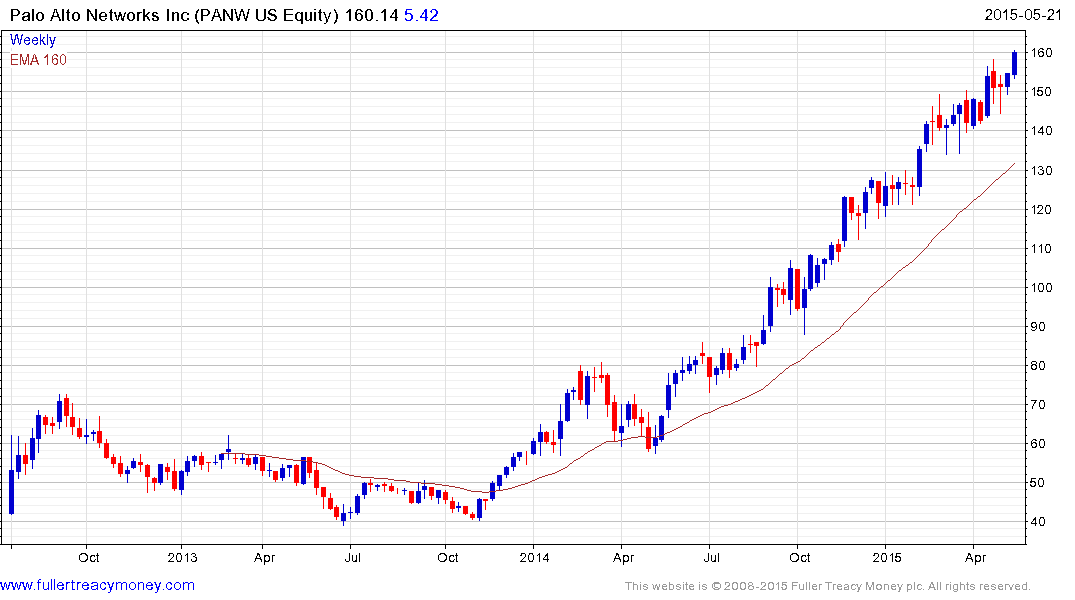 Palo Alto Networks remains a leader in the sector.
Back to top