Email of the day on China support for the stock market
Do you really believe that China's propping up their stock market is any more different from the FED's Plunge Protection team's operations in the US markets?
Thank you for a question of general interest. I agree that China is certainly not the only country to offer assistance to its stock market in times of stress. The Fed has its Plunge Protection Team and Europe banned short positions during its sovereign debt crisis. Countries regularly allow their currencies to take the brunt of selling pressure with a number of commodity producers offering examples at present. Slashing interest rates and boosting money supply achieve many of the same goals. However what sets China apart is the scope of its support.

While other countries support the market in extremis, China's government is much more intertwined with the market not least in its significant ownership of mega cap companies. China might now be supporting the market but it is also worth highlighting that it was instrumental in creating the preceding rally.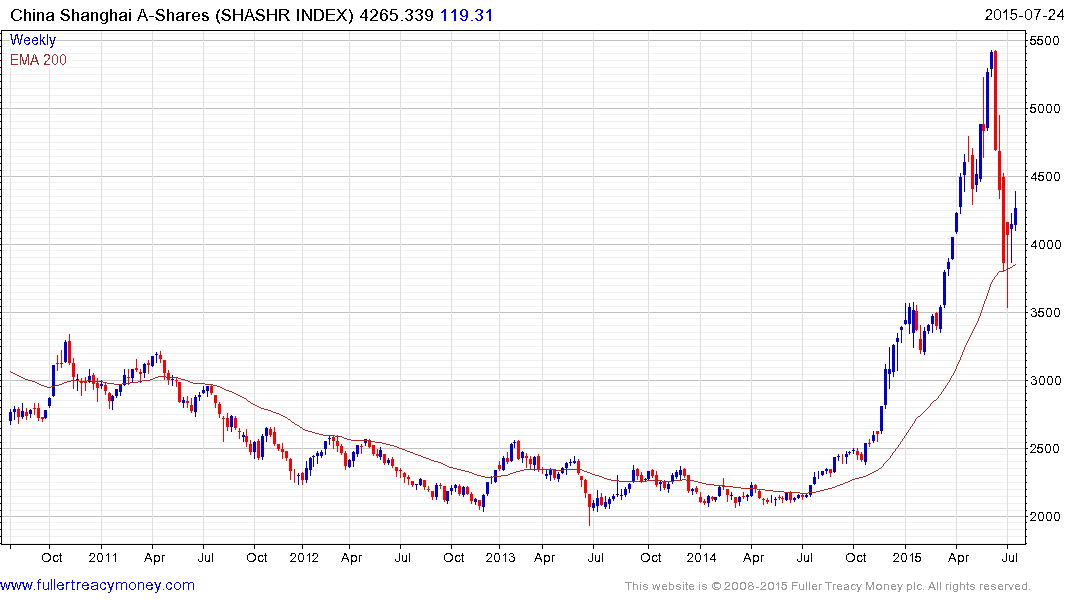 What probably has foreign investors on edge more than any other factor is the speed with which this whole saga has played out. Jumps of more than 100% in less than six months for a major market are not normal and very few people are willing to nonchalantly sit through a decline of 40%. This is a volatile market and the steady rally that has persisted in the last two weeks is a signal that a low of at least near-term significance has been found. However we will not have evidence of more than that until the Index finds support above it on the first significant pullback.
Back to top