Email of the day on China's real estate sector
A friend is telling me that XJP hates the real estate sector. He thinks it is a waste of capital. He wants China's money in infrastructure both domestic and abroad. Above all, in science and engineering. In fact, there appears to be a shortage of engineers in China now - can you believe it? And real estate companies are worried because XJP is cutting off their growth pathways at every turn. If this is true, my respect for XJP has gone up a big step.

It tallies with this story attached
China's economic growth model depends on increasing the size of the services sector and ensuring higher value-added jobs are created to ensure productivity increases in line with labour costs. Creating a domestic microchip sector is a big part of that ambition. However, China's ambitions are being stymied in Europe and the USA as an increasing number of acquisitions are facing government scrutiny. Here is a section from an article focusing on a Chinese-backed private equity firm's attempts to take over Lattice Semiconductor and now Imagination Technologies:
Canyon Bridge, which says it's based in Silicon Valley with an office in Beijing, is keen to structure a bid to avoid scrutiny from U.S. regulators, said the people, who asked not to be identified because the matter is private. The company's $1.3 billion purchase of Portland, Oregon-based Lattice Semiconductor Corp., whose programmable logic chips are used in military communications, is being opposed by U.S. national security officials, and President Donald Trump is considering whether to block the deal.

Huawei's attempts to woe Japanese engineers and Baidu's hiring in Silicon Valley for its AI ventures are representative of efforts to build a high sector industry from the ground up but creating a domestic microchip sector represents one of China's primary objectives.

I don't think boosting technological innovation and reducing speculation in the property market are linked. The dearth of investment products, the absence of a private pension program, stock market volatility, the reliability of returns property, as well as cultural factors have all contributed to the demand side of the property equation.

This article from the South China Morning Post highlights how denizens of China's large coastal cities, with some of the highest property prices in the world, are dependent on debt to fund their lifestyles. Here is a section:

The family lives on debt. Their monthly income of about 30,000 yuan is insufficient to cover a monthly mortgage of 40,000 yuan. But they see no problem with their lifestyle because they say their assets, mainly the flat, are appreciating.

"I strongly believe Shenzhen will continue to boom and become the best metropolis in Asia," Guo said. "The city's average property price will get to be the same as Hong Kong's ... as China's economic future is emerging in Shenzhen."

If Hong Kong's property cycle has anything to teach us it is that price appreciation occurs in anything but a straight line. The rising tide of consumer debt coupled with a heavy reliance on property price appreciation is not a healthy situation but there is little sign of it reversing at present.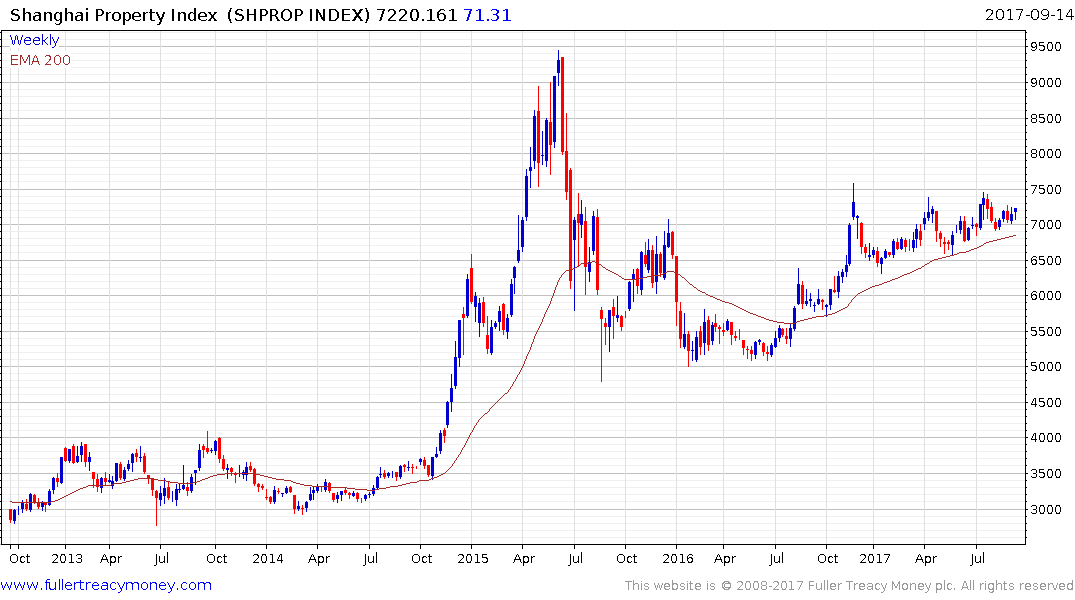 The Shanghai Property Index continues to hold a progression of higher reaction lows and a sustained move below the trend mean would be required to question medium-term scope for additional upside.
Back to top