Email of the day on China's domestic semiconductor industry
Picking up on today's big picture commentary, as well several recent comments about China's mission to create a semiconductor sector, I attempted to identify the largest Chinese based semiconductor manufacturers and assess whether they might benefit from such an initiative. I noted that SMIC (Semiconductor Manufacturing International Corporation) based in Shanghai is listed in HK ((981:HK) and the US (SMI:US). Do you feel that Chinese semiconductor manufacturers, such as SMIC, might stand to benefit from further state investment in the local sector to enable more independent control over their supply chain of semiconductors? The SMIC Chart at this stage would certainly not support this hypothesis as it has underperformed the SOX Index, but seems to be quite oversold. Your insight into this topical issue would be much appreciated.

By the way, for whatever reason, code 981:HK is shown in the Chart Library as China Green Holdings Limited (actual stock code 904:HK) and not SMIC!

Thank you for the excellent service - I look forward to starting virtually every day here in Sydney with your valuable and insightful video commentaries.
Thank you for this email and I am delighted you are enjoying the daily video commentaries. I've also amended the ticker for SMIC.
China has demonstrated time and again that it has no interest in importing chips that could offer a backdoor for foreign governments into its IT networks. At the same time, it has pioneered a major offensive to insert its own devices into the bones of the global IT infrastructure so it can do its own listening. Both of those objectives mean having a domestic chip manufacturing industry is essential to Chinese government policy.
The next question is how good does that chip industry have to be? The profit motivation of Western companies is oriented towards competing to achieve the best possible efficiency which has driven Moore's Law to come close to approximating the width of a carbon atom. The cost of getting to sub-7nm widths, which is what Intel and AMD are competing for at present, is inordinately expensive ($20 billion) and the incremental benefit is not as profound as it would have been a decade ago. That is why we now have graphics cards as well as central processing units and often computers now have two chips instead of just one.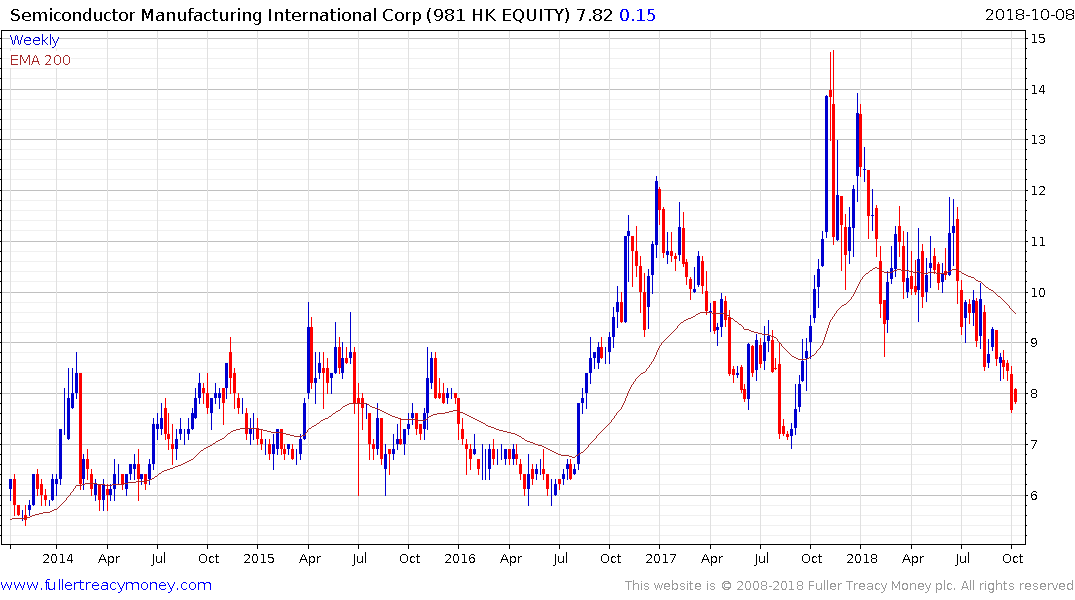 China's companies do not have a profit motivation. When national interest, crowd control and geopolitics come ahead of shareholder interests, it is quite possible that a decision is made to simply copy 10 or even 15nm technology but to reduce the cost through volume to uneconomic levels. I suspect that is why the shares of companies like Semiconductor Manufacturing International Corporation are underperforming. The deteriorating profit motivation argument is certainly a contributory factor in why China's overseas listed tech champions are underperforming.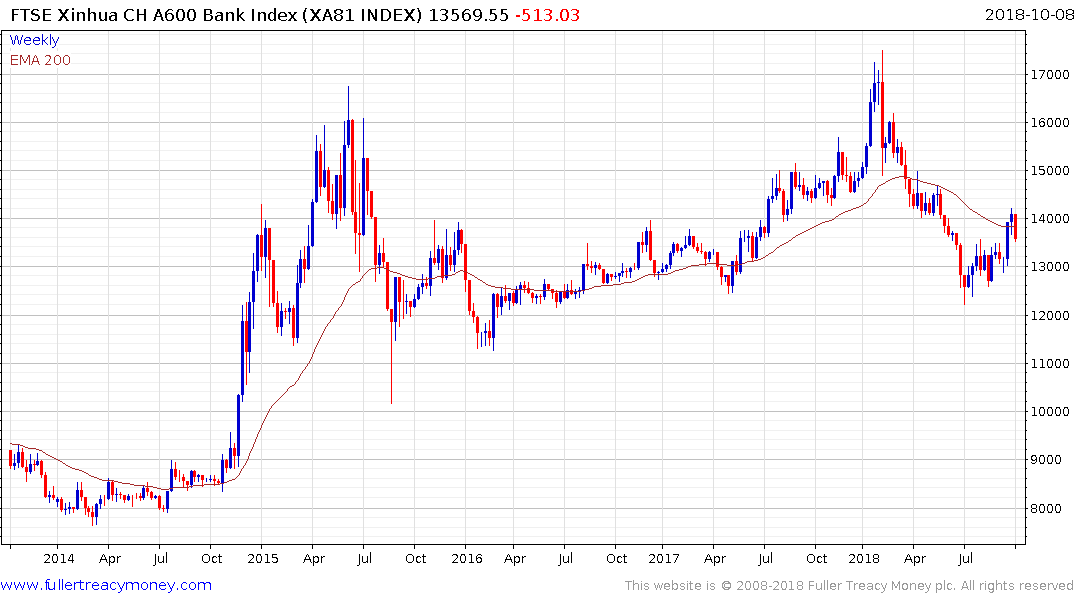 Today was the first day of trading after the mid-Autumn festival and despite the fourth cut to the banking sector's reserve requirements this year, the Index pulled back sharply from the region of the trend mean.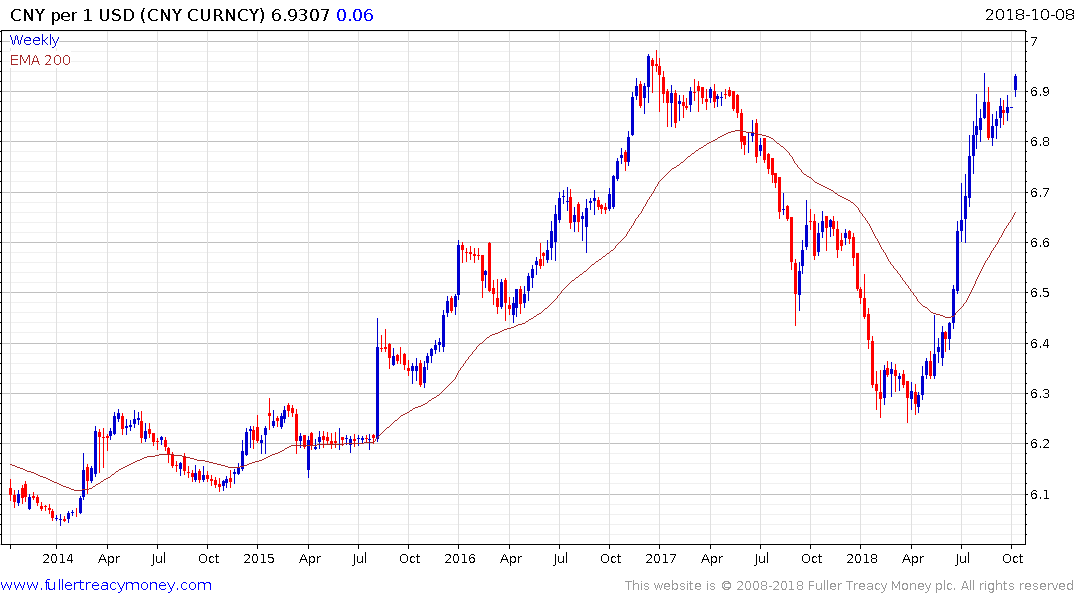 The renminbi was also weak and the potential for a break below 7 is looking increasingly likely. The Chinese government needs to come through with some form of stimulus program to reignite investor interest and there is talk of a fiscal boost. In the absence of a clear signal of state sponsorship, the Chinese market is likely to continue to trend lower.
Back to top