Email of the day on central bank digital currencies:
I have been a subscriber to your service for over 20 years, probably closer to 30 years. I am very satisfied with your service, and am one of your great admirers. I was surprised though how certain you sounded on the future of money and digital currency on Friday's audio. Do you really think that the current monetary system will change drastically and that digital currency will be the main currency in the future? What will be your guess as to how long will it take to have that kind of change? Once again thanks a lot for the excellent service.
Thank you for your patronage over the decades and this question which may be of interest to the Collective. The world is awash in debt and the total continues to rise. Governments are running wartime-like deficits and spending plans continue to be revised upwards. Nothing has occurred to change the trajectory of policy. Whenever the next crisis occurs central bank balance sheets will multiply in size again.
The stock market is not behaving like investors are worried about capital gains tax hikes. However, the foundations are being laid for higher taxes. That is going to take the form of capital gains tax hikes, the closing of loopholes and the imposition of new corporate taxes on carbon and global earnings. This is not something that is going to occur overnight but it certainly represents the ambitions of politicians.
To more accurately tax income streams it is necessary to track them. The war on cash has been ongoing for years but the evolution of digital currencies opens up a whole new front. Cash is now seldom used in China. I find cash to be a nuisance in my day-to-day life and credit cards points systems incentivise using a credit card for everything. The pandemic has greatly reduced the number of cash only businesses in my neighbourhood; particularly restaurants. Today, the biggest argument against using unregulated cryptocurrencies is they are havens for money laundering. In future anyone insisting on using cash will be accused of the same sin.
A central bank digital currency creates a ledger of all transactions. It gives the sovereign full control over money creation and velocity of money. It also allows for full visibility on what consumers are doing and they will be introduced to "make sure the rich pay their fair share".
At present central banks are willing to allow the private sector to do all the heavy lifting in testing the viability of digital currencies. When they are ready to implement their own solutions, they will make owning to dealing in unregulated cryptos illegal. That's not a near-term problem but it is the most likely scenario for the future.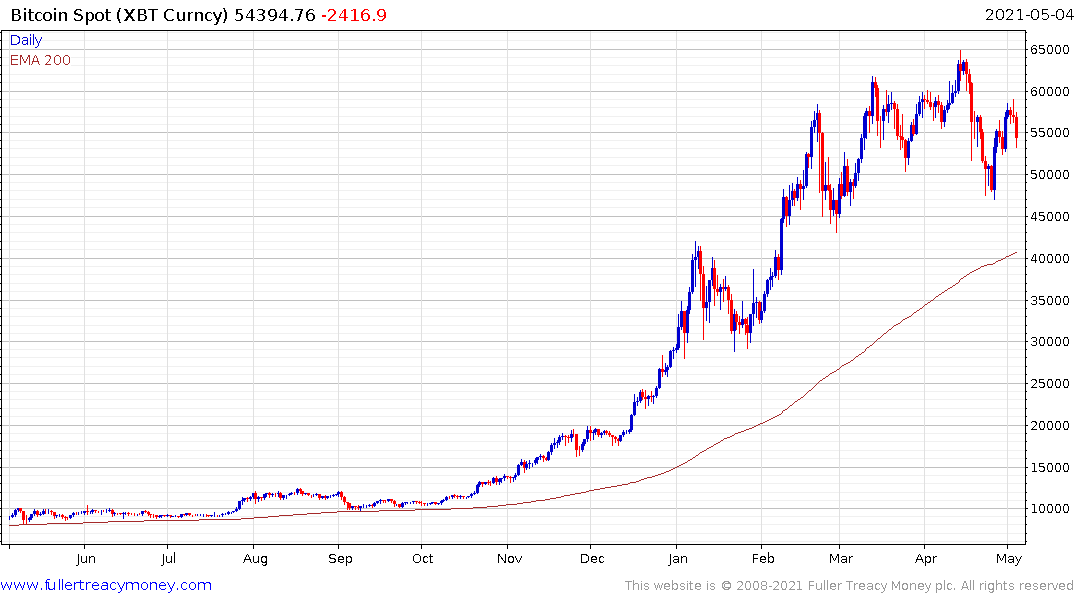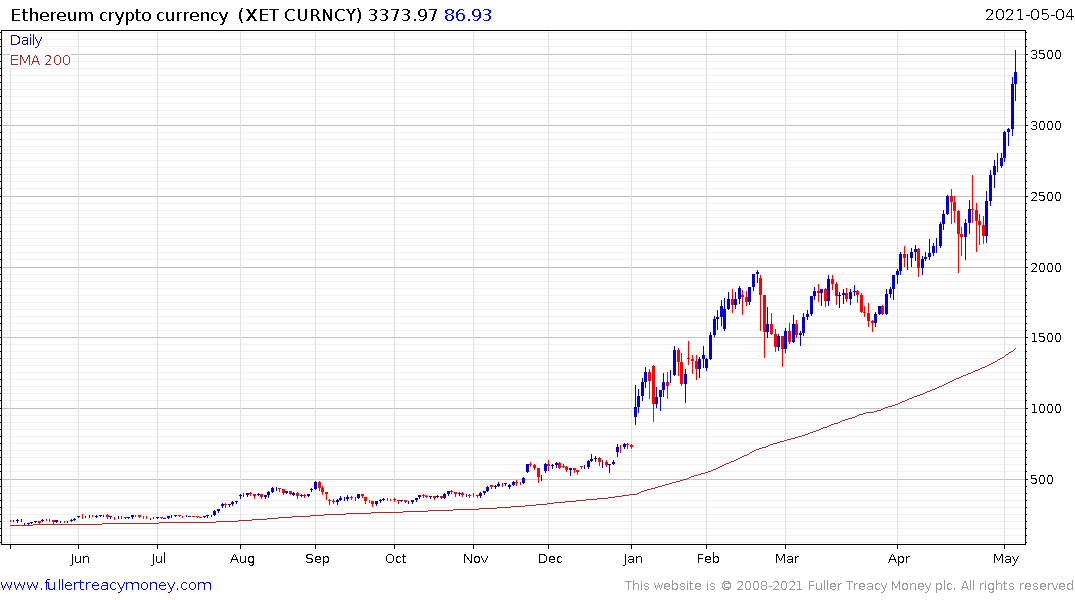 Bitcoin is pulling back from the 50-day MA again. I remain of the view the price has peaked. So far Ethereum continues to exhibit relative strength but that will not last if bitcoin extends its decline to new reaction lows.
Back to top