Email of the day on Brexit and likely outcomes
On the latest events, I think this table in attachment is reasonable and persuasive in content.

Basically, it indicates the following as yet the most likely scenario:

"Soft Brexit - Stay in the EEA and Customs Union, or never-ending Transition"

Then expanding to say:

"The EU sticks to its principles and does not allow the Single Market to be broken up. The government and the public become more fearful of the impact of a hard Brexit. No other option solves Irish border issues. Alternatively, the Tories implode or delay Brexit until after the next election, which Labour wins"

It would then become – in my opinion – imperative to open a serious debate re how referenda are done and forbid those on international agreements… I think it has been abundantly demonstrated they are a folly. With good governance restored the country would finally be able to move forward.
Here is a link to full report

Thank you for this graphic and email which may be of interest to subscribers. Muddle on has been the policy of choice followed throughout the negotiations where the EU has gotten just about everything it wanted and the UK has made one concession after another. That suggests the UK government has concluded it has more to lose from a "hard" Brexit than the EU.
The big question facing the Conservative Party today is whether principle means more than power. If the Brexit camp fails to unseat Theresa May then it will either have to accept the government's negotiating tactic or refuse to vote with the government which could bring it down and result in a potentially lengthy period in opposition if an election is called.
If one is betting on the cynicism of politicians then politicians will keep mum. The problem with that conclusion is all politics are local and the reason pro-Brexit politicians are so vocal about the trajectory of negotiations is they are responsible to their voters. Apart from the naked ambition of both Davis and Johnson, principle matters in the UK a lot more than in Europe, where countries abuse European directives with impunity and have no intention of leaving the trading bloc.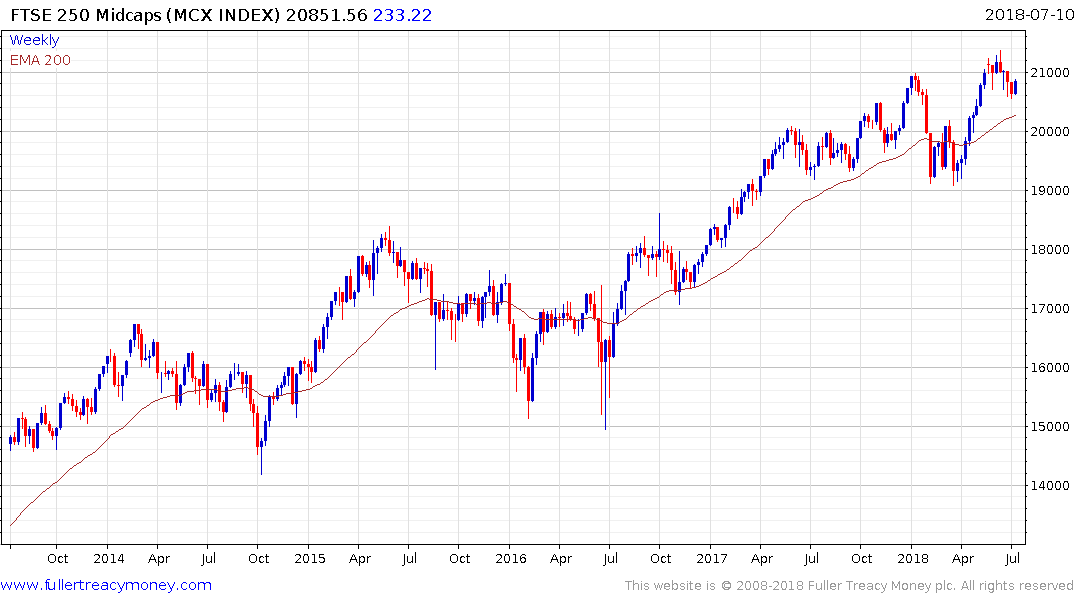 Meanwhile, the FTSE-250 Index remains in a reasonably consistent medium-term uptrend and a sustained move below 20000 would be required to question medium-term scope for continued upside.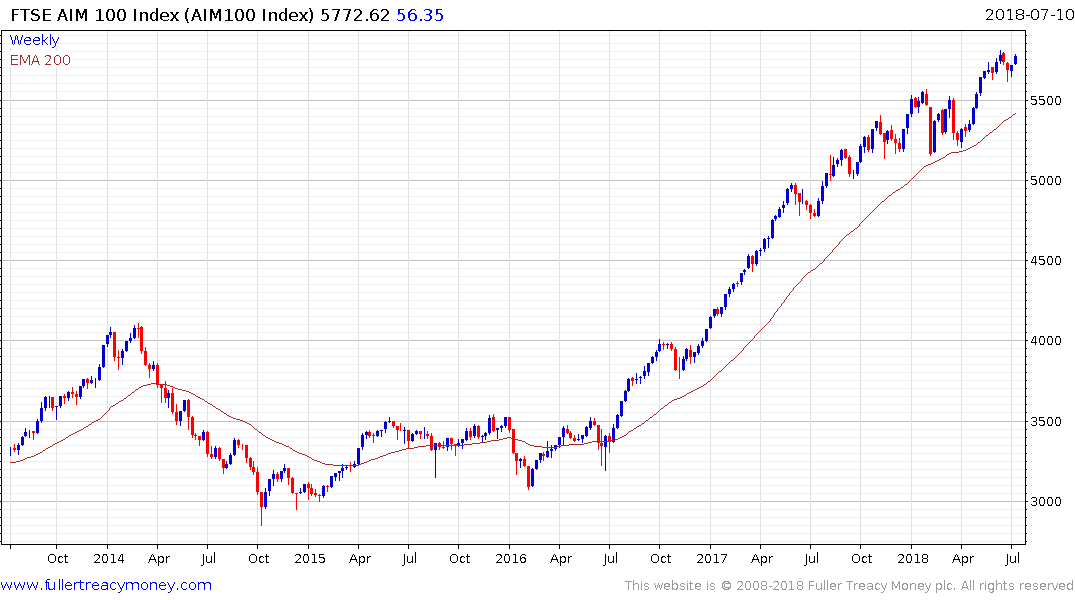 The FTSE AIM 100 Index of small caps is consolidating above its previous peak and a sustained move below 5500 would be required to question potential for continued upside.
Back to top