Email of the day on a range versus a base
When I see/read that Glaxo's shares have been ranging for 20 years, I can't help but be reminded by your service's maxim that, ranges are explosions waiting to happen." After 20 years, one must wonder when and in what direction will we see the explosion?
Thank you for this topical question. Glaxo has been a highly innovative company and yet the share has been locked in a lengthy and volatile range for decades. That suggests the innovations that drove the original bull market and funded the M&A activity that created GlaxoSmithKline are priced in.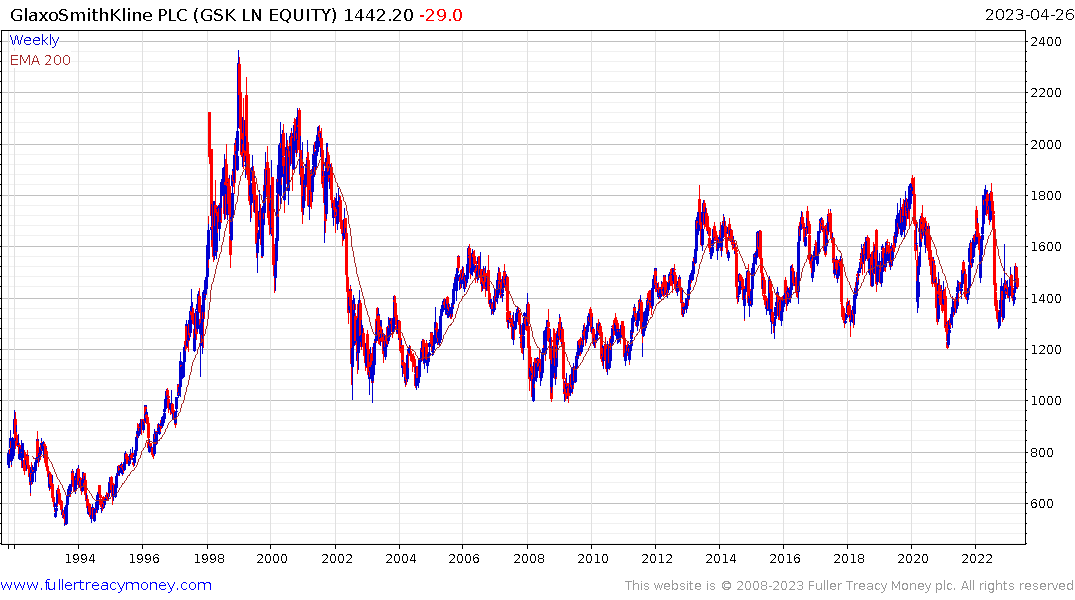 When a range has been in place for so long traders are more dominant than investors and they are conditioned to sell strong rallies and buy significant dips. Meanwhile the dividend sustains longer-term investors but not to such an extent they are willing to commit significant sums to buying the shares.
For a breakout to occur, there has to be a new story. For a company like GSK that could be a new blockbuster drug or a new innovative business model. Since the spin-off of Haleon, its over the counter consumer healthcare suite of brands, the company is now a pure pharmaceuticals play once more.
Within a base formation, a sequence of higher reaction lows would tell us that demand is coming in at successively higher levels. That would confirm buyers are unwilling to wait for a deeper dip to buy. That also suggests they have a reason for that conviction. The fact GSK has been lagging the wider healthcare sector suggests to me they have a lot of work to do before investor confidence is restored.
Back to top