Email of the day on a China slowdown
Many thanks for another great year of top-class service. All the very best for 2019 and beyond. The following article in today's Observer gives on-the-ground evidence of the slowdown in the Chinese economy.
Thanks for your well wishes, your kind words of encouragement and Happy New Year!
Here is a section from the article:
"People have started to reduce or even stop spending money because they don't expect the economy will perform well," said Ye Tan, an independent economist based in Shanghai. "Companies and individuals are wary about the economy."
Going into 2019, China faces not just a slowing economy but also a protracted trade war with the US, a pile of debt that threatens the world economy along with the Chinese financial system, and a populace demanding better environmental, labour, and health protections.
Next year, China's leaders face some of the most difficult policy decisions they have had to make in years. Analysts say they are confronting a choice between pushing headline growth through Beijing's traditional levers of infrastructure spending funded by debt, or painful reforms that lower financial risk but raise the possibility of unemployment, and ultimately social instability.
Officially, China's economy is humming along. Economic growth is expected to slow to 6.3% next year, after reaching 6.6% in 2018. The economy expanded by 6.5% in the third quarter, the country's slowest quarter since 2009.
Yet economic indicators from auto sales to manufacturing activity are all flashing red. In November, growth in China's manufacturing sector stalled for the first time in more than two years. Annual auto sales in the world's largest car market are on track to contract for the first time since 1990.
Veteran subscribers will be familiar with my refrain from the Subscriber's videos that China is the epicentre of global risk despite Wall Street and the Trump administration grabbing headlines.
When we last visited China in July there was a palpable sense of unease that was in sharp contrast to the freewheeling optimism we've experienced on visits over the last decade. That is further evidence of the slowdown underway which has the potential to become a recession if the Xi administration doesn't get its policy mix just right.
That increases the potential China is about to embark on a further round of stimulus with it likely to have both monetary and fiscal components.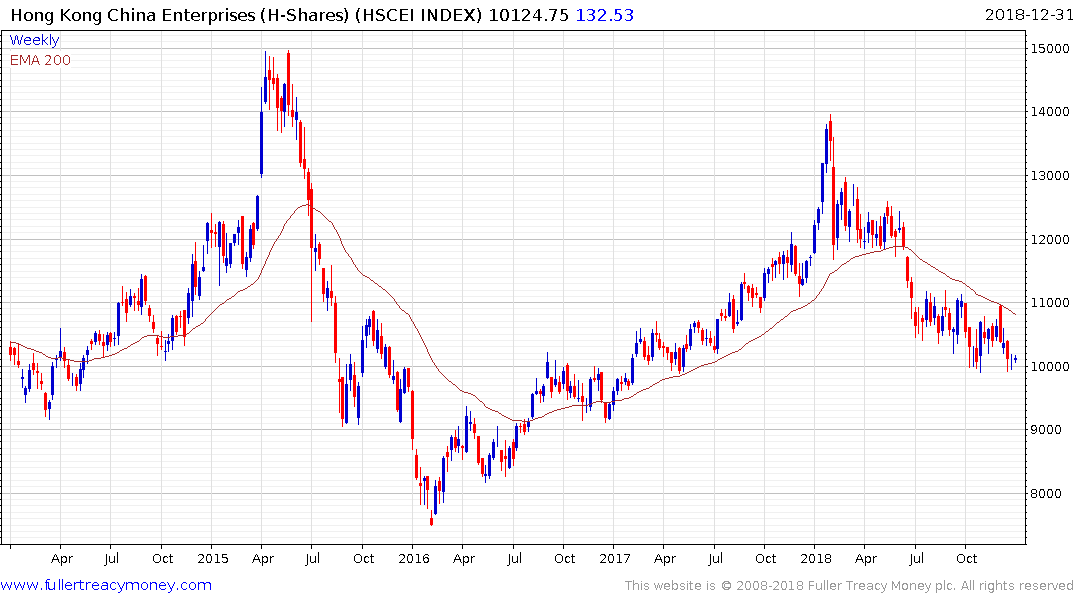 The China Enterprises Index (H-Shares) posted an upside weekly key reversal in November and has returned to test the low near the psychological 10,000. It will need to hold its lows if support building is to continue to be given the benefit of the doubt.
Back to top