Email of the day from a coffee insider
The estimate of the Brazilian coffee crop of 2019 is 49 million bags of 60 kg This means a 20 % drop from 2018, when Brazil produced a record crop of 62 million bags. This is a big difference. But it is due to the fact, first that Brazil is in the "off-year" of its two-year coffee production cycle, which alternates between years of high and low production cycles. The coffee trees are resting one in two years. Second, there has been irregular weather that was not good for the crop. And third, the farmers are diminishing the crop care because of prices that have fallen too low. This is happening after a bumper "on-year" which brought a collapse of prices. The influence of Brazil on the world coffee market is important because it is the largest producer. (62 million bags on a total world production of 175 million bags). But in the other countries the same causes have most of the time had the same effect.

What must be noticed also is that very low prices because of overproduction were normal to a certain extent, but as always, investment funds and speculators (or call these also investors with a euphemism) went about 51.000 contracts short (equals 12.750.000 bags) and then suddenly reduced these short positions to about 17.000. This of course amplifies the movements of the market, this time to higher but still not normal prices. In the meantime, the farmers are starving with a daily income of 3 dollars, flee their central American countries and try to get in the U.S. It's a shame, a hard world. That's why in my company we promote Fair Trade Coffee, now at about the double of the price of the market. We are making nearly half of our turnover with this coffee.

The Real is also an important parameter, but it is not the only one. The two charts of coffee and Real are often linked, but not always when such fundamental events are happening;
Thank you for this valuable insight into the machinations of the coffee market. The two-year cycle of coffee tree productivity is an important consideration when weighing the likelihood of a downtrend due to overproduction persisting. The fact farmers are walking off their farmers in Central America is an inhibitor to increasing supply but as you point out Brazil is the primary source of Arabica.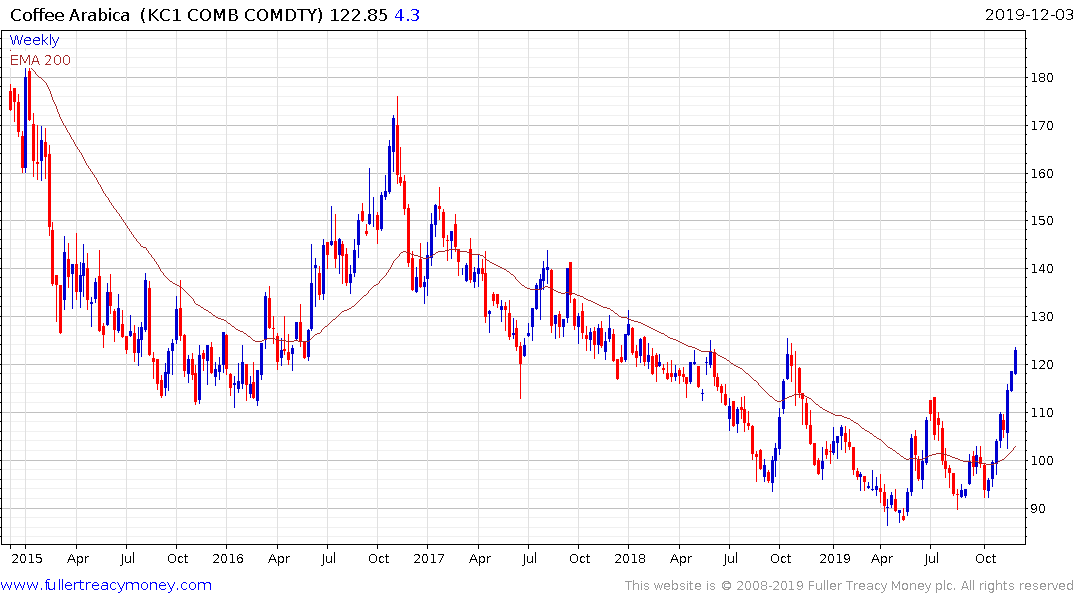 Arabica coffee rallied in the last three weeks to break a three-year downtrend. It is currently somewhat overbought in the short term so some consolidation of recent gains is looking likely. Nevertheless, there is scope for a further rally over coming months considering how low prices are relative to where they have traded historically.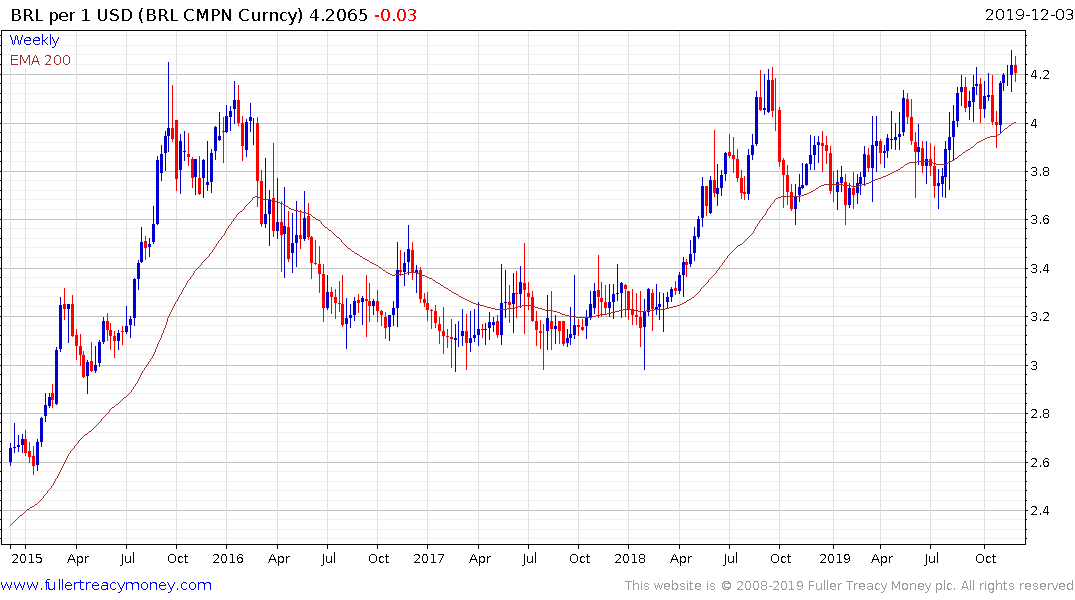 Over the last week, the Brazilian Real has steadied from its lows. That is likely in response to central bank intervention to support it. Nevertheless, Brazil has no interest in a strong currency and the administration is probably more interested in avoiding a sharp decline than stoking significant strength. A sustained move through BRL4 will be required to question Dollar dominance beyond a short-term pause.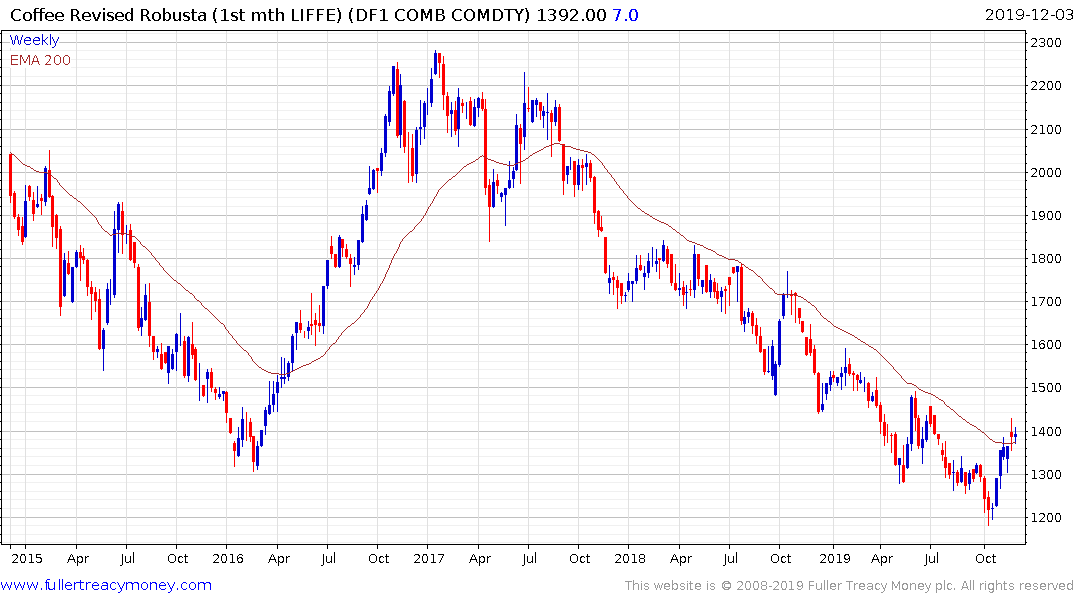 Robusta coffee is testing its downtrend and will need to sustain a move above $1400 to confirm a change to the medium-term supply dominated environment.
Back to top