Email of the day - on type-2 top formation development and completion
Thank you, Eoin, for the service. Your call on BTC topping out was excellent. Could you please explain again the signals for your call? You were discussing inconsistency in trend, I believe. In what period? Also, it would be great to hear (based on your latest audio comment) why do you think BTC is not in a secular bull? Thank you. Kind regards,
Thank you for your kind email which may be of interest to subscribers. One of the oldest adages from The Chart Seminar is "a consistent trend is a trend in motion". That means the rhythm of the market will persist until something happens to change it. When a consistent trend becomes inconsistent, it tells us the imbalance between supply and demand has altered. That is a warning sign that trouble may lie ahead.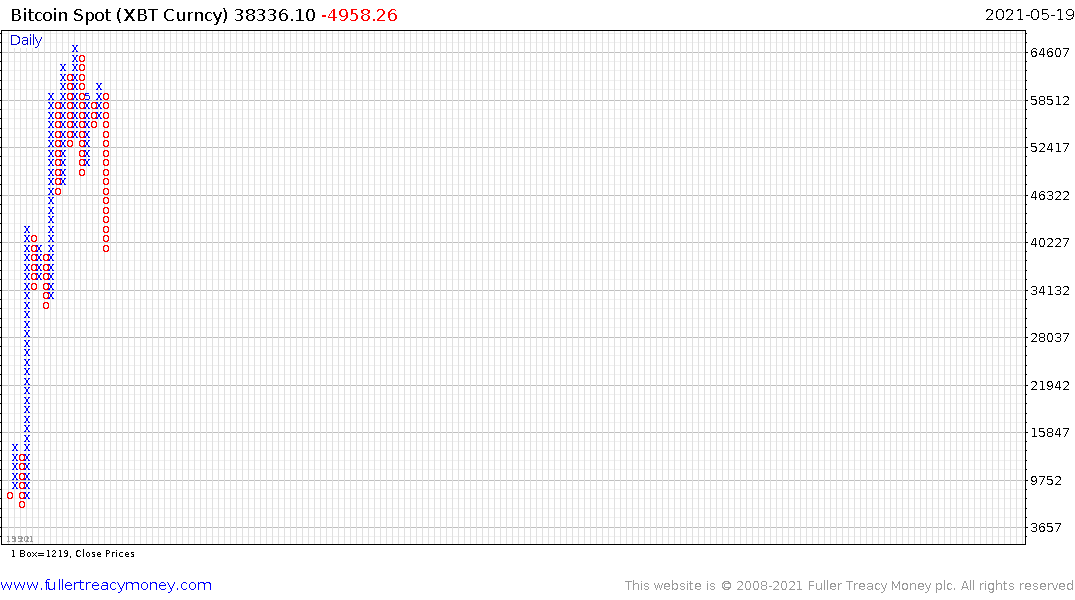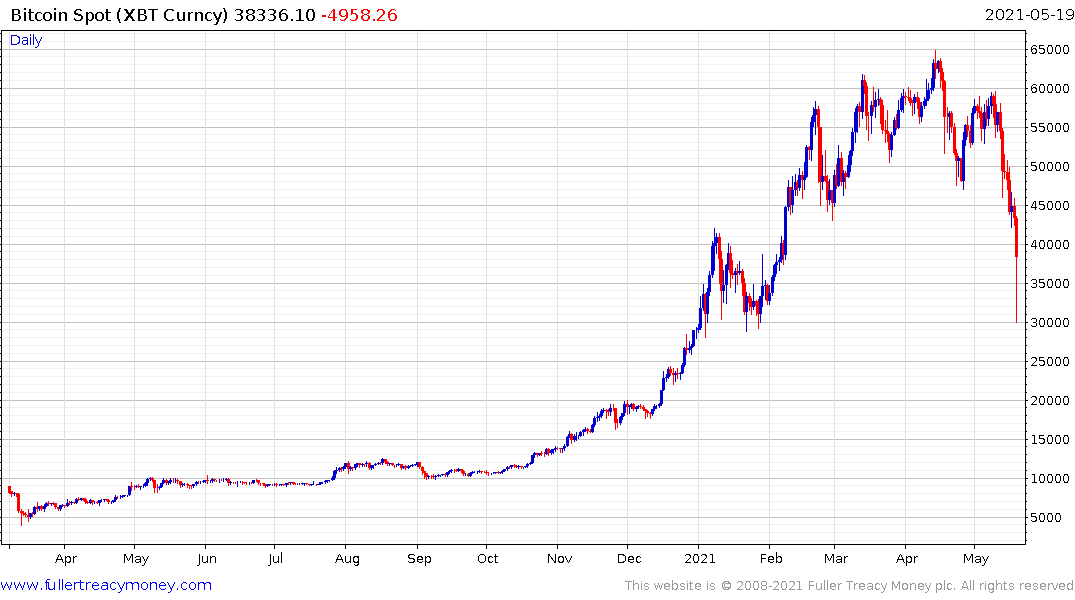 Bitcoin's trend was beautifully consistent on the way up from the March 2020 low. The consistency characteristics were a series of ranges one above another and each congestion area was completed with an emphatic break which was sustained.
That ended on March 12th when the breakout failed. The price then dipped down and triggered a Midpoint Danger Line stop. These kinds of stops are only appropriate for the most consistent trends, so when it was triggered, it was a big warning. The price then rebounded and made a new high and failed to hold it again.
Ranges are explosions waiting to happen, so we expect breakouts will be powerful. Ranges can also be considered decision points. They persist until a vacuum of supply develops above the range. When the breakout occurs, it punctures the vacuum of sell orders and the price rises until it encounters an offer. When breakouts fail, it means the vacuum of supply did not form. That implies there are plenty of sellers willing to offer supply at fresh highs. That's not encouraging for a price structure where every breakout used to be sustained.
The next big inconsistency was the decline from the April failed break, to the April 26th low. That broke the sequence of higher reaction lows and rubbished any claim that the price was still trending consistently. The size of the decline qualified as a massive reaction against the prevailing trend, which is a type-2 trend ending completion characteristic. Following that kind of move it is quite normal to see a period of ranging before the downtrend is extended. That is exactly what happened before the big breakout down which started on the 13th.
I don't believe bitcoin is in a secular bull market because it was the proof on concept for the distributed finance bull market. It has built-in flaws to fulfilling its potential that are not easily fixed. That has been my view for years. There are better solutions under development that do not require mining, and are quicker and easier to use. When those development challenges are achieved, bitcoin will be completely obsolete.
I'm sure many investors remember paying for AOL browsers in the 1990s or Microsoft's Encarta encyclopedia. Today the idea of paying for a browser is laughable. I don't see a reason why cryptocurrencies won't go the same way. To my eye, Ethereum or IOTA are better long-term bets. The challenge today is all alt-coins remain high beta plays on bitcoin. That will change eventually but there is little sign of it yet.
Back to top