Email of the day - on fake news
Great weekend overview of the international investment scene. Thanks.

I am perturbed, though, at your statement in the beginning about US Covid-19 deaths. According to John Hopkins, the US is now experiencing all-time high daily deaths from the virus. Please don't add to the misinformation that has so damaged the US response to the pandemic.
Thank you for this email which raises an important topic of conversation. My best interests are aligned with the best outcomes for the subscribers to this service. This is not a YouTube channel. I'm not chasing likes or telling you what I think you want to hear. I have not identified a demographic I speak to other than people interested in making money.
We spend nothing on advertising, do not manage money or upsell additional services. The service survives or fails based on the objective facts of whether I am right more often than I am wrong. It's a terrible business model but it is the best deal for subscribers.
People have become totally irrational about this virus. I've spilled enough words on the subject this year and have tried my best to avoid invective. The peak of hysteria was in September we are now coming out the other end of it. Vaccines are being made available this week.
There is clear potential we will be oversupplied by the end of the 2nd quarter. It's the law of supply and demand in action. Governments have said they will buy whatever supply is produced. The market will respond in kind.
Turning the question of deaths. Here is a screen grab of the WHO's website on deaths from Sunday night. It is climbing certainly but not at a new high. The CDC's chart tested the high but did not exceed it.
People have been scared half to death by the threat of an illness. There is massive pent-up demand for all manner of leisure activities as we come blinking out into the light in 2021. The big question is how much of that will be priced in by the time we get there.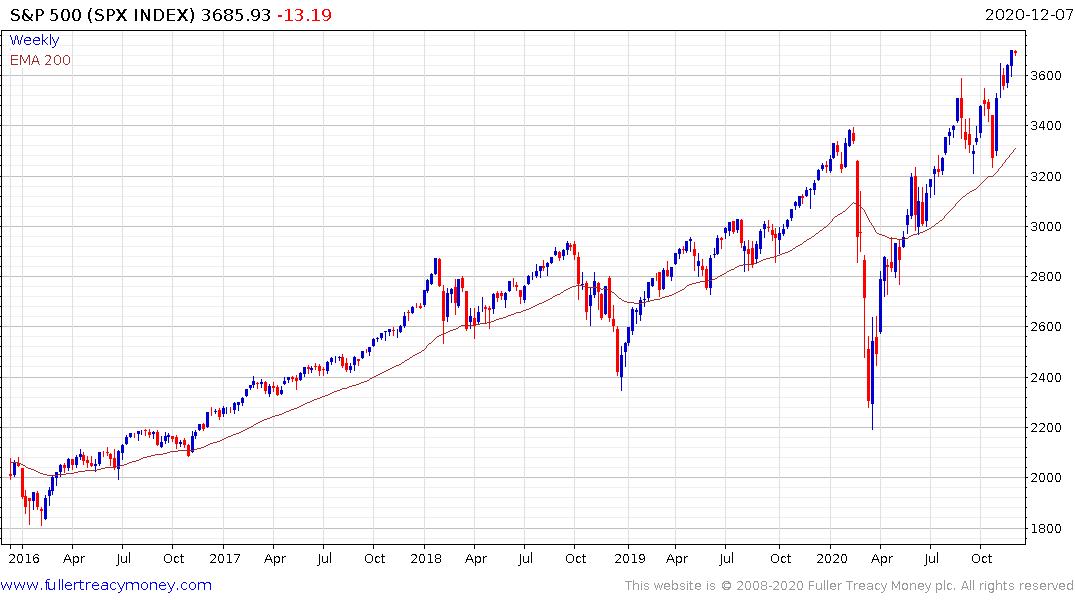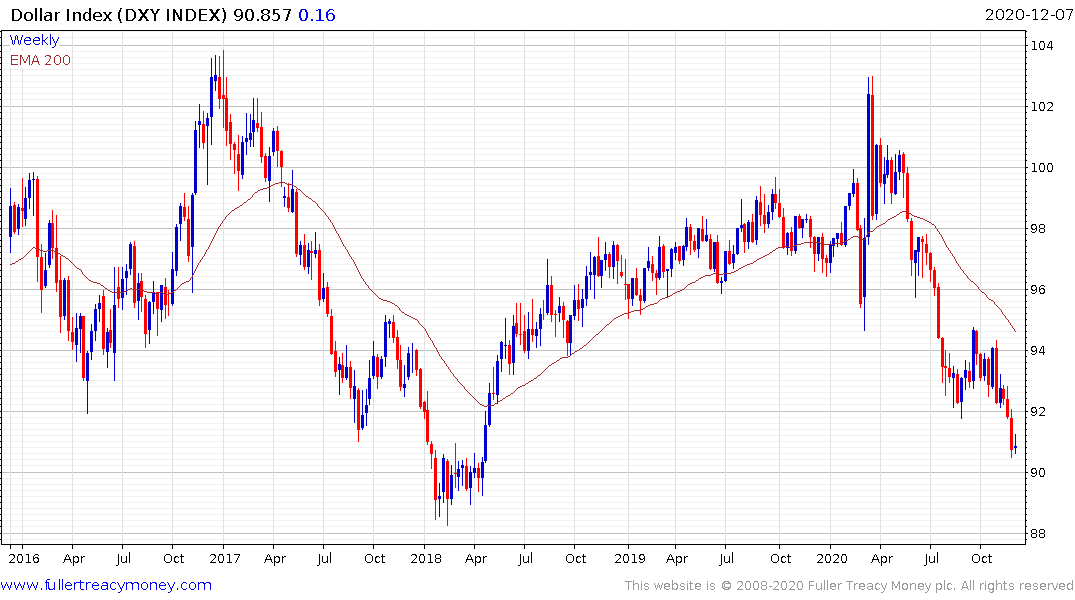 The S&P500 continues to hold its breakout to new highs but it has been flattered by the weakness of the US Dollar. The biggest takeaway from 2020 is the coronavirus has had a similar effect on the sentiment of US public officials as 9/11. They are going to do whatever is necessary to reflate the economy. Devaluing the currency to achieve that is the most expedient avenue for success.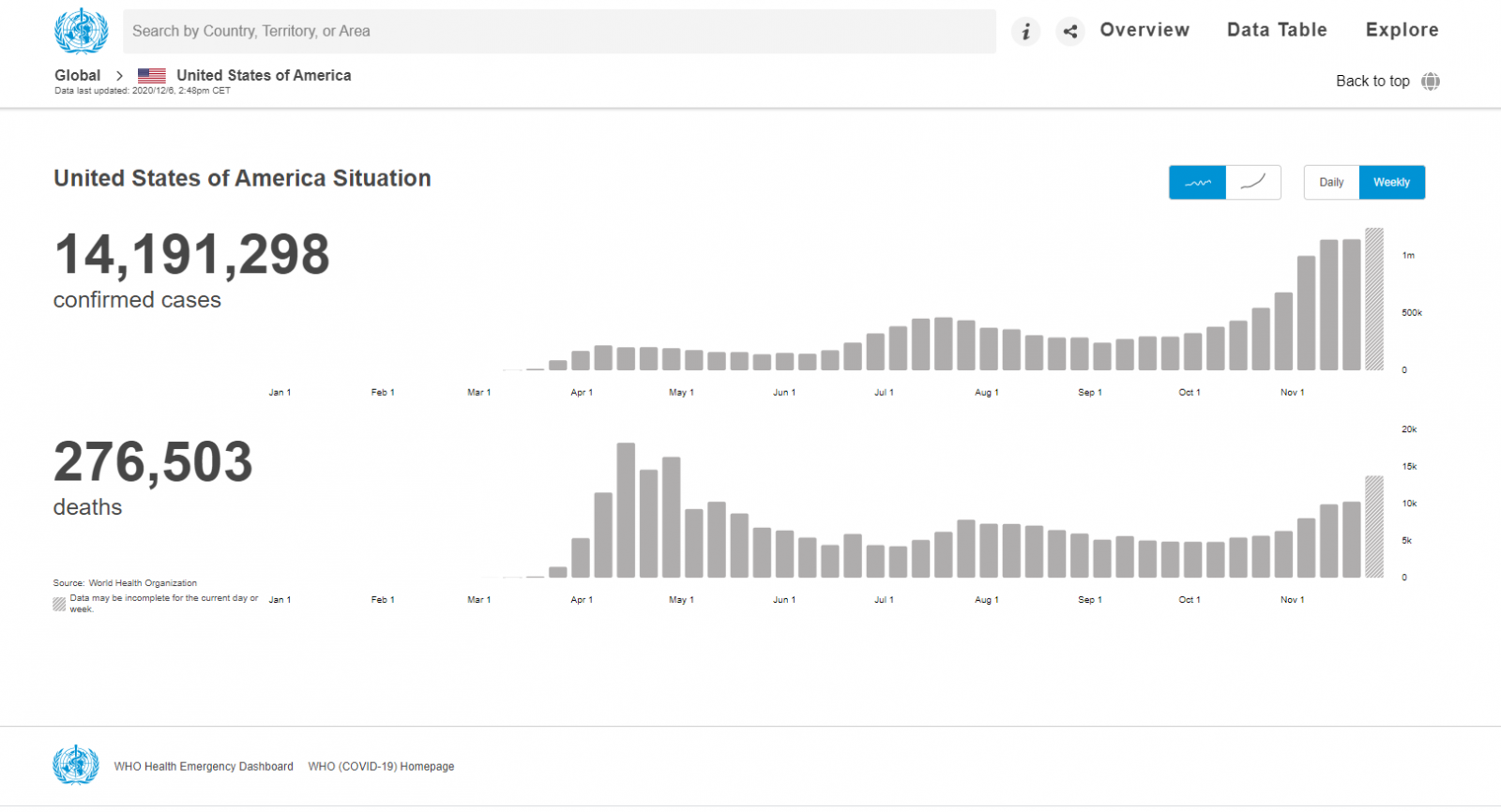 I was not willing to admit there was a pandemic risk in the first couple of weeks of January but that changed with the first downward dynamics on the 27th and the contribution of a knowledgeable subscriber was instrumental in my conversion.
Here is a link to my commentary from the day of the low on March 23rd.
Back to top