Elliott's $34 Billion Roundup Fix Is No Magic Pill
This article by Chris Hughes for Bloomberg may be of interest to subscribers. Here is a section:
Fighting to settle, rather than win, would be the best approach. Bayer has argued Roundup is safe when correctly used, but it has lost three consecutive cases. Its expert evidence has been weighed by juries and has failed to convince them.

A new legal team could try to put different arguments and experts in front of jurors. But consider, too, the heavy punitive damages being awarded – $2 billion in the last case. These are likely to reflect jurors' dim view of Monsanto's corporate conduct as concerns about the weedkiller's safety emerged. This issue will recur in every future case.

Appealing would cost Bayer time. By the same token, a settlement would deliver a certain and faster resolution for the thousands of plaintiffs. The individual circumstances of each case make it hard to gather them together into a swiftly-resolved class action.

The snag is that even a fair settlement would not mean a return to business as usual. The best financial scenario for the company would be a deal that is affordable, with farmers continuing to use glyphosate and Roundup staying on sale, perhaps with modified instructions about how consumers should use it appropriately. This is not assured.

Moreover, Bayer will still merit a management discount for all that has happened, and a conglomerate discount given its unproven strategy of combining pharmaceuticals and crop science. CEO Werner Baumann misjudged the risks of buying Monsanto, a deal that brought Roundup with it; he has taken too long to revise his litigation strategy. He could yet turn the situation around by resolving the lawsuits and extracting synergies from the acquisition. Until he does, the jury is out both on his future and a break-up.
Bayer made a mistake in taking on Monsanto's Roundup liability. However, it also underestimated the animus directed at the company for its work practices over years of rising seed prices, cases against farmers and the anti-GMO movement. Anything that can arrest the risk of both more negative headlines will be a positive, not least because the market has already priced in a disaster.
The reason for buying Monsanto was to fill out Bayer's crop science portfolio. European seed development technology relies on radiation to create mutations on a random basis while genetics is more tailored. The end result is generally the same but the pace of technological innovations favours genetics. The challenge will be to create a business model that encourages use rather than inhibiting it.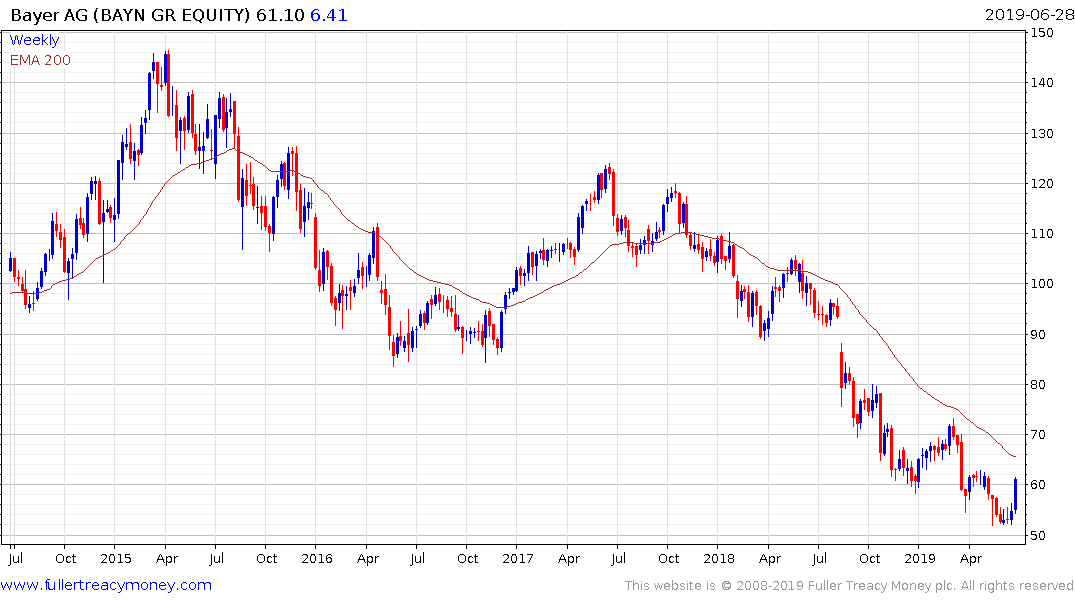 The share rallied this week to challenge the region of the trend mean and the medium-term sequence of lower rally highs.
Back to top