Electric vehicle demand will double nickel price as soon as 2022
This article by Frik Els for Mining.com may be of interest to subscribers. Here is a section:
While stainless steel production – currently nearly 80% of total demand for nickel – is expected to stay solid over the coming years, booming demand from the electric vehicle battery market is set to fundamentally alter the structure of the industry.

Michael Sinden, WoodMac Research Director, and Senior Research Analyst, Rory Townsend say in their long-term outlook for nickel that demand for nickel in EV batteries will contribute 1.26 million tonnes to nickel demand in 2040.

That compares to total primary nickel production last year of not much more than 2 million tonnes.

Slightly more than half the total is from so-called Class 1 producers which is suitable for conversion into nickel sulphate used in battery manufacture. Class 1 nickel powder for sulphate production enjoys a premium of as much as a third over LME reference prices, but for miners to switch to battery grade material requires huge investments to upgrade refining and processing facilities.
Tesla announced today that it is going to be building another large battery factory, this time in China. Meanwhile Contemporary Amperex Technology (CATL), which is China's largest homegrown battery manufacturer is quite likely to outstrip Tesla's production capacity within the next few years. Meanwhile Nissan announced yesterday that it also cheated on emissions systems which is likely to further fuel the trend towards delivery of electric vehicle models.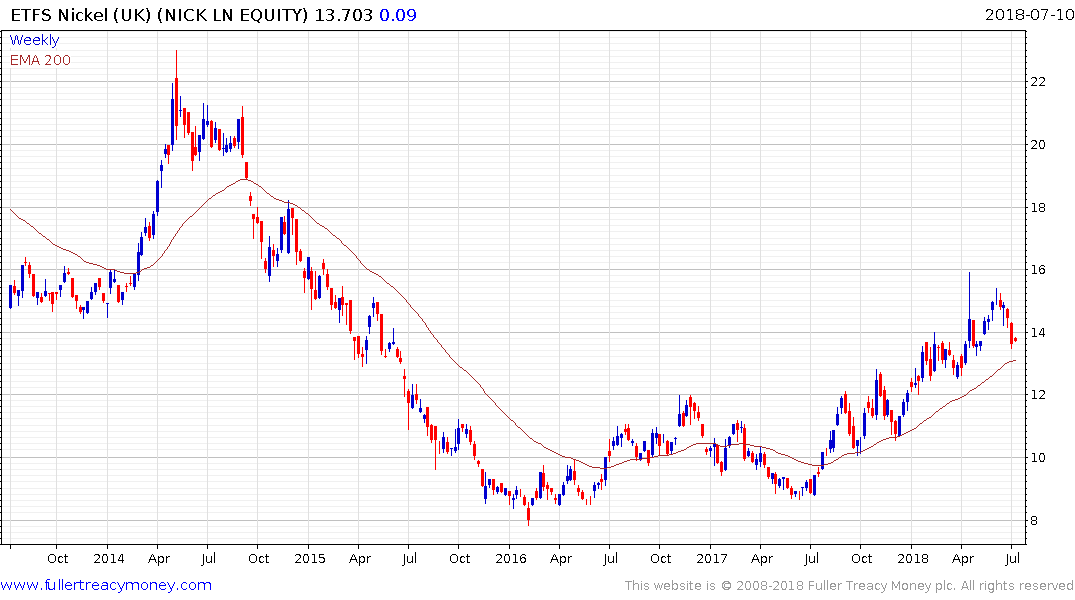 Nickel is back testing the region of its trend mean and this area represents where the market can be expected to find support if the medium-term trend is to remain consistent.


Meanwhile cobalt has broken below its trend mean and continues to unwind what had been an accelerated advance. Just the same arguments for why nickel will see increased use can be used to explain why cobalt is less likely to be a supply inelasticity market over the medium-term since it is a by-product of nickel mining.
Back to top