Electric Vehicle Boom: ICE-ing The Combustion Engine
Thanks to a subscriber for this report from Morgan Stanley which may be of interest to subscribers. Here is a section:
Many manufacturers undertaking all-solid-state battery R&D Manufacturers that aim to make all-solid-state batteries commercially available in 20202025 include Toyota, Sekisui Chemical, Hitachi Zosen, and Ohara. There have been announcements also from Panasonic, Samsung Electronics, Daimler, Sony, and Hyundai Motor about R&D efforts, but it is not clear when these companies aim to start mass production. BYD says it has set up a research team that is focused on all-solid-state batteries. Bosch, which is the largest auto parts maker, has acquired the all-solid-state battery startup Seeo, while household appliance maker Dyson entered the battery industry with its acquisition of Sakti3. This suggests there are growing expectations for the potential use of all-solid-state batteries not only in automobiles, but also in household appliances.

Advantages of all-solid-state batteries
An all-solid-state battery has the potential to offer not only greater energy density, but also greater safety as well as flexibility in terms of operating temperatures. The advantage of these batteries is that they do not contain electrolyte solution, which is flammable and can react to temperature changes. The batteries also do not require separators, which eliminates the risk of damaged separators causing the battery to short-circuit. Moreover, sulfur-based solid electrolytes have the potential to substantially reduce recharging times as they demonstrate greater ion conductivity than electrolyte solution.

Disadvantages of all-solid-state batteries
We think the technological hurdles hampering mass production are the main drawback for all-solid-state batteries. Manufacturing all-solid-state batteries will require new production processes including pressing (in the case of sulfur-based batteries) and sintering (oxide-based batteries). In the case of sulfur-based batteries, which appear to be a strong candidate for automobiles, there is a risk that the sulfur-based solid electrolyte will react with moisture to create hydrogen sulfide. Companies are considering ways around this issue, which include housing the battery in a solid case to reduce the risk of it being damaged, or incorporating a hydrogen sulfide gas detector that would raise the alarm early. On the production side, it has been suggested that all-solid-state battery factories should have a super-dry room with a dew point of -100 degrees. There are also concerns that when all-solid-state batteries are used in automobiles, the vehicle's vibration may reduce interface stability. It would appear that Toyota therefore faces a number of hurdles to overcome if it is to be ready to commercialize such batteries in 2022.
Here is a link to the full report.

Innovations in the energy sector have profound effects on all financial markets by reducing the cost of production and transportation of just about everything. That is why batteries represent the lynchpin for the dawn of a new energy future where electricity becomes a local industry and transportation is no longer dependent on extraction of resources from politically unpalatable regions.

Solar cells and wind turbines are getting progressively more efficient and manufacturing capacity for batteries is increasing. However, the delivery of commercially viable solid state batteries, with the efficiency gains discussed above would represent a gamechanger for the energy sector that would dwarf the evolution of unconventional oil and gas.

Additionally, it could conceivably remove energy dependence from the international geopolitical equation which would inevitably change international power dynamics.

Cheaper, more energy dense, faster recharging batteries will inevitably alter the transportation market but even more important will be the reduced cost of energy which removes a headwind to economic growth.

The hard reality however is that Toyota had to push its 2020 estimate to 2022 because it had not made enough progress on tackling the issues with solid state batteries. This is still very much an evolving market and it will take time for companies to deliver on the promise of innovation.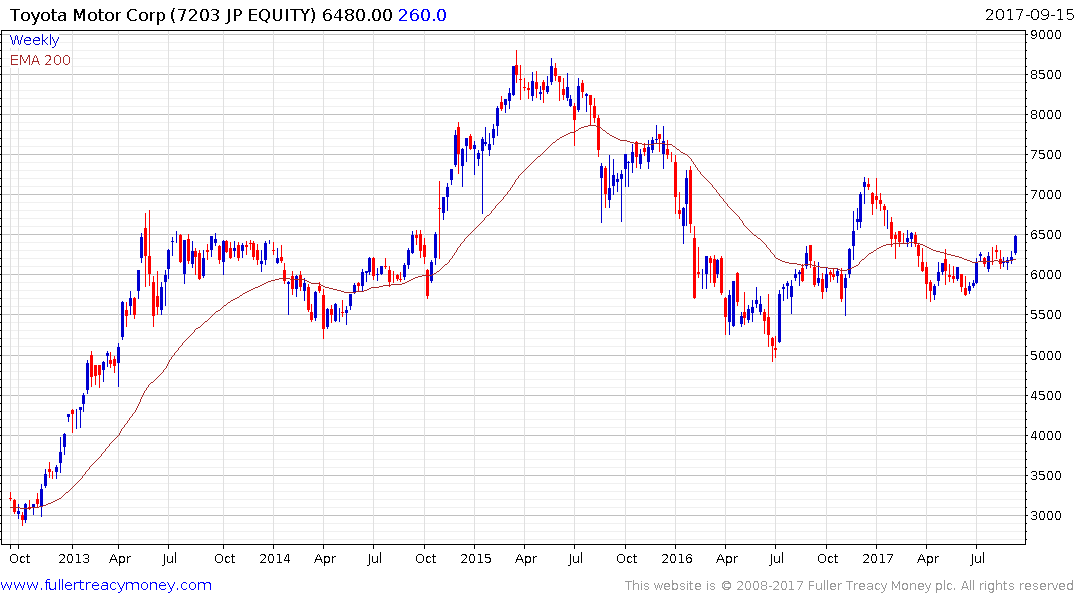 The share pushed successfully up out of a short-term range this week and a clear downward dynamic would be required to question medium-term scope for additional upside.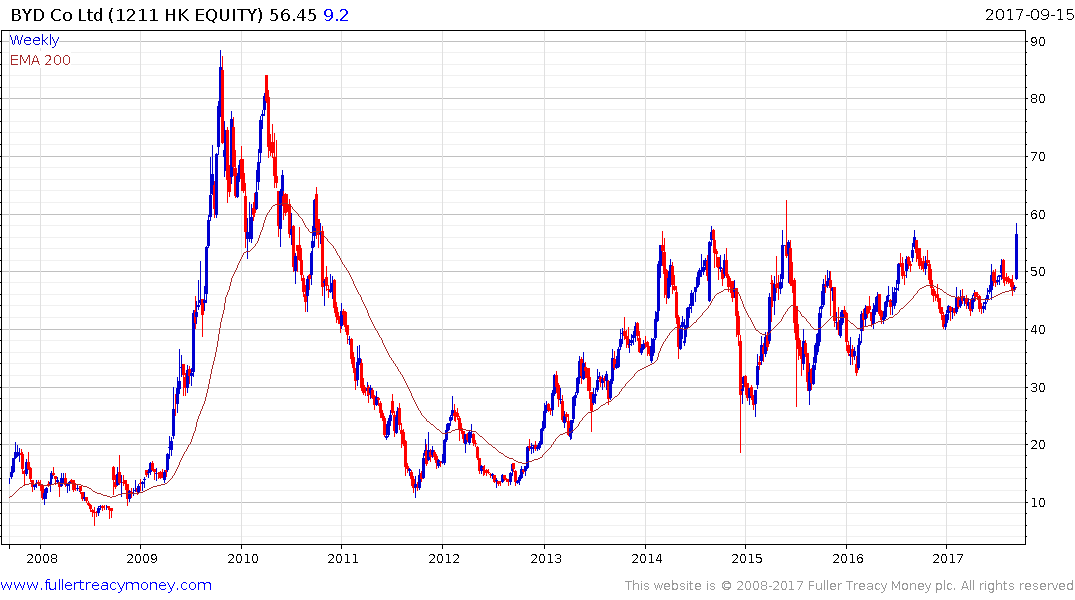 BYD rallied impressively this week on speculation the Chinese government is close to announcing a date for when all cars will be expected to be either hybrid or wholly electrically powered. It is now testing the upper side of a 3-year range.
Back to top