Egyptian TV Swayed Public Against Morse, in Favor of Sisi
This article by Matt Bradley for the Wall Street Journal may be of interest to subscribers. Here is a section:
Mr. Sisi, who as army chief removed Mr. Morsi from office last July and then oversaw a crackdown on his supporters from behind the scenes, is on his way to being elevated to the presidency after a new election this week, the second held since the 2011 overthrow of longtime ruler Hosni Mubarak. Preliminary results published by state media after polls closed Wednesday showed Mr. Sisi with over 90% of the vote.

Given their huge power to shape public opinion, Egypt's news media seem sure to play a decisive role in the success or failure of Mr. Sisi's presidency, as well.

His luster may already be wearing off. In a move that revealed deep official disappointment with low turnout in the election Monday and Tuesday, electoral authorities extended the polls to Wednesday.

Pro-Sisi television presenters, including OnTV's hosts, reacted with rage to the low turnout, accusing the public of being lazy, selfish and even treasonous.

"I'm willing to cut my veins for the country—right now, on air—for people to go down and vote," said Amr Adeeb, a presenter on the Al Youm channel.

In the nearly yearlong military crackdown on Morsi supporters that followed his July 3, 2013, overthrow by Mr. Sisi, as many as 30,000 Egyptians have been arrested and more than 1,000 killed by security forces in street violence, according to human-rights groups.
Mr Modi's victory can be viewed as a massive step forward for the prospects of India standards of governance improving. Indonesia's upcoming presidential election has equal potential to cause an upset but the result will likely be much closer. Very often democracy goes hand in hand with improving standards of governance because populations generally vote for what will improve their individual standards of living. However democracy represents only part of the challenge of fostering a vibrant middle class. Property rights, respect for minority shareholders, an improving regulatory structure, infrastructure and education are all also important ingredients.
The election of Mr Morsi following the Arab Spring was democratic but it is questionable whether the other ingredients for growth would have been met under his administration. Mr. Sisi is likely to ensure public unrest is held in check through whatever means are necessary and will be eager to encourage investment to help alleviate the high youth unemployment that was one of the primary fuels for the Arab Spring. However, investors are probably going to want to see how his administration is going to deal with these challenges and particularly how they will differ from the last military administration.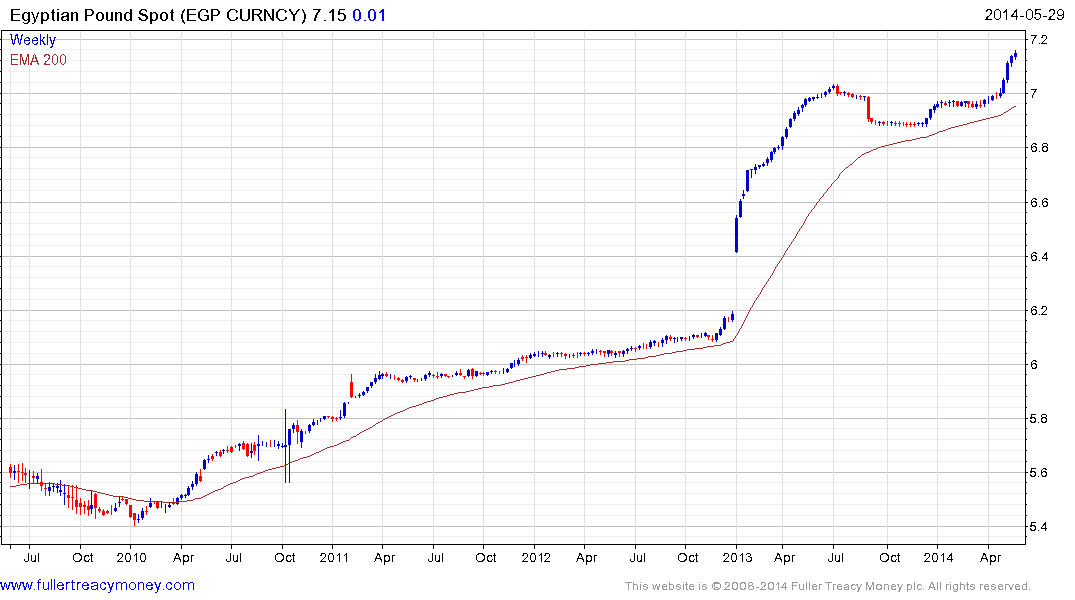 The Egyptian Pound stabilised following its steep devaluation in the first half of 2013 but its renewed weakness over the last month suggests the new government will be constrained in how much it can do with the budget and is likely to continue to be heavily reliant on foreign investment.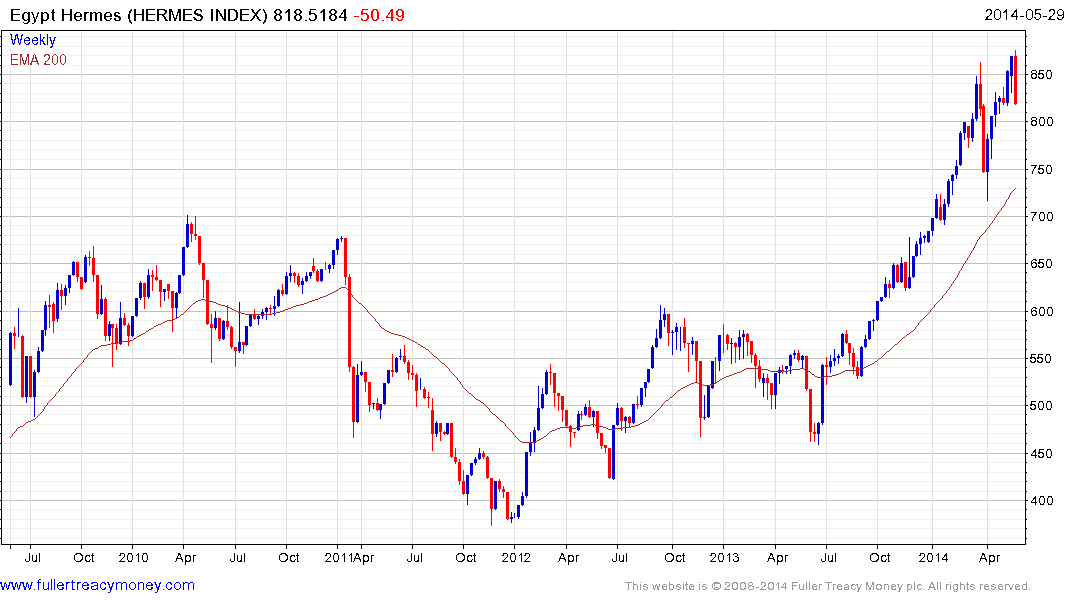 The stock market posted a large key day reversal today suggesting supply dominance in the region of the March peak. At least a process of mean reversion appears to be underway.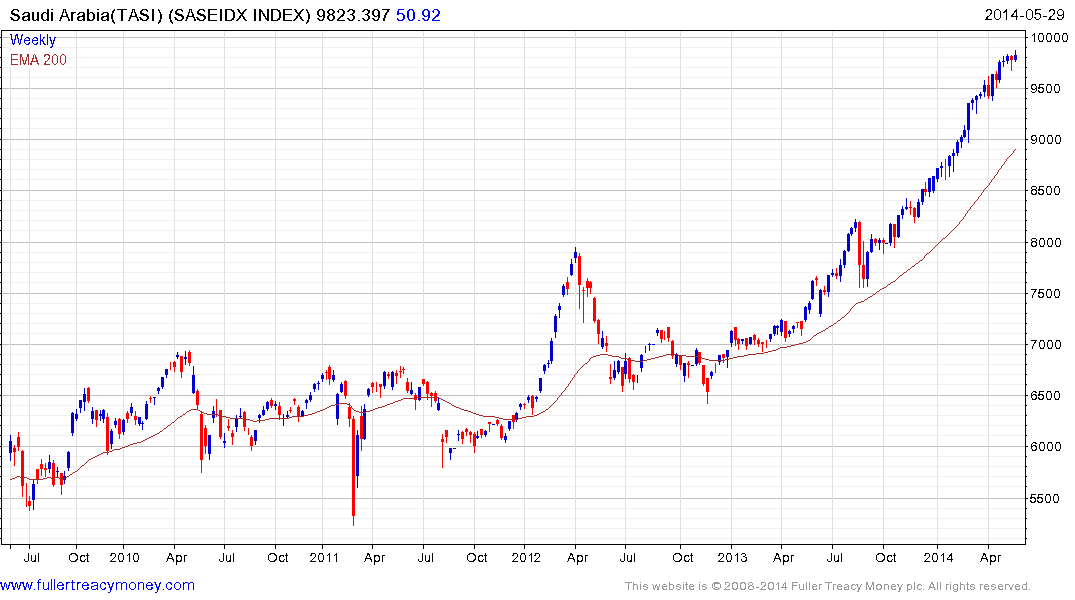 Elsewhere in the Middle East, the Saudi Arabian Index is closing in on the psychological 10,000 level and while somewhat overextended relative to the 200-day MA in the short term, a sustained move below 9000 would be required to question medium-term uptrend consistency.


The Dubai Index has bounced back from last week's low and will need to hold above 4500 if the medium-term uptrend is to be given the benefit of the doubt.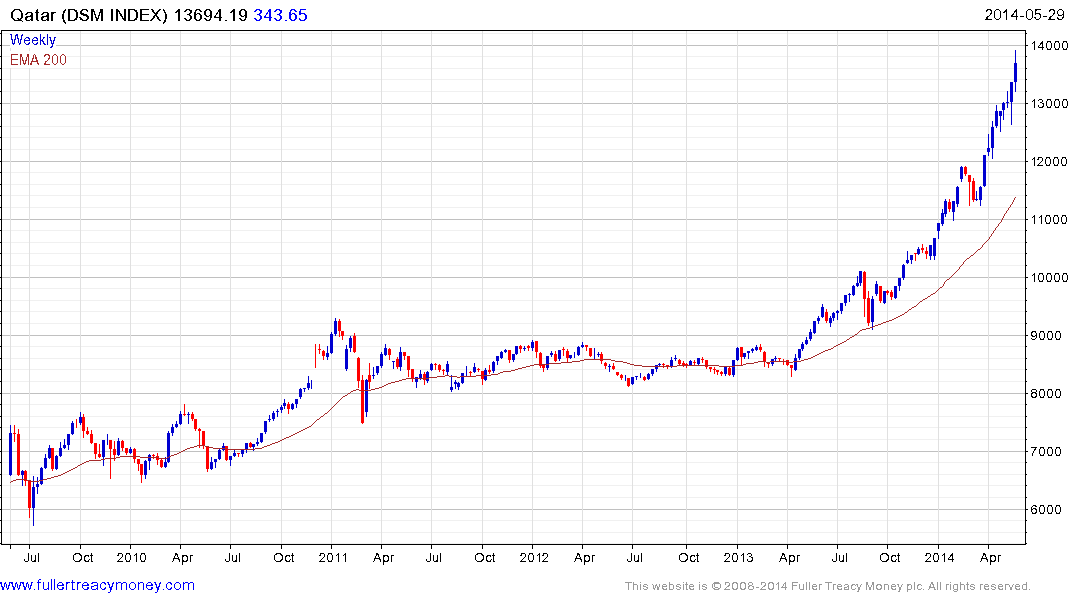 The Qatar Index surged higher over the last week and some consolidation of recent gains appears likely. A break in the progression of higher reaction lows, currently near 12,700 would be required to check the consistency of the overall uptrend. (Also see Comment of the Day on October 18th 2013).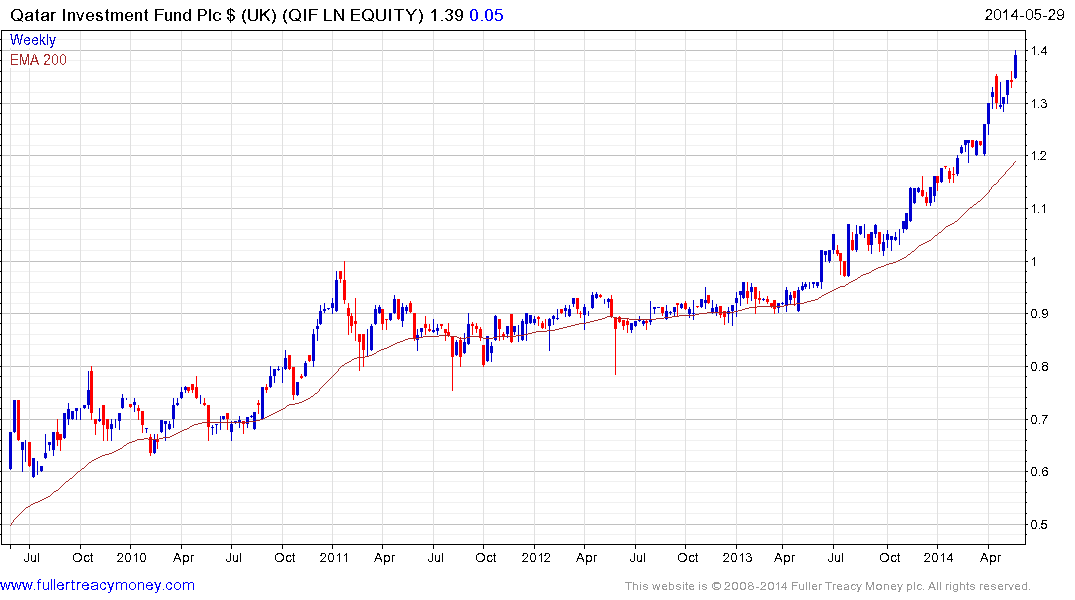 The UK listed, US Dollar denominated Qatar Investment Trust continues to trade at a discount to NAV of 10.89%. While the pace of the trust's advance has picked up, a break in the progression of higher reaction lows would be required to question medium-term potential for additional upside.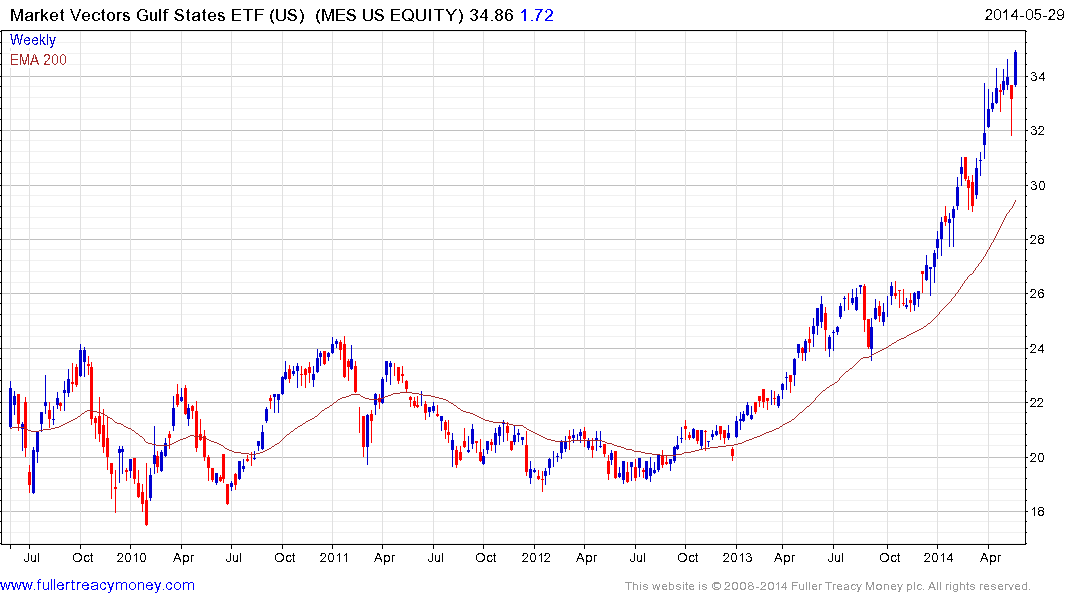 The US listed Market Vectors Gulf States ETF completed a first step above the base in December and continues to extend its uptrend. A sustained move below last week's low near $31.80 would be required to check the advance.
Back to top