ECB's Lagarde Warns of 2008-Style Crisis Unless Europe Acts
This article by Fergal O'Brien for Bloomberg may be of interest to subscribers. Here is a section:
Lagarde told European Union leaders on a conference call late on Tuesday that without coordinated action Europe "will see a scenario that will remind many of us of the 2008 Great Financial Crisis," according to a person familiar with her comments. With the right response, the shock will likely prove
temporary, she added.

Lagarde said her officials are looking at all their tools for Thursday's policy decision, particularly measures to provide "super-cheap" funding and ensure liquidity and credit don't dry up, said the person, who declined to be identified because the call was private.

Still, she stressed that central-bank measures can only work if governments throw their weight behind them too, with steps to ensure banks keep lending to businesses in affected areas, said the person. An ECB spokesman declined to comment.

Lagarde spoke hours before the Bank of England became the latest central bank to take emergency action. It announced a 50 basis point interest-rate cut early Wednesday, combined with measures to help keep credit flowing, and said it still has more policy space to act if needed.
The ECB has been cautioning Eurozone governments for much of the last decade that fiscal stimulus has to be part of the solution to the region's debt/growth challenges. That exhortation has fallen on deaf ears as the region's creditors imposed fiscal conservativism on the most profligate debtors.
The evolving coronavirus scare has the potential to act as a catalyst to upend the fiscal status quo because the closing down of economic activity has nothing to do with debt and everything to do with curtailing a wider geographic spread. Against that background the ECB's call for fiscal stimulus is reaching fever pitch with allusions to credit crisis risk.
Sovereign spreads in the Eurozone over Bunds broke out over the last couple of weeks. That is the primary reason the quantity of debt with negative yields is not breaking on the upside.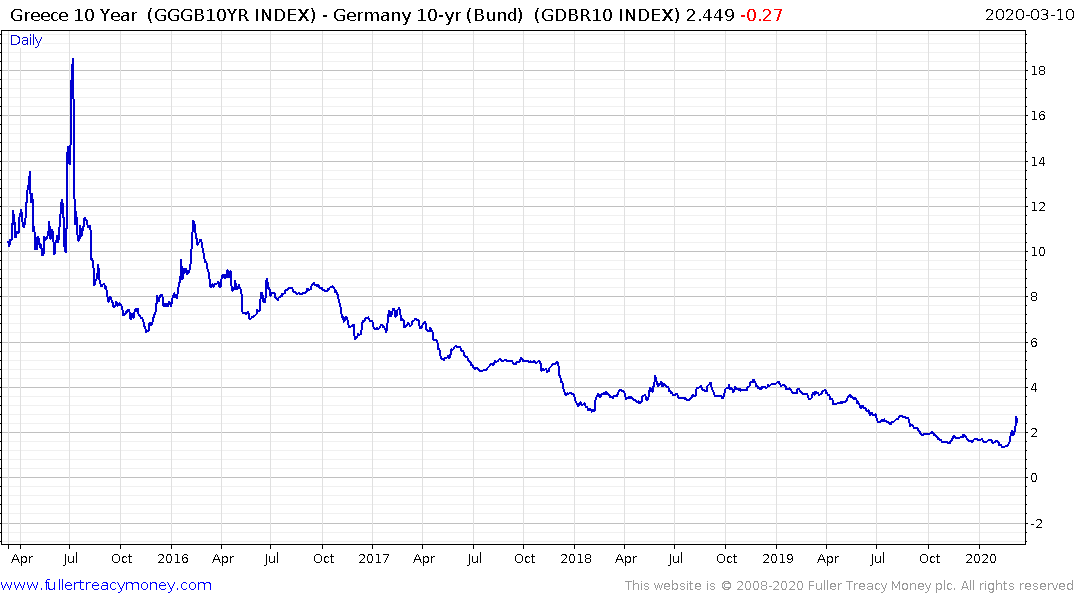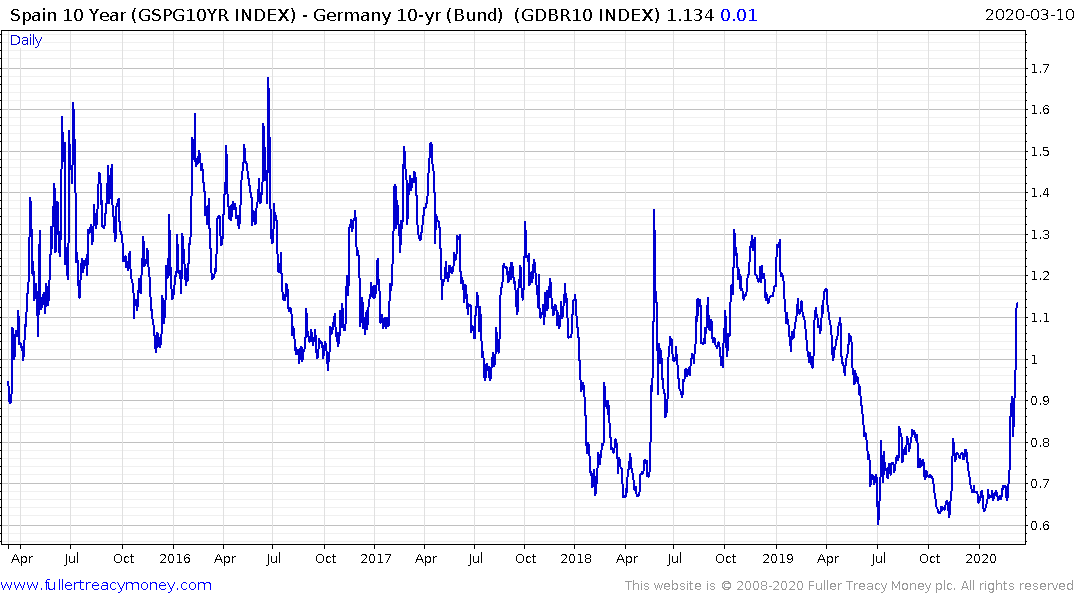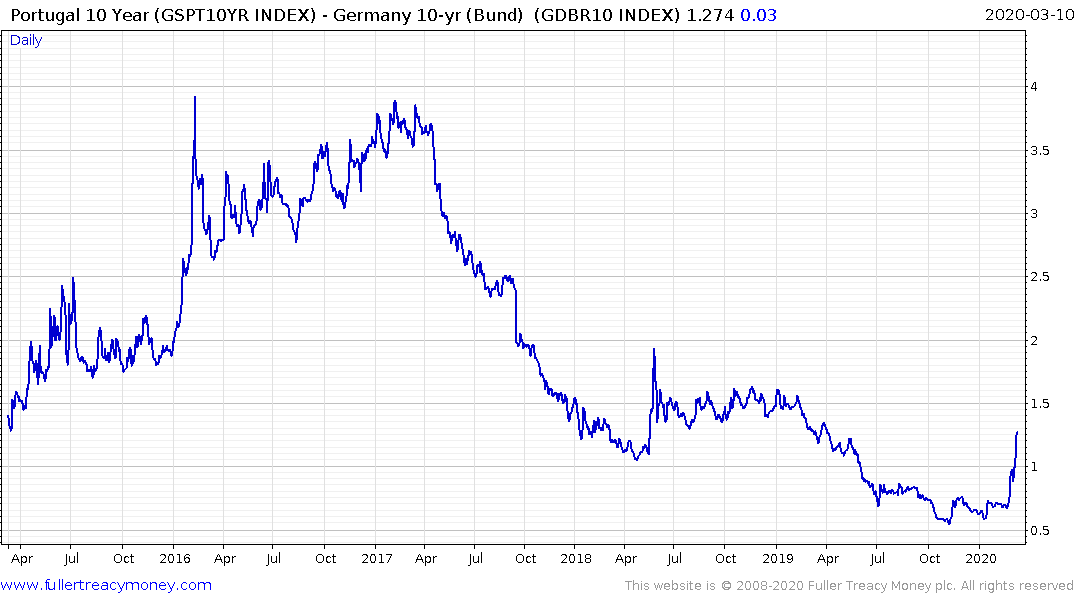 Greek, Italian, Spanish and Portuguese spreads began to widen last week as investors were willing to consider the additional risk to credit quality from the virus-induced slowdown. The fact they contracted today suggests ECB support for these markets and the beginning of a new QE program.
With Angels Merkel predicting today 70% of the German population is likely to contract the virus the potential for significant fiscal stimulus is now almost a certainty. The range of stimulative measures being deployed to combat the virus is increasing by the day and will undoubtedly eventually gain traction.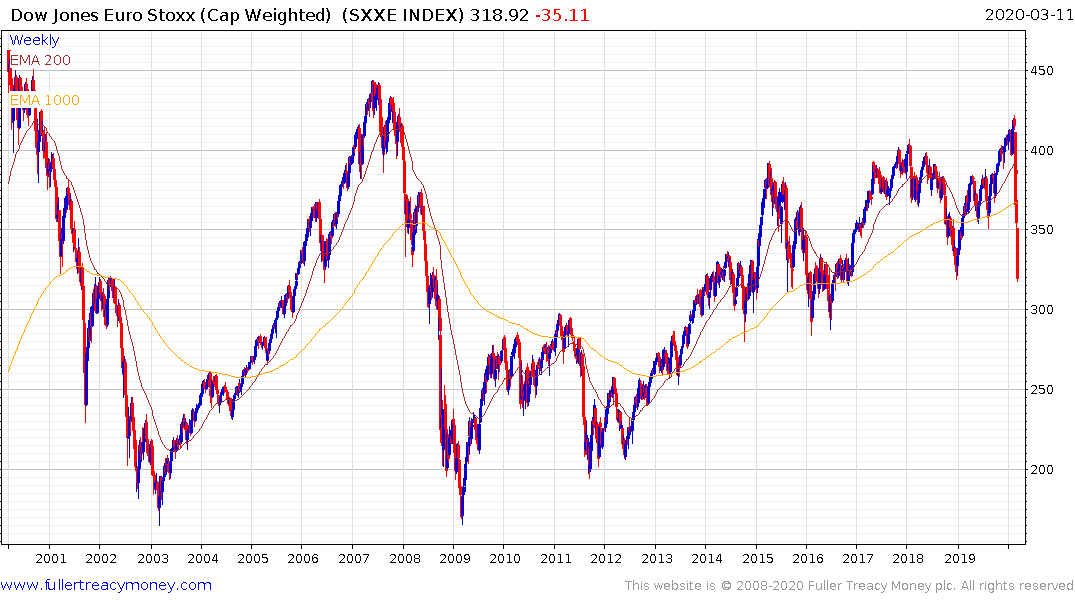 The Euro STOXX's massive reaction against the prevailing trend continues to be hit new lows and is deeply oversold in the short term as it testing the 2018 lows. Nevertheless, a clear upward dynamic will be required to check momentum.
Back to top