ECB's Lagarde: Economic Support Needed "Well Into the Recovery"
Here are a couple of soundbites from Christine Lagarde's statements today.
"We consider that both fiscal and monetary support are needed and will be needed until the pandemic crisis is over" and "will be needed well into the recovery," ECB President Christine Lagarde says at Reuters event.

Preserving favorable financing conditions is a condition for the economy to recover -- "they go hand in hand"
The question is not whether the ECB will provide assistance but rather how much. The spectre of deflation has been hanging over Europe for most of the last decade and there is a credible argument the region is heading into a Japan-like era of lower consumption and low growth. Avoiding that potential is the primary goal of both the ECB and every Eurozone government.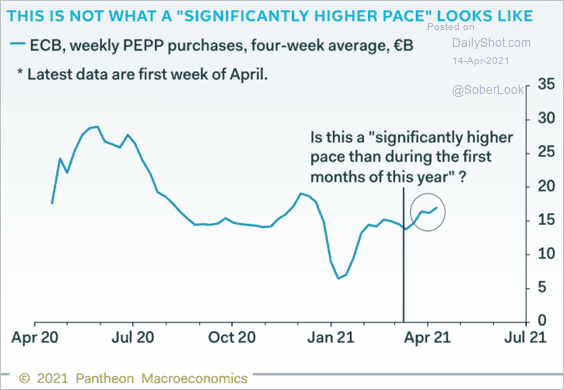 The challenge in setting a policy for the whole region is that countries have very different priorities. The ECB faces a political battle whenever it threatens to stray from Germany's price controls culture. The total of ECB bond purchases is well below what the market was expecting when they said "substantial" support would be provided. To date the ECB have limited their actions to talk, with the result that the Euro remains firm against the Dollar. The only conclusion we can draw from the ECB's statements is they are not going to be the first to raise rates.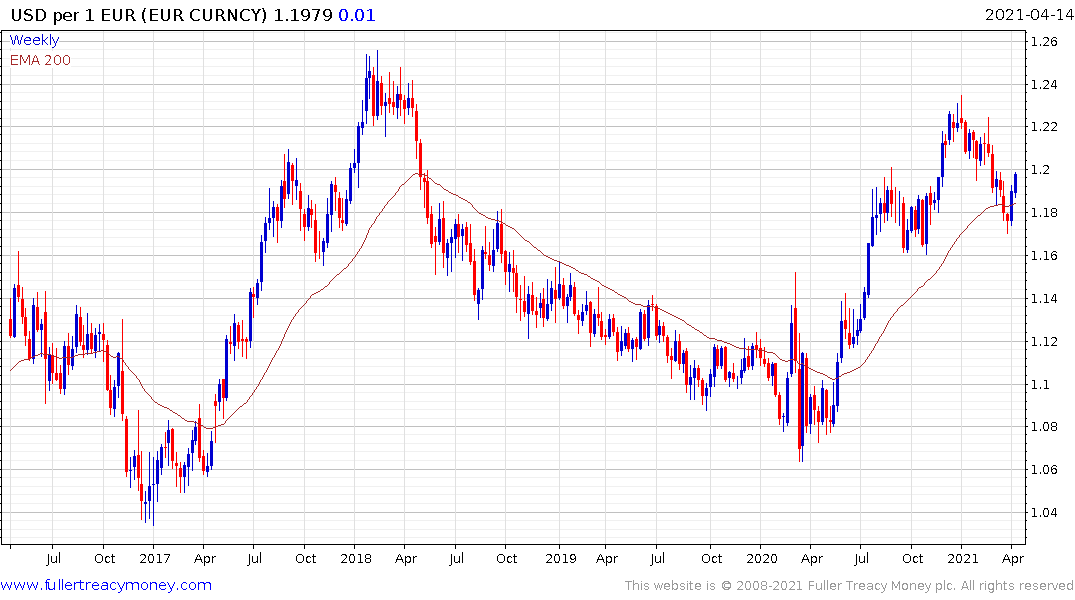 The Euro bounced back above the trend mean yesterday and improved on that performance today. It has now broken the year-to-date downtrend and a clear downward dynamic would be required to question potential for additional upside.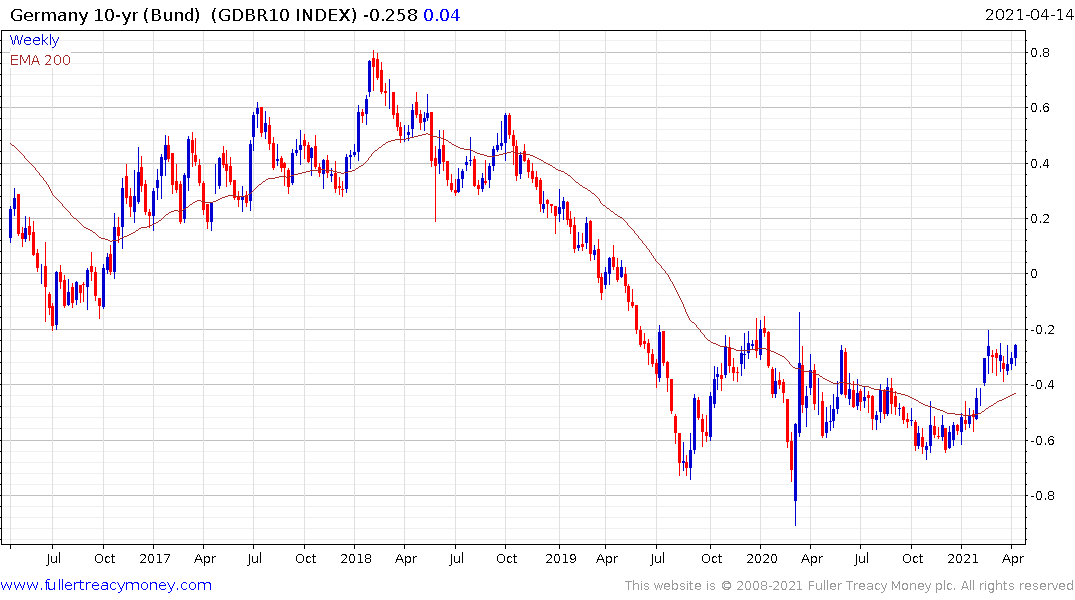 German yields continue to have base formation characteristics. Today's upward dynamic following impressive industrial output figures and suggests that the Europe's largest economy does not need the same degree of support as its neighbours.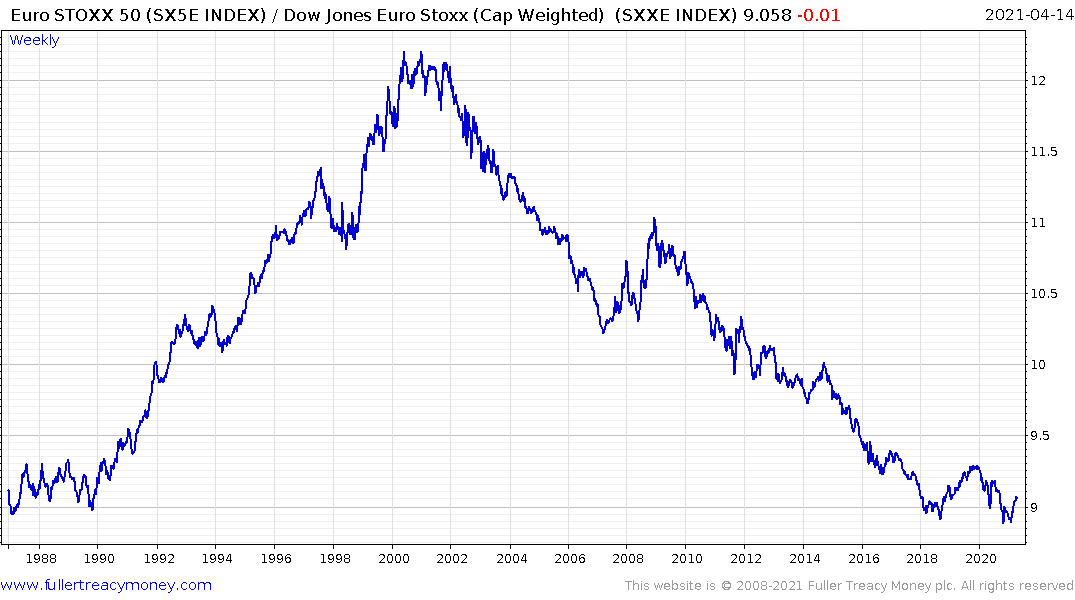 The Euro STOXX 50 Index has been underperforming the broader Euro STOXX Index (290 companies) since 2000. That's a graphic representation of the fact mid-caps were the go-to equity sector over the last 20 years for European investors. The relative downtrend was on the cusp of being broken ahead of the pandemic and it is now firming from the region of the lows. That suggests the it is to early to make the argument large caps are about to move to outperformance in Europe. For that to occur a broader continent-wide recovery needs to take place.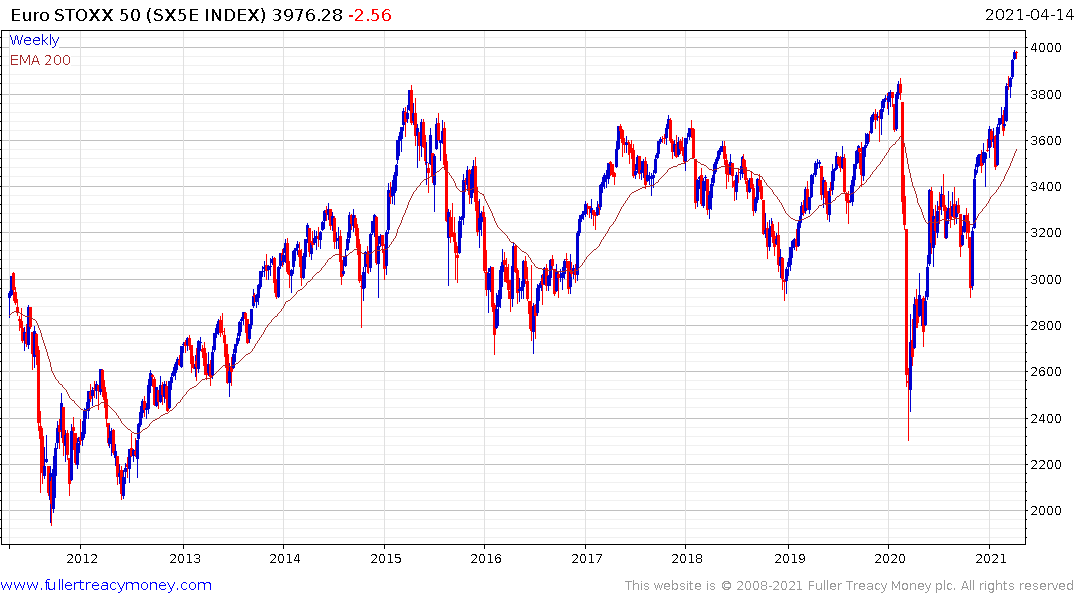 In the nominal terms, The Euro STOXX 50 is breaking out of a six-year range.
Back to top