ECB Press Conference Transcript of Opening statement
Here is a link to a video for the ECB's press conference today which includes the question time that followed.

The Federal Reserve finally stopped its purchase program in January 2015. Prior to that decision the ECB had been happily siphoning funds via swap lines with the Fed but with the end of QE it was faced with that source of liquidity ending. That brought to a head the discussion within the ECB about how to proceed and Mario Draghi successfully pushed for the Eurozone to supply its own monetary stimulus. Since early 2015 the ECB has added more than €2.4 trillion in liquidity; in effect doubling the size of its balance sheet and successfully igniting growth.

The ECB would of course like to claim that the growth trajectory is on a successful self- sustaining trajectory but it is impossible to deny the correlation between monetary stimulus and achieving that growth. More than any other central bank the ECB has institutional memory of the deflationary effect of reducing the size of its balance sheet.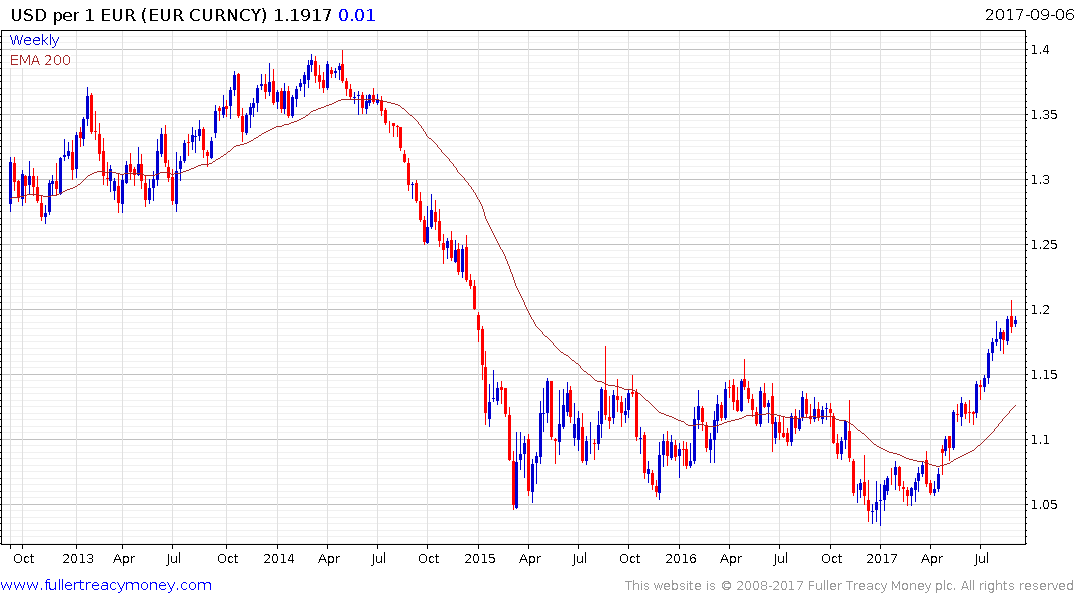 The Euro has strengthened considerably this year and there has been considerable debate about the reasons behind the move. Certainly, the uptick it Eurozone growth has resulted in a revision of expectations for the currency's value. However, the question of how policy is likely to evolve in the USA is an additional factor. The interest rate differential between the two jurisdictions is currently 125 basis points and likely to widen further. Meanwhile the Federal Reserve is at least talking about reducing the size of its balance sheet.

The current weakness of the Dollar versus the Euro suggests investors have concluded that the higher interest rates and prospect of reduced supply of Dollars are not going to be sustained and instead that the return of Eurozone growth is a more important factor. The ECB meanwhile is obviously concerned about the strength of the currency following such a large move but importantly did not signal today it is willing to do anything about it, yet.

The Euro is back testing the €1.20 area and a break below €1.18 would be required to question the consistency of the five-month advance.

In the final couple of minutes of questions at the press conference I was intrigued by what Draghi had to say about quantitative easing and negative interest rates. In summary he said that QE had no negative side effects and that while negative interest rates had some negative aspects they were more than outweighed by the positives. That suggests the ECB sees no threat from inflated asset prices, not least in the bond markets.

The fact they have no evidence of negative effects is because all of the money that has been printed is still sloshing around in the system.
Back to top