Draghi Ends ECB Bond-Buying Era Saying Economy Can Beat Risks
This article by Piotr Skolimowski for Bloomberg may be of interest to subscribers. Here is a section:
Mario Draghi said the euro-area economy is strong enough to overcome increased risk, justifying the European Central Bank's decision to halt bond purchases and end an extraordinary chapter in the decade-long struggle with financial crises and recession.

Policy makers agreed to phase out the stimulus tool with 15 billion euros ($17.7 billion) of purchases in each of the final three months of the year, the ECB president said after his Governing Council met on Thursday in Latvia. The central bank also pledged to keep interest rates unchanged at current record lows at least through the summer of 2019.

In doing so, officials bet that the euro-area economy is robust enough to ride out an apparent slowdown amid risks including U.S. trade tariffs and nervousness that Italy's populist government will spark another financial crisis. Almost half of economists in a Bloomberg survey had predicted the announcement would be put off until July.

"We've taken these decisions knowing that the economy is in a better situation, with an increase in uncertainty," Draghi said at a briefing in Riga, where the Frankfurt-based ECB held its annual out-of-town meeting. "We may well have this soft patch being somewhat longer than in the staff projections in some countries."
The ECB is exiting its quantitative easing program because they believe Germany and a handful of other countries no longer need the stimulus. At the other extreme, Italy has to refinance almost as much debt as the USA this year. The lack of a central bank bond buying program is likely to represent a challenge for the government. That suggests the current contraction in yields on a waning of existential angst may not last.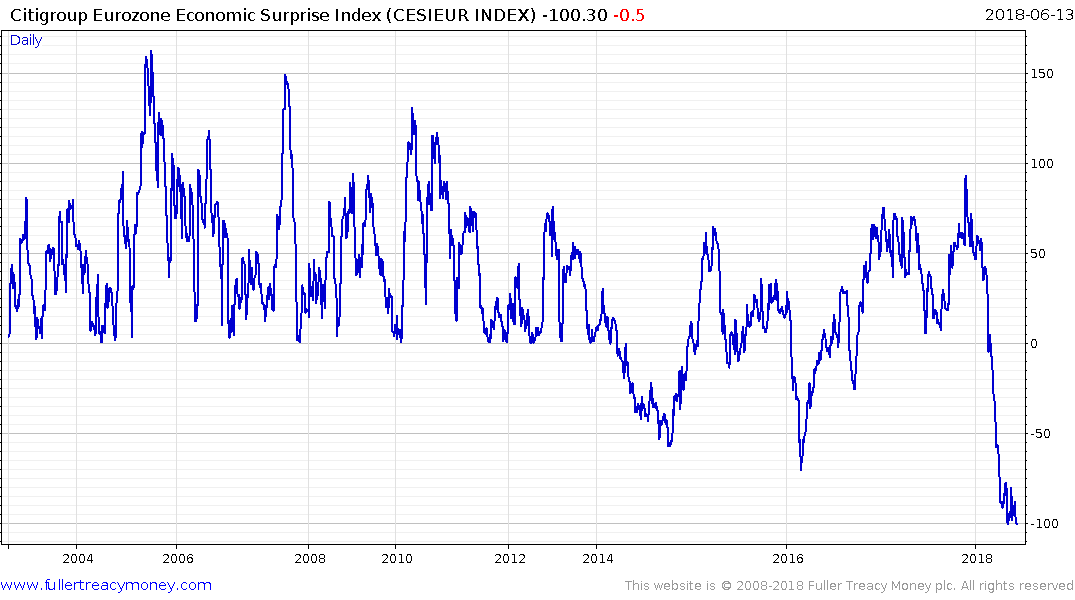 A bigger point is that German industrial production is rolling over and the Eurozone's economy is surprising on the downside. The Citi Economic Surprise index for the eurozone is at its lowest level in more than a decade so it is hard to fathom how the ECB is so confident about the economy. Additionally, Europe is much more dependent on trade with China than the USA so trade tensions also represent a challenge.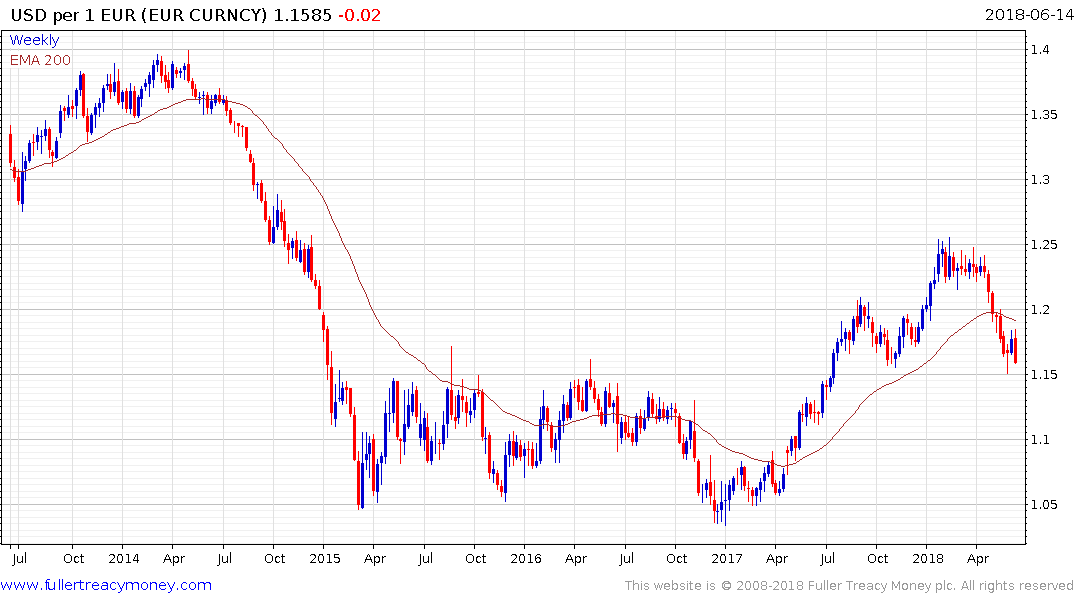 The Euro had been rallying back towards the trend mean but pulled back sharply today to cap the short-term advance. A sustained move above the trend mean would now be required to question potential for additional downside. With economic challenges mounting the ECB's clear message is that it is willing to allow the currency to take the brunt of selling pressure.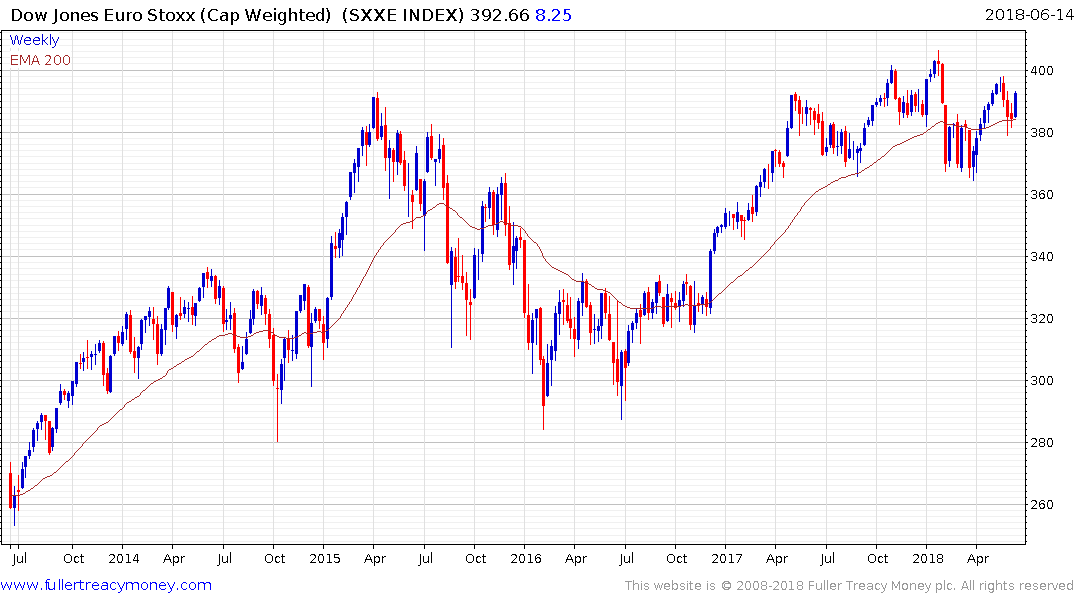 The nominal value of the Euro STOXX Index tends to have an inverse correlation with the Euro and firmed today. It firmed from the region of the trend mean today in a dynamic fashion which improves potential that the 400 level will be surmounted.
Back to top