A downside key day reversal is defined by a move to a new intraday high which is subsequently reversed, so that the market closes at a low below that of the previous day. The key characteristic of the key reversal is size. In order for the signal to have an emotional impact on the market it needs to stand out on the chart so anyone looking at it concludes something big happened on that date. Weekly key reversals are often more important to investor psychology but the size rule is equally important. Downside follow through on the signal in the following days of week is a confirmatory sign of a change of direction.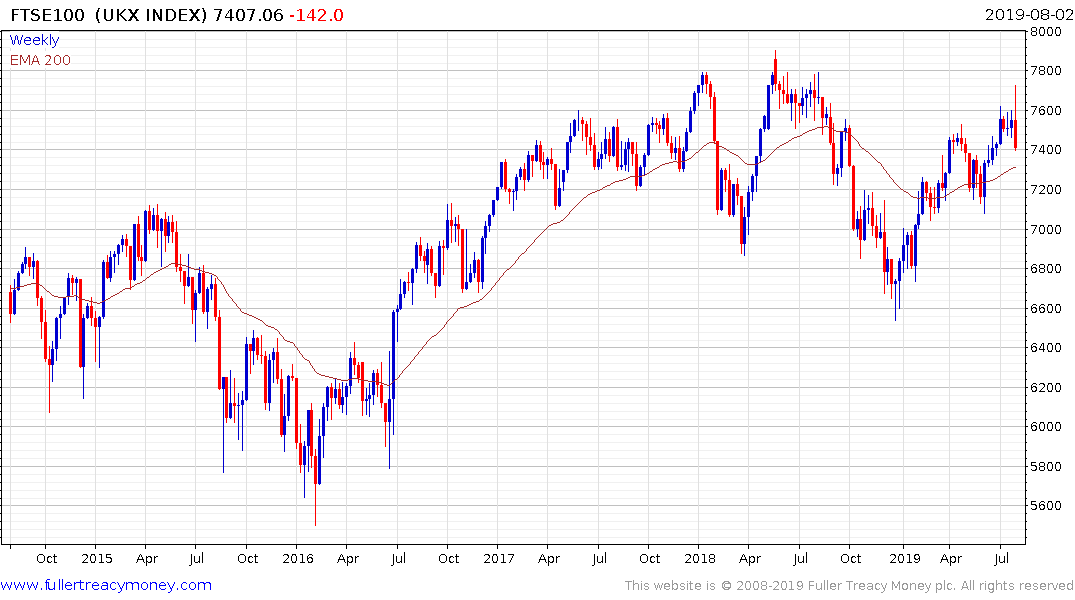 The FTSE-100 rallied impressively following the decline of the Pound earlier this week but declined sharply over the last two sessions to form a large downside weekly key reversal. This represents a peak of at least near-term significance and importantly resistance is coming in at level below the 2018 peaks. The region of the trend mean, currently near 7150, will need to hold if this is still a recovery situation.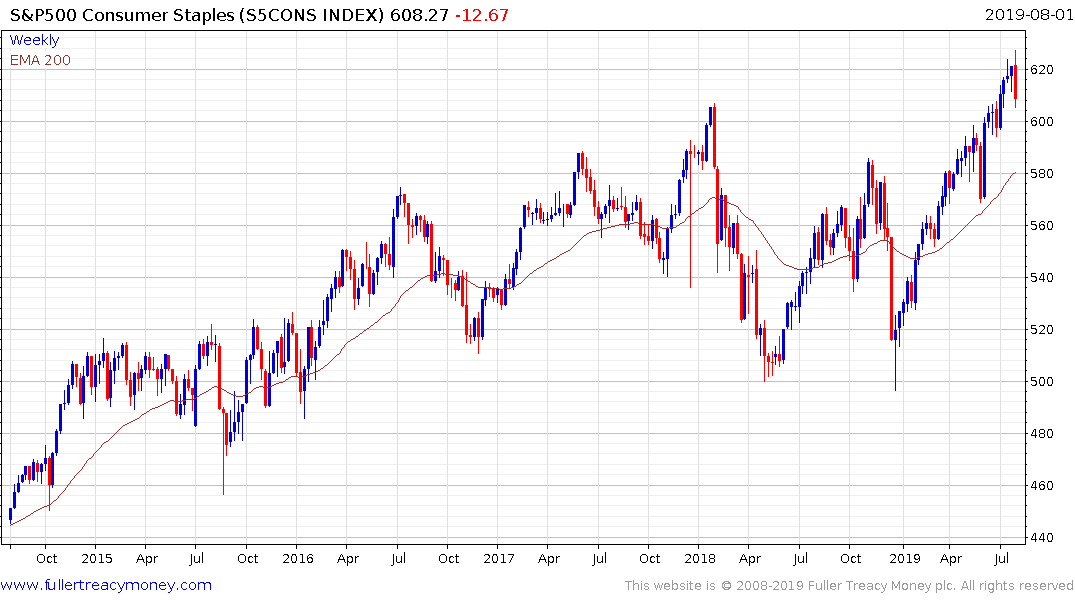 The S&P500 Consumer Staples Index broke out of its almost 3-year range in June. The failed upside break in January of 2018 with clear downside follow through market a medium-term peak and saw the Index retest the lower side of its range. This week's downside key reversal is not as a large but is does signal a peak of at least near-term but potentially medium-term significance. The test of whether the sector is back in a medium-term demand dominated environment rests on the region of the trend mean holding.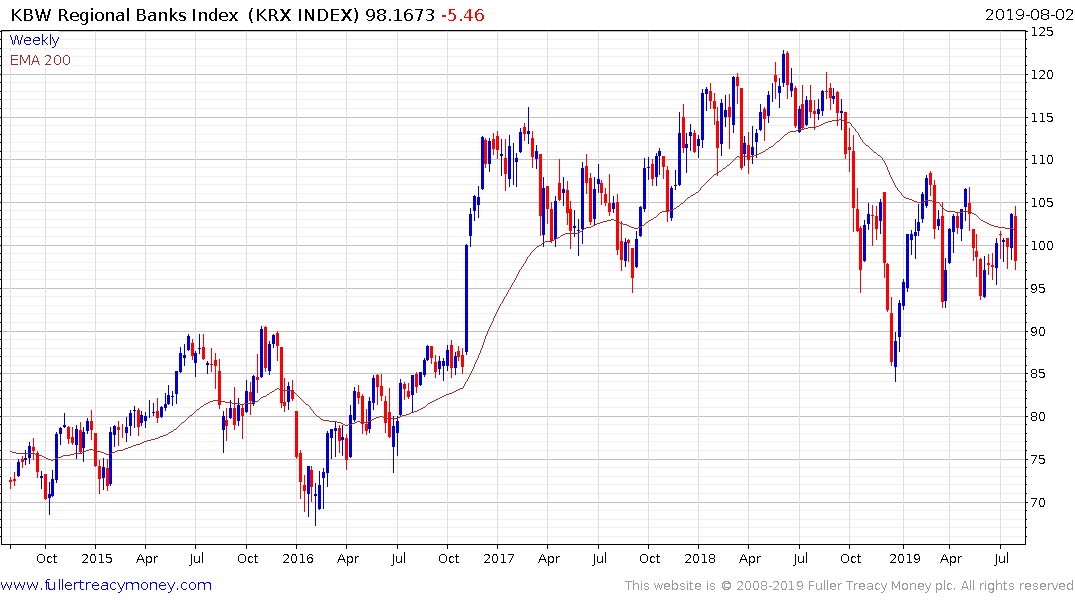 Key Reversals are most useful when the intraday high posted represents a new high for an already well-defined trend. However, they can also occur at following counter trend rallies. The KBW Regional Banks Index posted a large downside key reversal this week as it dropped back from a retest of the trend mean to confirm the sequence of lower rally highs. The broad medium-term pattern has Type-2 top with right hand extension characteristics suggesting a downward bias to trading.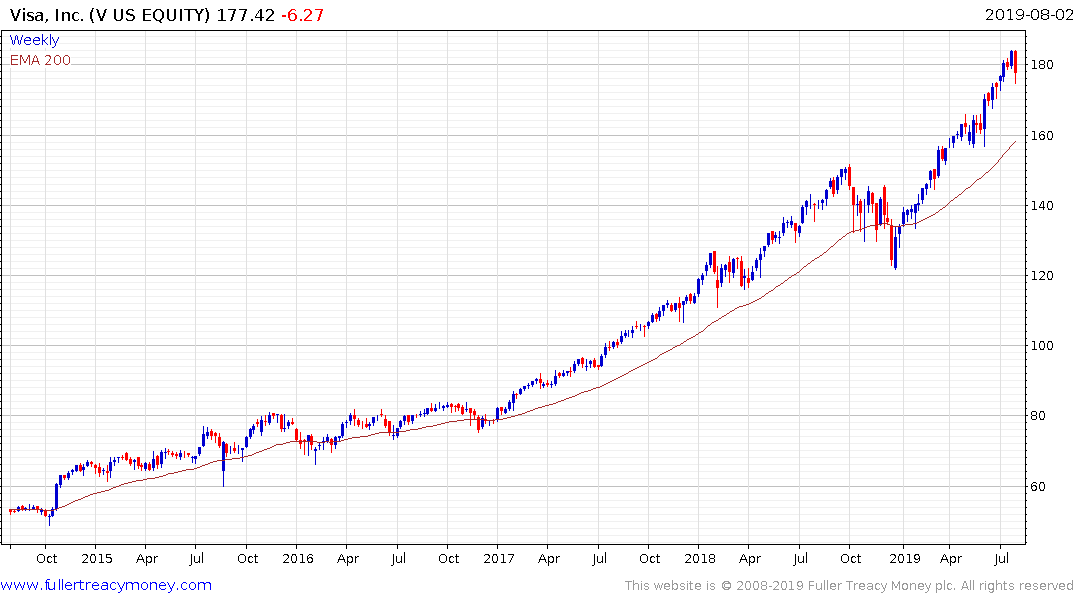 Visa hit an incremental new high this week but dropped to close below the lows of the previous three weeks. That suggests a process of mean reversion is very likely underway and downside follow through next week would confirm it.
These charts suggest at least fresh rotation is underway in markets with the bond proxy instruments which have led on the upside over the last few months now susceptible to additional mean reversion.
Back to top