The US market today is nothing like it was a century ago because of international earnings which skew the perspective of the economy the broad averages might have once been expected to deliver. Nevertheless, when the averages move in tandem it gives us a picture on what people are doing with their money.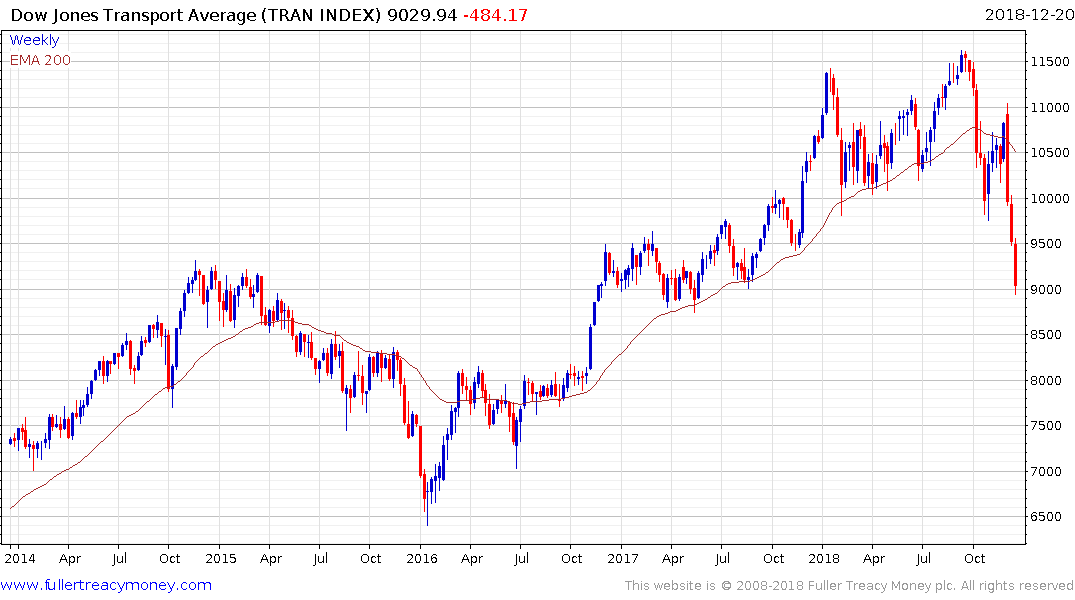 The Dow Transportations Average failed to sustain its breakout in September and has broken downwards to new reaction lows last week. It extended the decline his week and is being led lower by FedEx which reported slowing international sales this week. However, airlines are also performing poorly, with Southwest Airlines completing a Type-3 top this week. Truckers have also rolled over suggesting the decline in transportation stocks is spanning the entire remit of the sector.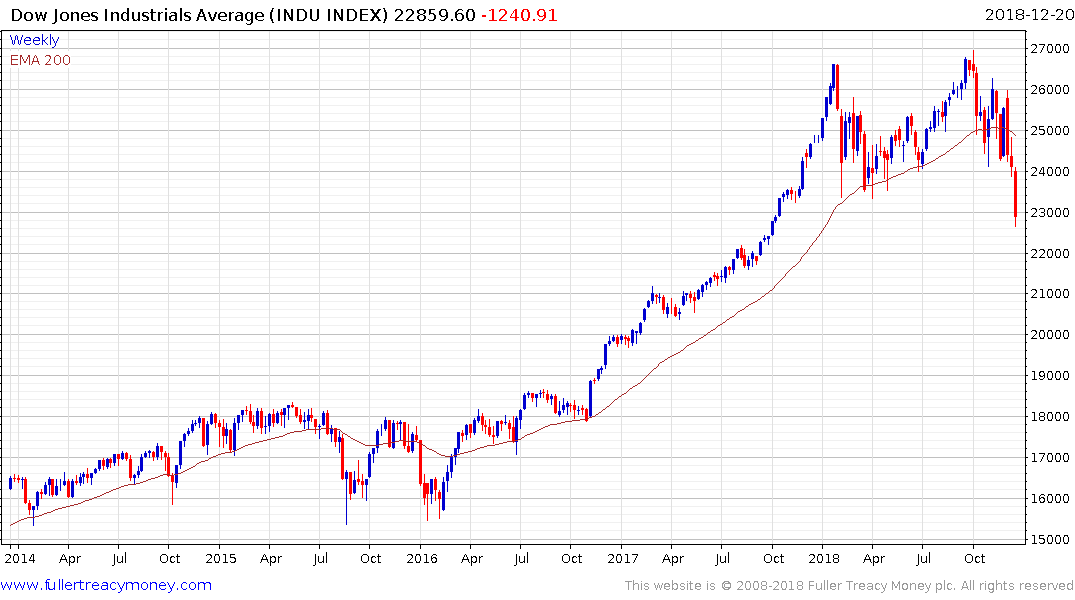 The Dow Jones Industrials Average also posted a failed upside break in October and has now broken downwards. 3M which is arguably one of the few industrials remaining in the Average has Type-1/2 top with righthand extension characteristics as it pulls back from the region of the trend mean.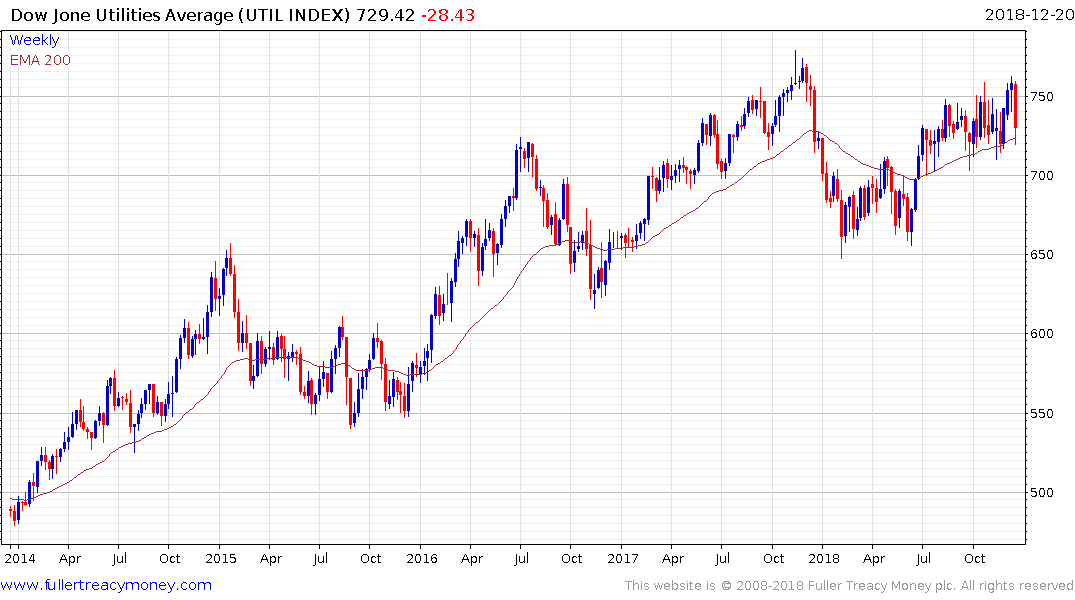 The Dow Utilities Average which is about as defensive an asset class as one might hope for has fallen every day this week and is back testing the region of its trend mean.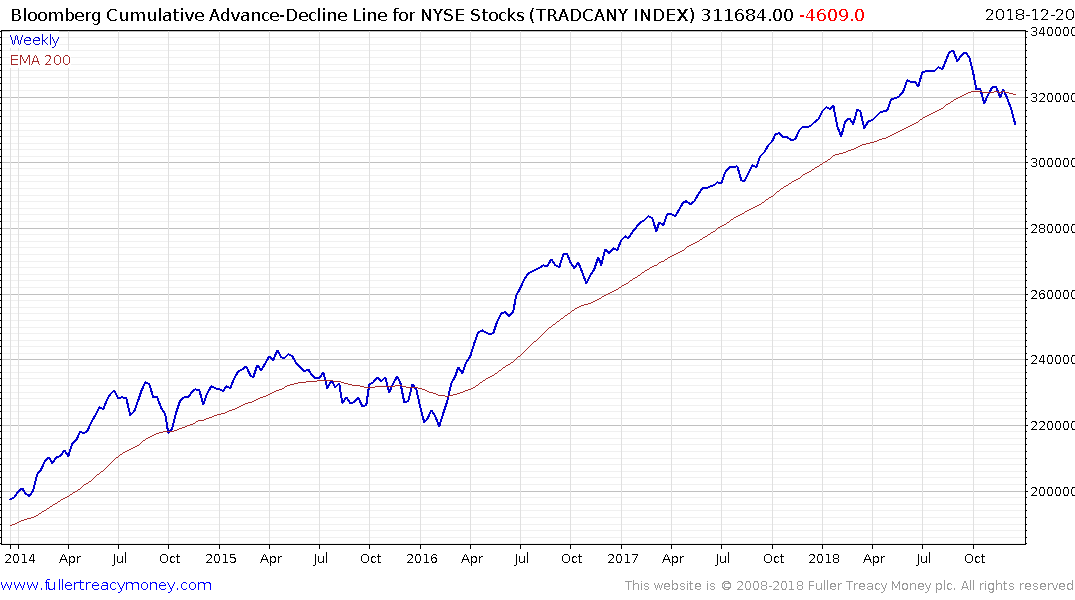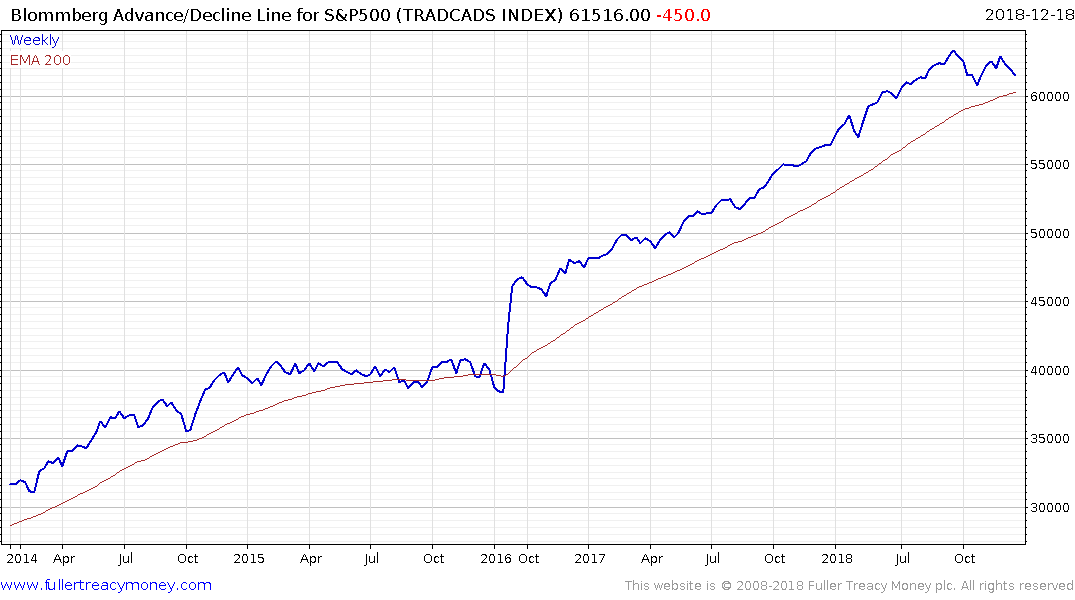 I've seen some commentary to the effect that the Advance/Decline line for the S&P500 is outperforming the broad index which is a reflection the market is performing better than at might first appear. That is perhaps true of the S&P500 but not of the broader NYSE Composite.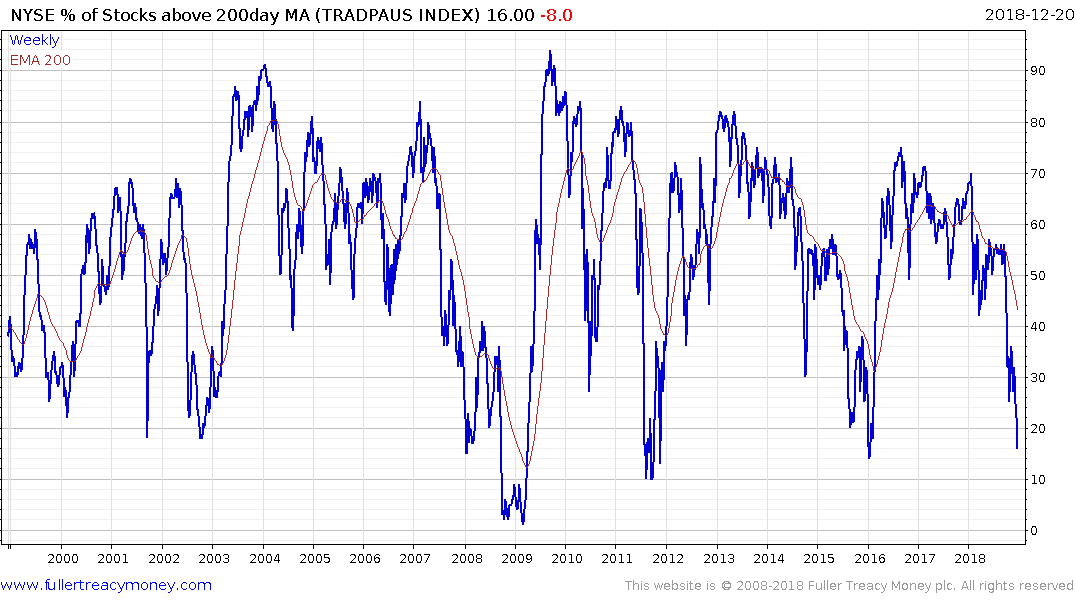 The number of shares trading below their respective 200-day MAs is currently about the same as we saw back in 2007, 2011 and 2015 but above the lows see in 2008 and 2009. That tells us this is a broad-based decline and a clear catalyst is required to check selling pressure like we saw in 2011 with QE2 or 2015/16 with the ECB's QE. The Fed demurred from providing a 'Powell Put' yesterday so the market is likely to test the Fed's resolve in sticking to its rate hike and balance sheet erosion policy with further selling pressure. The other potential catalyst would be a Chinese stimulus package but their no sign of a willingness to bail anyone out with a trade war ongoing.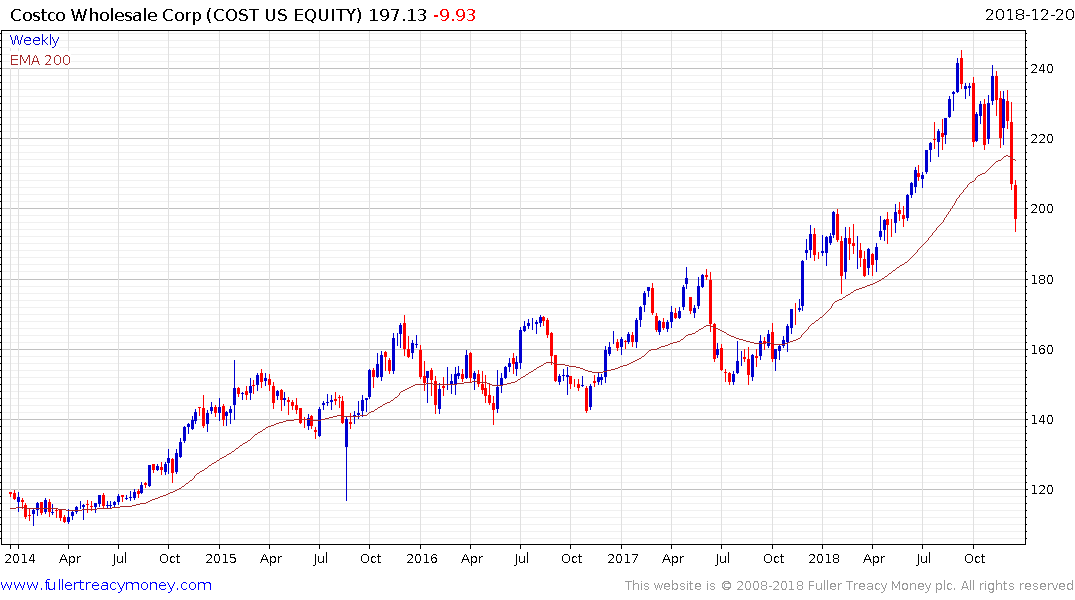 I conducted some field research yesterday and visited my local Costco last night. It was quiet. I asked the chaps in the store room, where customers collect high ticket items, how business was. They said it was quieter than last year. I know it was a Tuesday evening but we were five shopping days out from Christmas so I was expecting a busier store. The share has completing Type-2 top characteristics.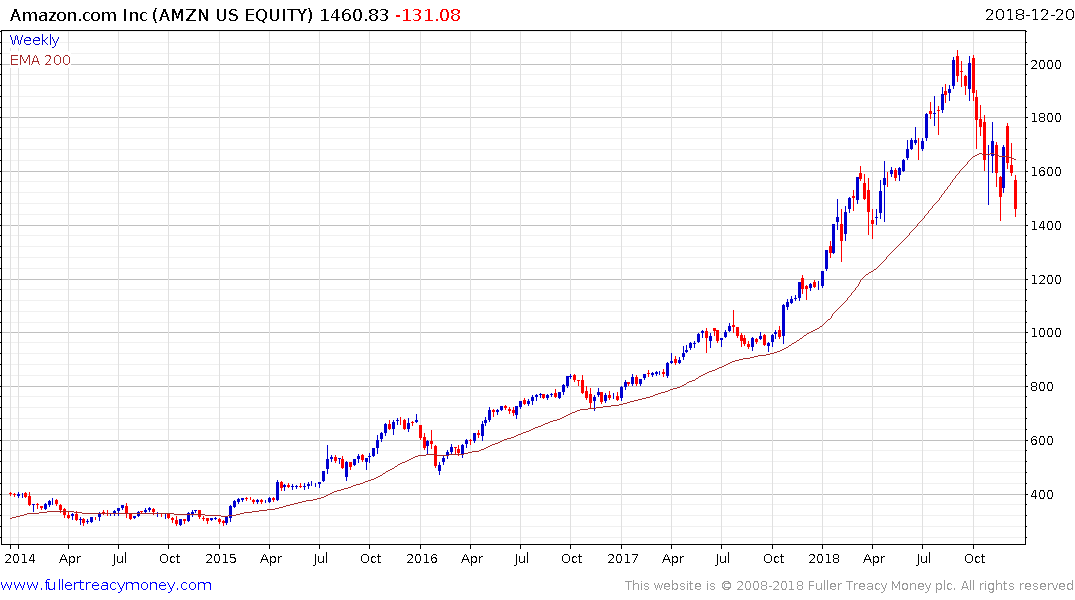 Amazon was at a new closing low today. Buy the dips is the strategy that works best in an uptrend because resolve to hold on will be rewarded with new highs. When the buy and hold strategy stops working, we have clear evidence of a change to supply dominance. The share needs to hold the $1400 area.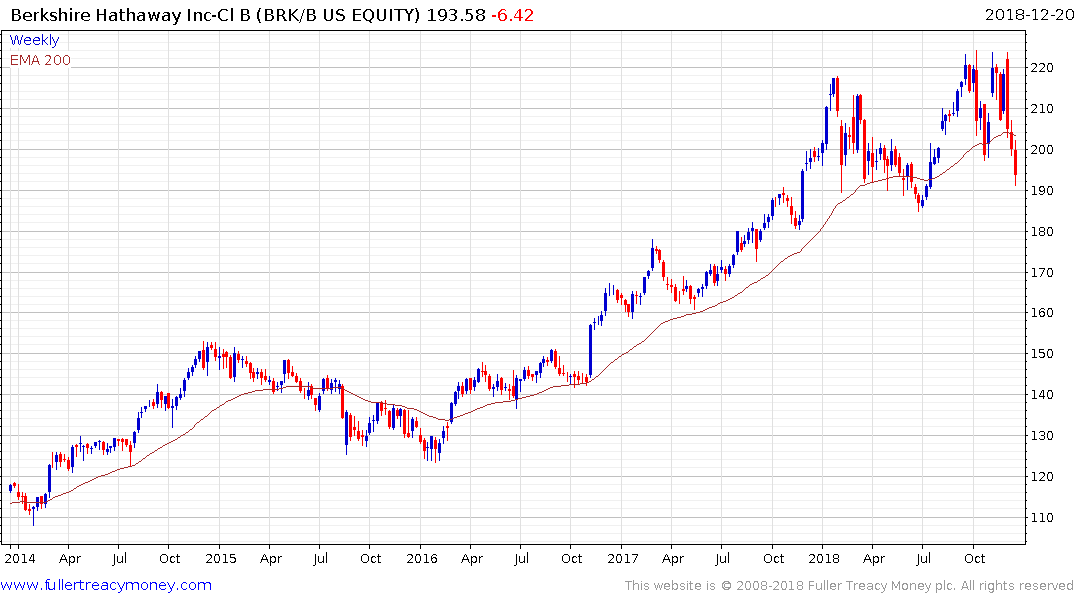 Berkshire Hathaway posted a large downside weekly key reversal at the beginning of the month and is pulling back to test its June lows. It needs to sustain a move back above the trend mean to confirm a return to demand dominance.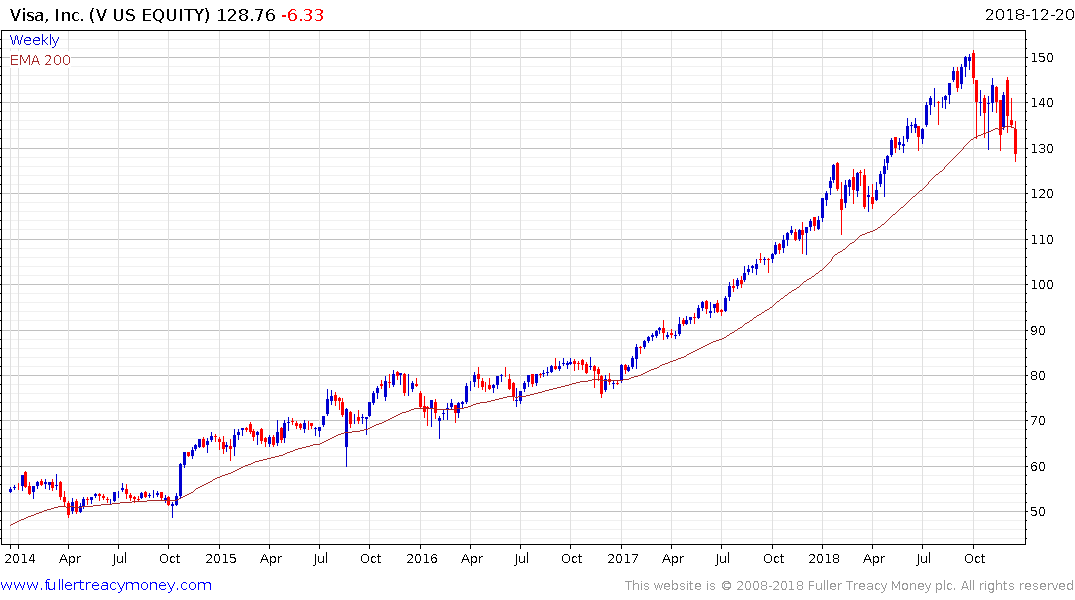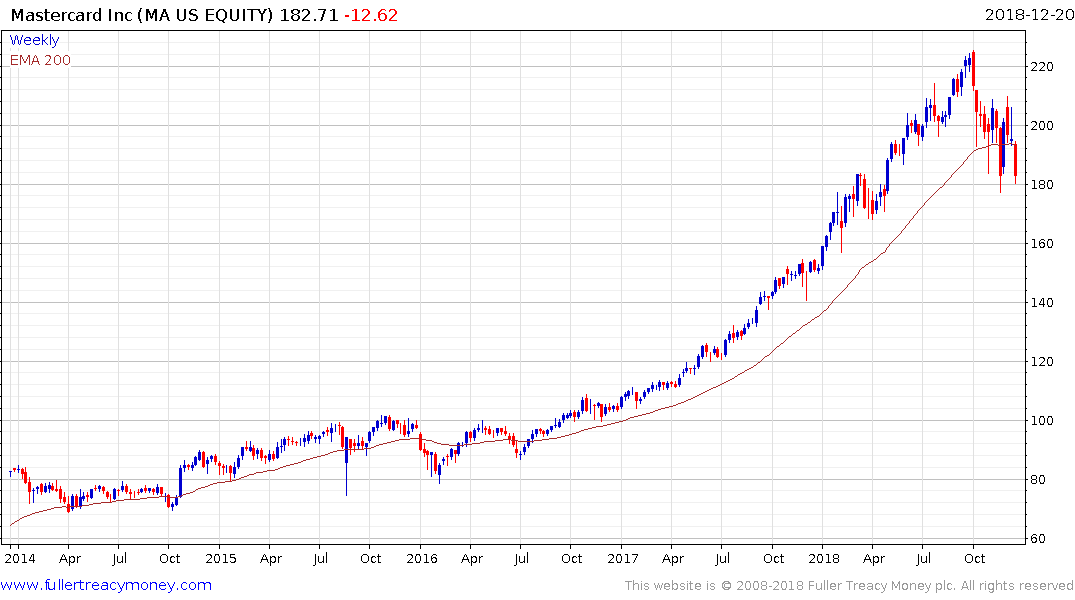 Visa and Mastercard which trade on a Price to Sales ratio of 13 and 12 times respectively both have type-2 top formation completion characteristics.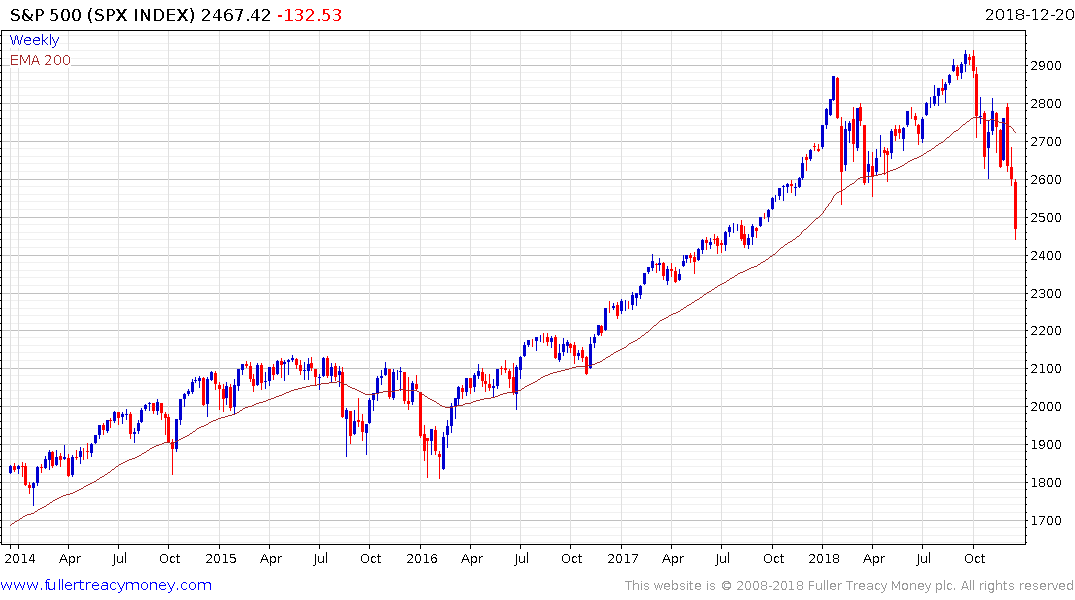 The S&P500 closed well off its low today and there is scope for a reversionary rally, particularly amid a short-term oversold condition. However, we need to see a higher reaction low and sustained move back above the trend mean to question medium-term support dominance.
Back to top