Does anyone still ask about silver?
Thanks to a subscriber for this report from UBS. Here is a section:
Here is a link to the full report and here is a section from it:

Silver has been more of an after-though in most of our conversations over the past few months, the inquiry more for completeness' sake than any indication of interest. Are we missing anything in silver? Not really, in our view. Silver continues to underperform both in absolute and relative terms. Prices are up year-to-date, but only by 1.5%, about half of gold's gains instead of typically moving at least twice as much in either direction. Unlike platinum, silver has not managed to benefit from gold strength so far this year. While we could blame the drag from industrial metals last year, so far in 2019, the argument is harder to make, with the base metals index up over 10% from the lows at the start of the year. We think poor investment interest has largely been responsible for silver's poor performance. Silver ETFs are down by 9.41moz or 1% YTD, as opposed to inflows in other precious metals. Comex positioning is up as of February 12, the latest available data from CFTC – gains have generally been tentative, but 384.69moz or 65% of the record high, silver net longs look the most extended among its peers. Interestingly, US Mint silver coin sales have actually shown an improvement this year. Granted last year's volumes were particularly weak, January and February sales so far are still above the long-term average.
Interest in precious metals has perked up over the last six months as economic figures have deteriorated which increased the scope for monetary and fiscal intervention. The potential for the trade war to ease is weighing on gold because of a perception that a hedge is not as necessary. However, the trend towards fiscal laxity may be boosted by this development rather than restricted so there is a clear reason to think about precious metals as they dip.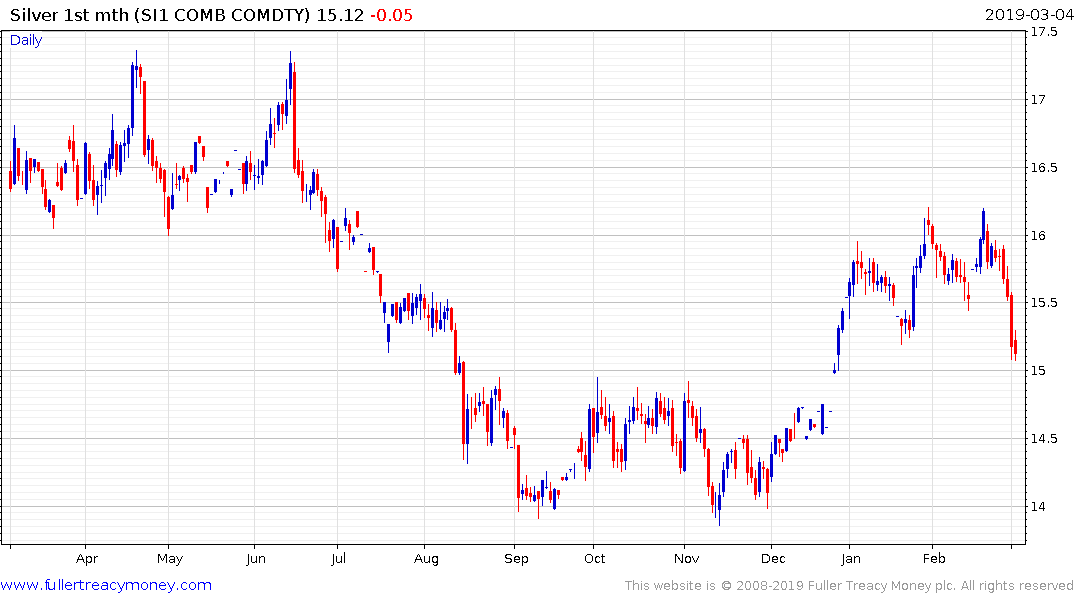 Silver has been a wallflower this year and pulled back on Thursday to break the sequence of higher reaction lows. It followed through on the downside today and is swiftly approaching the psychological $15 area. That is an important near-term area of support since it represents the upper side of the underlying base.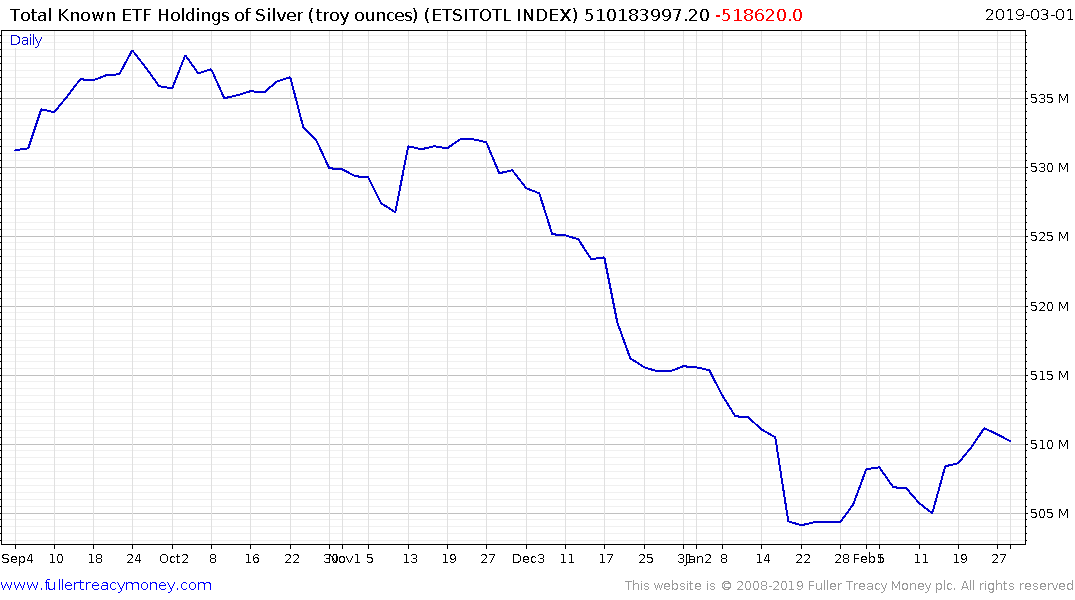 Total ETF Holdings of Silver have been rising modestly over the last couple of months. Provided that trend continues higher it will represent a tailwind for the price.
Back to top