Disney Shares Hit Record on Forecast of Streaming Surge
This article from Bloomberg may be of interest to subscribers. Here is a section:
In a presentation to investors Thursday, the world's largest entertainment company outlined plans for dozens of new movies and TV shows from those major brands, with an eye toward becoming a streaming behemoth in four years. The company expects its program spending to reach $14 billion to $16 billion annually by then.

Disney+, the entertainment giant's flagship streaming platform, also is getting a price hike. The U.S. monthly rate will climb $1 to $8 in a move that executives telegraphed earlier this year. In Europe, the price will rise 29% to 9 euros ($11) a month, although there it is getting additional content aimed at adults.

Shares of Disney rose as much as 11% to a record $171 in New York trading Friday. The stock has about doubled since March on the strength of the streaming business.

"The enormous success of Disney+ inspired us to be even more ambitious," Executive Chairman Bob Iger said at the event. "Our pipeline is much more robust than we initially anticipated," he said, adding that the Disney+ cadence should soon hit 100 new titles per year.
Disney+ ESPN and Hulu round out Disney's streaming portfolio. The transmission medium is no longer dependent on cable TV and or satellite connection which affords streaming companies an opportunity to retain more of their earnings. So far, this saving has been passed on to consumers in the form of low subscription fees. However, the route to profitability lies in price rises despite the highly competitive environment.
The big advantage companies like Disney and AT&T's HBO have over Netflix is the depth of their catalogues and the experience they have in producing and monetising hit series. I cancelled out Netflix subscription because no one was using it. Instead, we now have Disney, HBO and Hulu.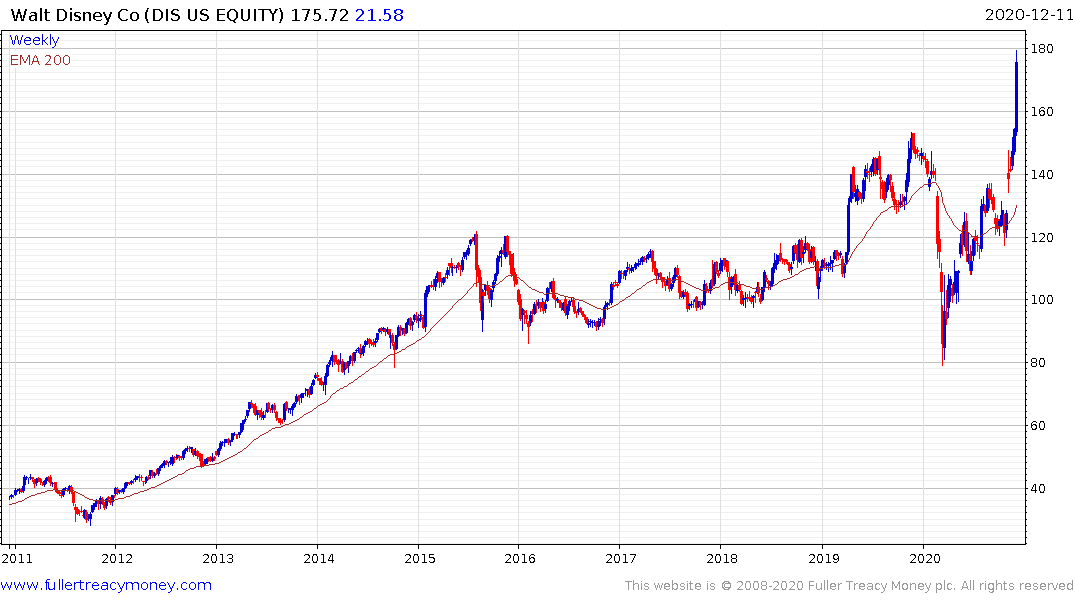 Disney broke out to new higher today. It is another example of a share that attempted to breakout ahead of the pandemic and which is now regaining momentum.
HBO's share of AT&T's income has almost doubled this in the last year but it still only reflects a fraction of the income from mobile phone business.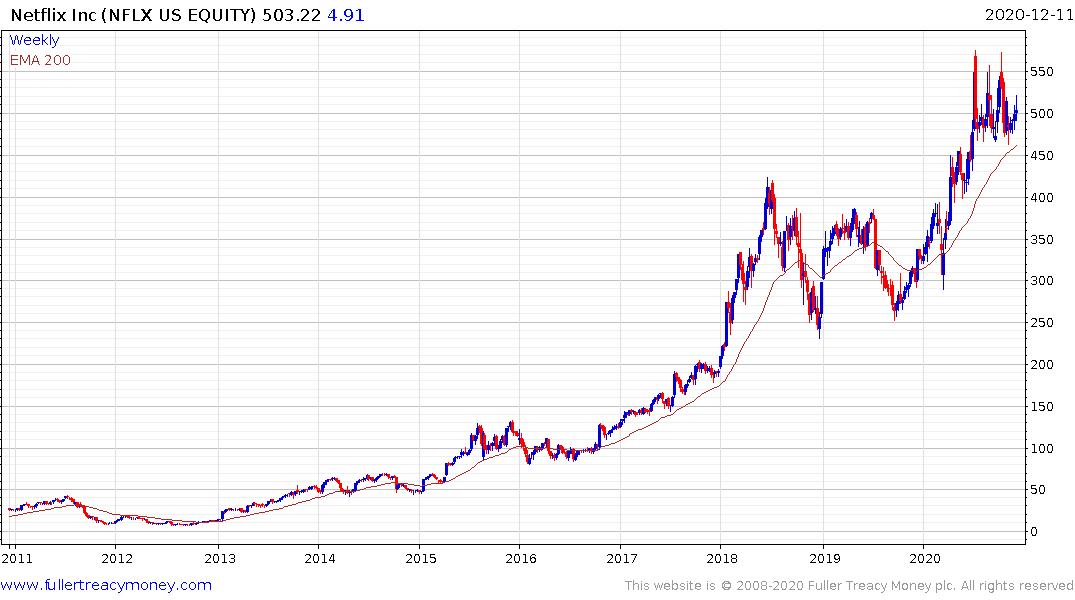 Netflix is contending with increased competition and a need to raise prices all while attempting to fund growth in emerging markets like India. The share has lost momentum and is back testing the psychological $500. Its best days may well be behind it.
Back to top