Dictatorship of Xi Jinping threatens the Chinese state itself
Thanks to a subscriber for this article by George Soros which appeared in the Wall Street Journal. Here is a section:
Mr Xi is engaged in a systematic campaign to remove or neutralise people who have amassed a fortune. His latest victim is Sun Dawu, a billionaire pig farmer. Mr Sun has been sentenced to 18 years in prison and persuaded to "donate" the bulk of his wealth to charity.

This campaign threatens to destroy the geese that lay the golden eggs. Mr Xi is determined to bring the creators of wealth under the control of the one-party state. He has reintroduced a dual-management structure into large privately owned companies that had largely lapsed during the reform era of Deng. Now private and state-owned companies are being run not only by their management but also a party representative who ranks higher than the company president. This creates a perverse incentive not to innovate but to await instructions from higher authorities.

China's largest, highly leveraged real-estate company, Evergrande, has recently run into difficulties servicing its debt. The real-estate market, which has been a driver of the economic recovery, is in disarray. The authorities have always been flexible enough to deal with any crisis, but they are losing their flexibility. To illustrate, a state-owned company produced a Covid-19 vaccine, Sinopharm, which has been widely exported all over the world, but its performance is inferior to all other widely marketed vaccines. Sinopharm won't win any friends for China.

To prevail in 2022, Mr Xi has turned himself into a dictator. Instead of allowing the party to tell him what policies to adopt, he dictates the policies he wants it to follow. State media is now broadcasting a stunning scene in which Mr Xi leads the Standing Committee of the Politburo in slavishly repeating after him an oath of loyalty to the party and to him personally. This must be a humiliating experience, and it is liable to turn against Mr Xi even those who had previously accepted him.

In other words, he has turned them into his own yes-men, abolishing the legacy of Deng's consensual rule. With Mr Xi there is little room for checks and balances. He will find it difficult to adjust his policies to a changing reality, because he rules by intimidation. His underlings are afraid to tell him how reality has changed for fear of triggering his anger. This dynamic endangers the future of China's one-party state.
Here is a link to the full article.

Governance is everything but it is not an absolute designation. The most important think about standards of governance is the trend. As we look around the world the trend is not encouraging in many countries but it is accelerating lower in China.
As the trend in standards of governance deteriorate, the sustainability of the leverage on which growth has relied becomes more tenuous. That's what the trend of underperformance in China Evergrande indicates.
Bringing the entire economy to heel, in service to political idealism, is no small task and risks doing serious damage to the economy. I remain of the view that China is uninvestible from the perspective of a long-term investor. The risk of total loss is just too high.
The clamp down on property developers and hot money in the mainland property market is fuelling speculation in Hong Kong property where prices are making new all-time highs.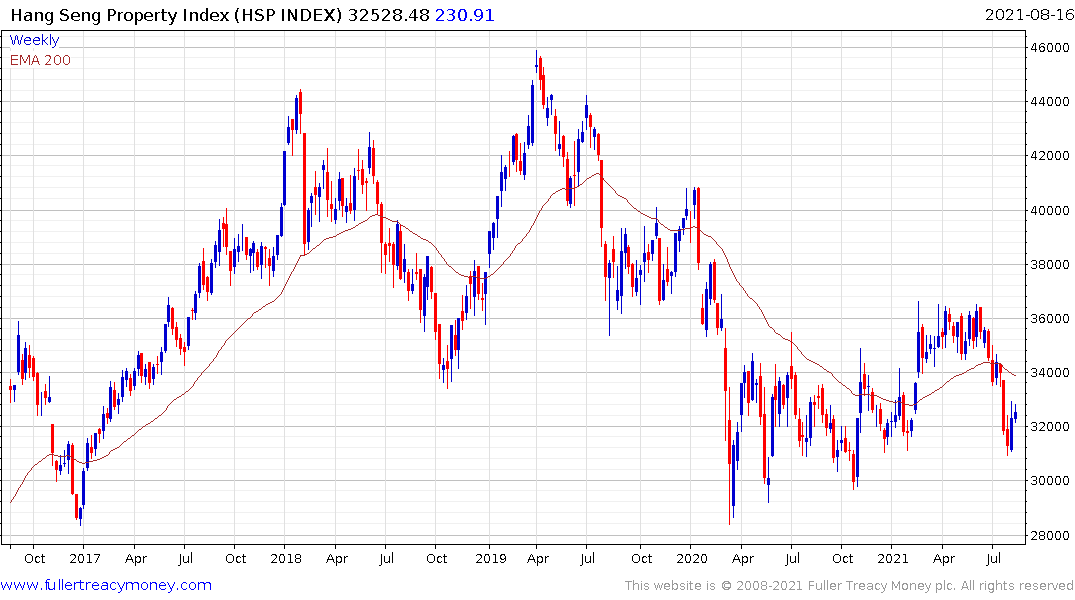 The Hang Seng Property Index is currently firming from the lower side of its medium-term range and continues to post a sequence of higher reaction lows.
Back to top