Deliveroo Sinks 31% After IPO as Funds Shun Gig-Worker Model
This article by Swetha Gopinath for Bloomberg may be of interest to subscribers. Here is a section:
"It's not a great endorsement of setting IPOs in the U.K.," said Neil Campling, analyst at Mirabaud Securities. "You have the combination of poor timing, as many 'at home' stocks have been under pressure in recent weeks, and the well-publicized deal 'strike' by a number of A-list institutional investors."

Investors are also souring on the fast-growing companies that benefited during the pandemic. Doordash Inc. has slumped 23% this month, and European rivals Just Eat Takeaway.com NV and Delivery Hero SE have also fallen this year.

"The window for tech-driven IPOs just couldn't be worse," said Oliver Scharping, a portfolio manager Bantleon AG. "Deliveroo was trying to keep the window open with brute force." Among the losers in the IPO will be retail investors, who were given the option to buy shares via Deliveroo's app. Retail investors will only be able to trade the stock from April 7.
Food delivery is most prevalent in China. The price war between Alibaba's Ele.me and Meituan Dianping is aggressive and keeps prices low. However, no one is under any illusion that it is profitable. Meanwhile both rely on an army of low paid migrant workers, willing to brave traffic and the elements, to make deliveries. This group have no rights. They also reside outside of the Hukou family registry system, so they are effectively anonymous.
The availability of money for loss making businesses has not been a problem for the delivery companies that sprung up all over the world. They are all a product of low interest rates and the perception that people prize convenience over all other factors.
The challenge today is that interest rates are rising and workers' rights groups are gaining traction everywhere. If the last forty years has been about deregulation and dominance of company interests, that trend is now under threat. Uber's failure to keep worker' rights at a distance in the UK represents a significant challenge for all gig-economy stocks in the country. It also represents a precedent for aspiring unionisation efforts globally.

This article from Andreessen Horowitz offers their best guess at what the most valuable online marketplaces are. Instacart is at the top but it is another delivery company whose valuation is dependent on people staying at home and subsisting on deliveries.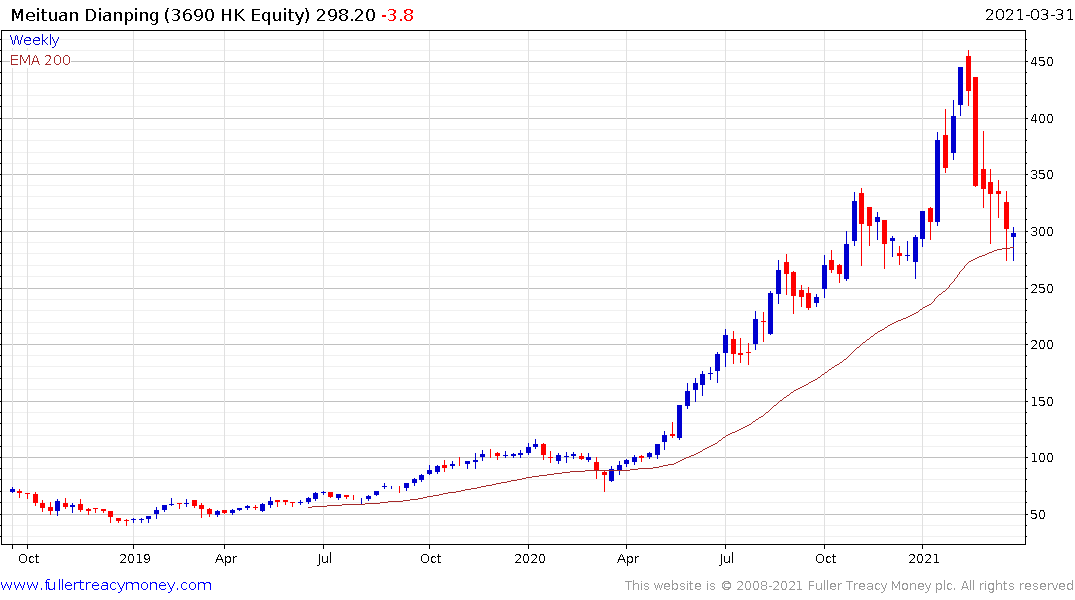 What sets Meituan Dianping apart is they have successfully gamified the food/restaurant experience. It's still a loss-making company but it does potentially benefit from the Chinese government's determination to reduce Alibaba's dominance.
Back to top