Delhi JAL Board website
Thanks to a subscriber for highlighting this site which illustrates how much progress Delhi has made in water infrastructure, what is planned this year and what the long-term objectives are. Here is a section:
(The work of laying sewerage facility in 162 U/A colonies is in progress. Out of total 9500 km appx. sewer to be laid, action for laying 407 km appx. is being taken up in current Financial Year)

Yamuna Action Plan: Under YAP-I, two S.T.Ps of 2.2 MGD each were constructed at the mouth of Delhi Gate and Dr Sen Nursing Home drains at total cost of Rs. 11.52 crore in 1996. Under YAP-II, 5 projects i.e. 12 MGD new STP at Keshopur, rehabilitation of 20 & 40 mgd STP at Keshopure, 30 mgd STP at Okhla, Laying of peripheral sewer line at Wazirabad Road for U/A Gp. of colonies, Rehabilitation of Bela Road Trunk sewer and Rehabilitation of Ring Road Trunk sewer were completed. Under YAP-III it is proposed to undertake rehabilitation of sewerage system ( Kondali & Rithala catchment), Rising mains (Kondali & Rithala catchment), Tertiary treatment Plants ( Kondali, Rithala and Okhla catchment) and Waste Water Treatment Plants( Kondali, Rithala and Okhla catchment)

Use of treated effluent: Present use of treated effluent is 142.4 MGD from Keshopure, Okhla , Coronation Pillar, Delhi Gate, Sen Nursing Home and Rithala STP. and proposed for adding 66 MGD in near future for power plant at Bamnoli, Horticulture by DDA in Dwarka etc. The notification for sale of treated effluent @ Rs. 7 per KL has been published.}

Sale of dry Sludge: lot of dry sludge(manure) is being produced regularly at various Sewage Treatment Plants of Delhi Jal Board as a by-product . This manure being rich in nutrients i.e Nitrogen, Phosphorous, Potassium and other valuable organic matter is quite useful for agriculture as a fertilizer and a soil conditioner. This manure, is henceforth available Free of Cost to the intending consumers from DJB's Sewage Treatment Plants.
One of the reasons Narendra Modi attracted so many votes was because people despaired that progress on infrastructure would ever be achieved. It will be argued in some quarters that the measure we are now seeing the fruits of were introduced in the late stages of the last administration, but Modi will still probably get the credit. India needs vital infrastructure like water, sewage, roads, rail, ports and electricity to drive economic growth and to attract manufacturing. It's an ideal time, with commodity prices still reasonable but it will have to move quickly because the pace of technological innovation is changing the paradigm of how growth was achieved in past cycles.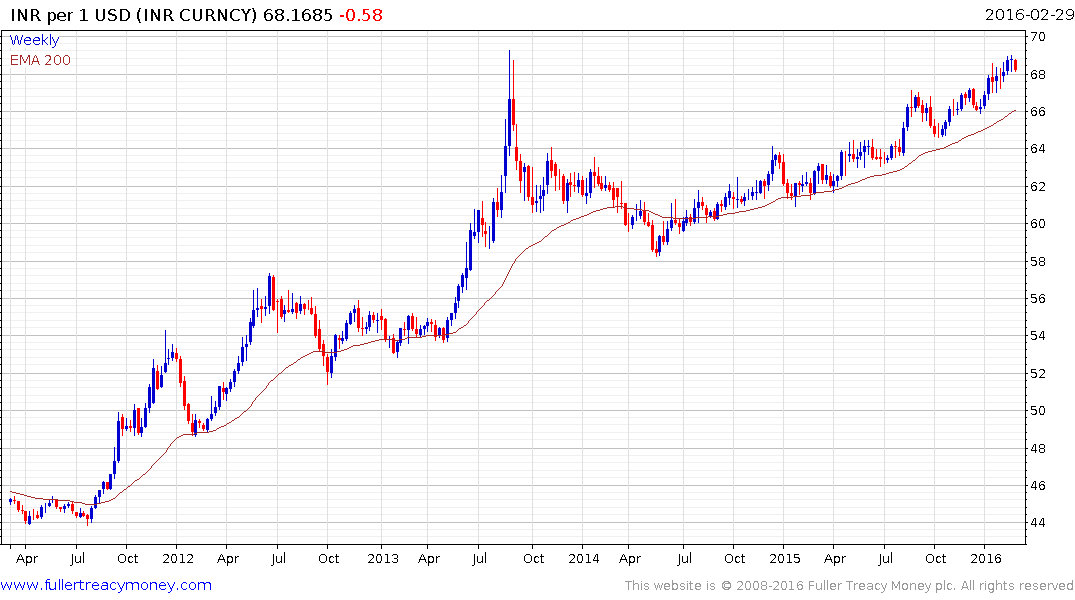 The Rupee steadied today from the region of its 2013 nadir and potential for some additional steadying has improved. Nevertheless, the central bank wants a weaker currency over the medium-term and a sustained move below the trend mean would be required to question that view.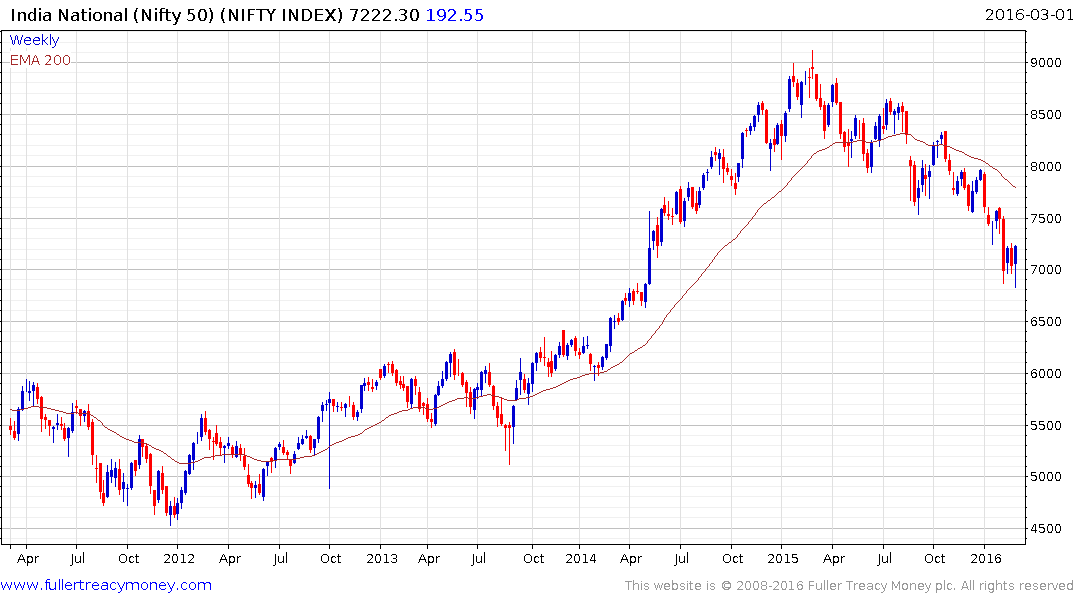 The Nifty Index has a similar oversold condition and also steadied today. Potential for a reversionary rally has improved but a sustained move above the trend mean, currently near 7800, would be required to suggest more than near-term support has been found.
Back to top