Deep Thaw Below Arctic Circle Risks $30 Billion Nordic Industry
This article by Jesper Starn for Bloomberg may be of interest to subscribers. Here is a section:
The forest floors below the Arctic Circle are usually frozen solid this time of year, hard enough to support the giant timber machines needed to harvest their wood.

But that's changing, according to the foresters who work the land in Finland and Sweden. Unusually mild winters are turning once icy grounds into thick layers of mud capable of swallowing up the 25-ton vehicles used to gather the materials that go into pulp, paper and packaging.

"We will see more and more of these difficult conditions,"

Uno Brinnen, head of forestry at Sweden's BillerudKorsnas AB, said in an interview. "It will always shift between warm and cold winters, but the long-term trend seems clear."

Temperatures across large swathes of Sweden were as much as 3 degrees Celsius (5.4 degrees Fahrenheit) higher than normal in December and January, according to the Swedish Meteorological and Hydrological Institute. That warming forms part of a trend that's likely to persist, according to SMHI, whose scientists expect temperatures to continue rising over the next six decades because of climate change.

The travails increasingly experienced by Nordic foresters underscore the economic impacts of climate change. Even as warming temperatures in and around the Arctic Circle frees waterways and reveals new paths to exploit natural resources, countries and companies in the region are being forced to adopt new ways of conducting traditional business.
Lumber prices have pulled back over the course of the last month but are still holding the breakout from a 25-year range. The renegotiation of NAFTA rules on trading lumber across the US/Canadian border, the long-term impact of mountain pine beetle infestations, which are themselves a result of milder winters, coupled with warmer weather in Scandinavia and stronger economic growth are driving a supply inelasticity bull market in lumber.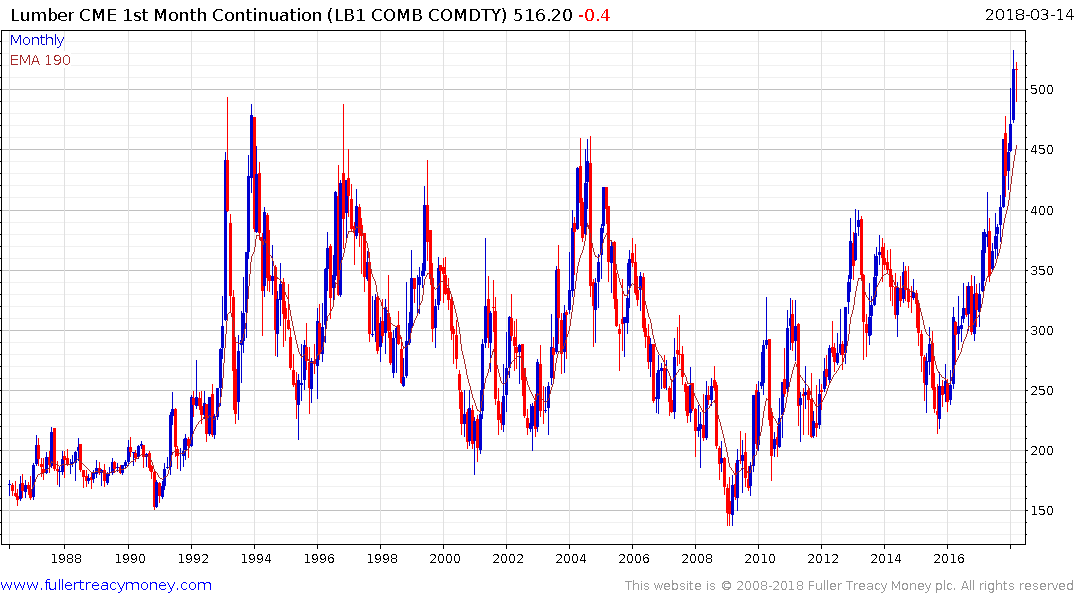 Of the Swedish and Finnish timber/paper shares listed in this article the majority are still in consistent medium-term uptrends.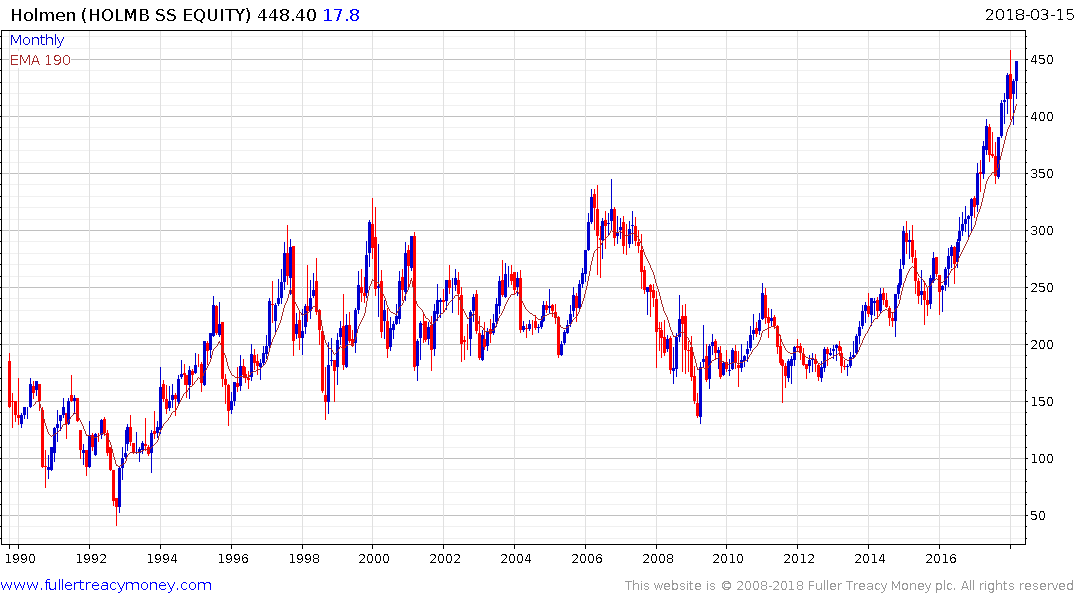 Holmen broke out of a 19-year range in 2016 and continues to hold a progression of higher reaction lows.
Back to top