Deep Dive into Digital Era of Gaming
Thanks to a subscriber for this report from Barclays which may be of interest. Here is a section:
Gaming data points available today point to an industry facing challenges: The number of physical games sold in the US has declined every year for the better part of the last decade, the install base of consoles is well below the prior cycle peak, and the physical attach rate of software is below where it was in the last two console cycles. However, this is the old way of analyzing this business and in the new "Digital Era" of video games, the business has shifted from one that is hit-driven and reliant on physical retail to an industry that is largely online (over 60% digital and could arguably shift completely online longer term), more recurring and predictable, more monetize-able, and significantly more profitable.

When we consider that the number of games sold as digital copies continues to grow at 20- 30% each year, notably the market for console software is actually growing – albeit at a single-digit rate. Add to that, the install base of hardware continues to progress towards 100mn+ HD units and, while the physical attach rate of software is below where it was in the last two console cycles, the focus on deeper engagement and higher player monetization through digital content appears to be largely offsetting the impact of fewer game sales. We remain optimistic that newer hardware including Nintendo's Switch and Microsoft's Xbox One X can re-invigorate the market for games and are encouraged by some early trends. US retail sales are tracking up mid-single digits year over year in 2017 and, adjusting for sales of digital games, it appears that the number of games sold each year in the US is stable y/y.

In the Digital Era, gaming content will always be available and players will have access to games in more ways than ever. The industry will become far more global and fragmented across devices than before, which will increase the potential audience for gaming content substantially. We are cautiously optimistic on the potential for traditional video game publishers to further penetrate the rapidly-growing markets in China and on Mobile, however, and we remain on the sidelines regarding the emerging interest in eSports and VR. Nonetheless, we still believe the value proposition of games remains very high relative to other forms of media and we are encouraged that the new revenue TAM in the Digital Era is dictated only by the amount of time players have to engage with games, rather than by the number of consoles in their hands.
Here is a link to the full report.

Gaming is evolving into a much larger industry than movies. Audiences at theatres continue to decline, not least because of the lackluster "cookie-cutter" nature of many movies but also because audiences have more to do and have both online games and content available 24/7. That represents a significant migration within the media sector which is easily observable in the performance of respective shares.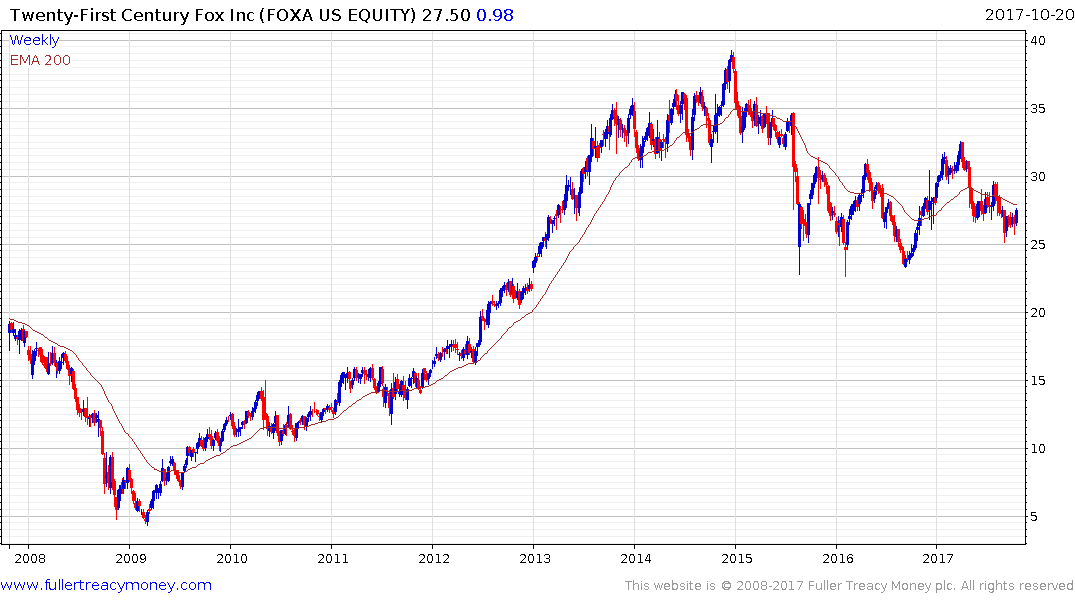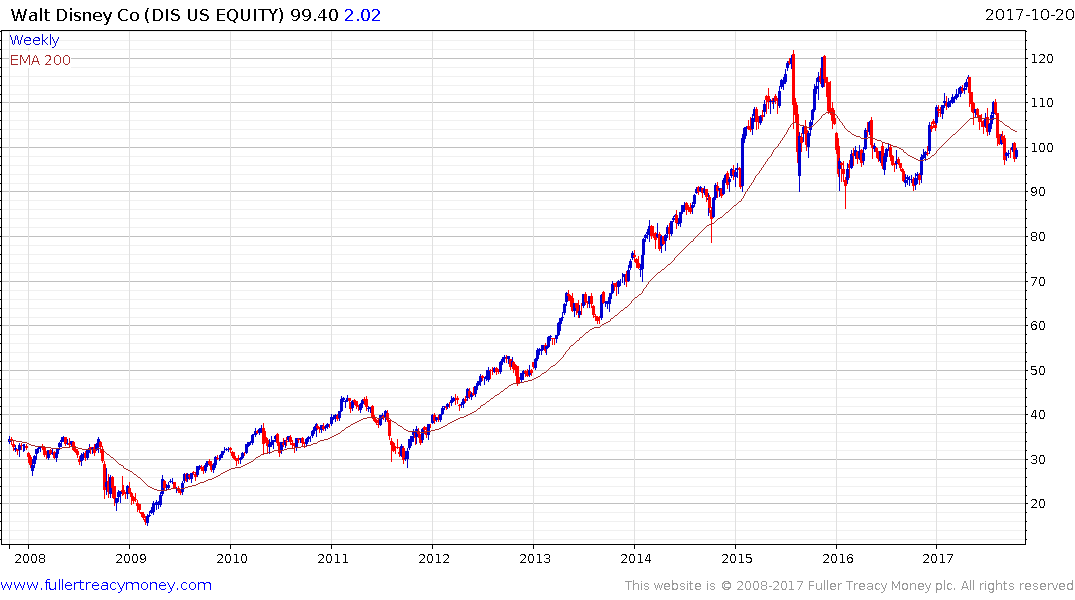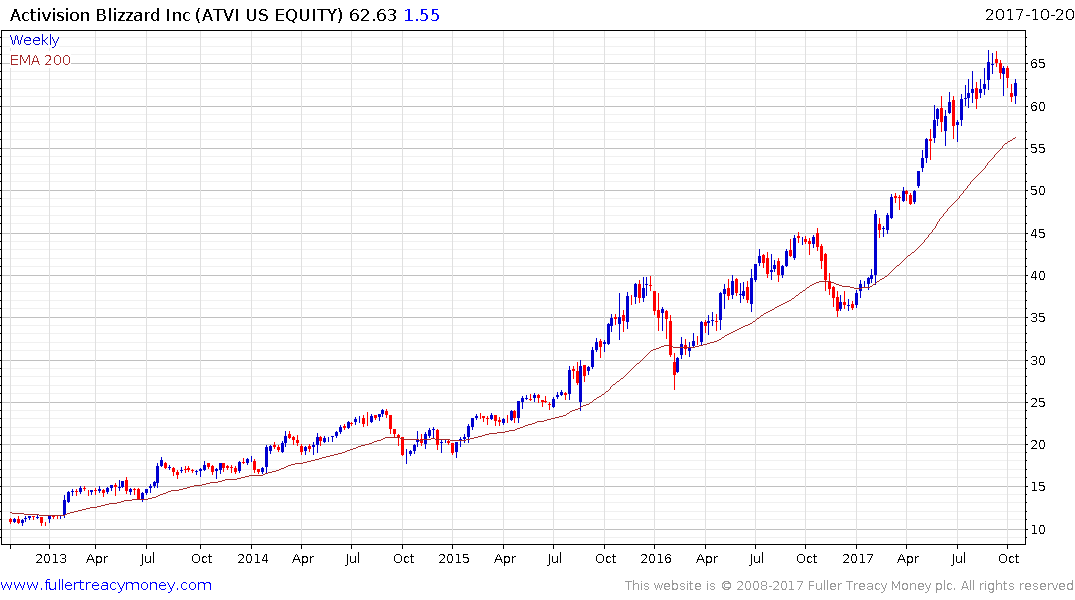 Both 21st Century Fox and Disney are no longer trending higher while Activision Blizzard has been among the best performing large cap shares over the last four years. It is engaged in a process of mean reversion but a sustained move below the trend mean would be required to question medium-term scope for additional upside.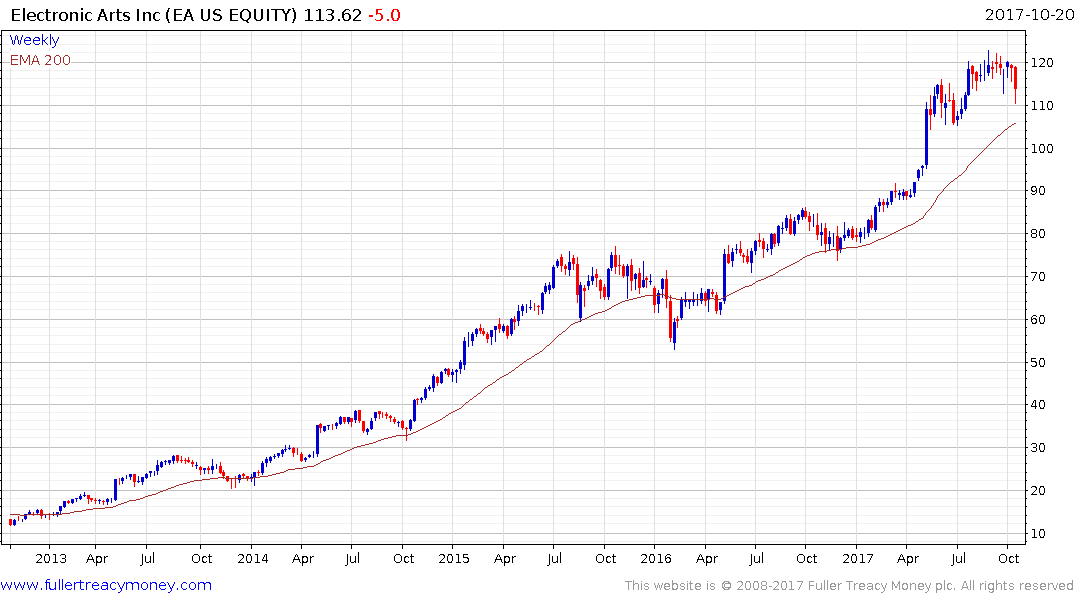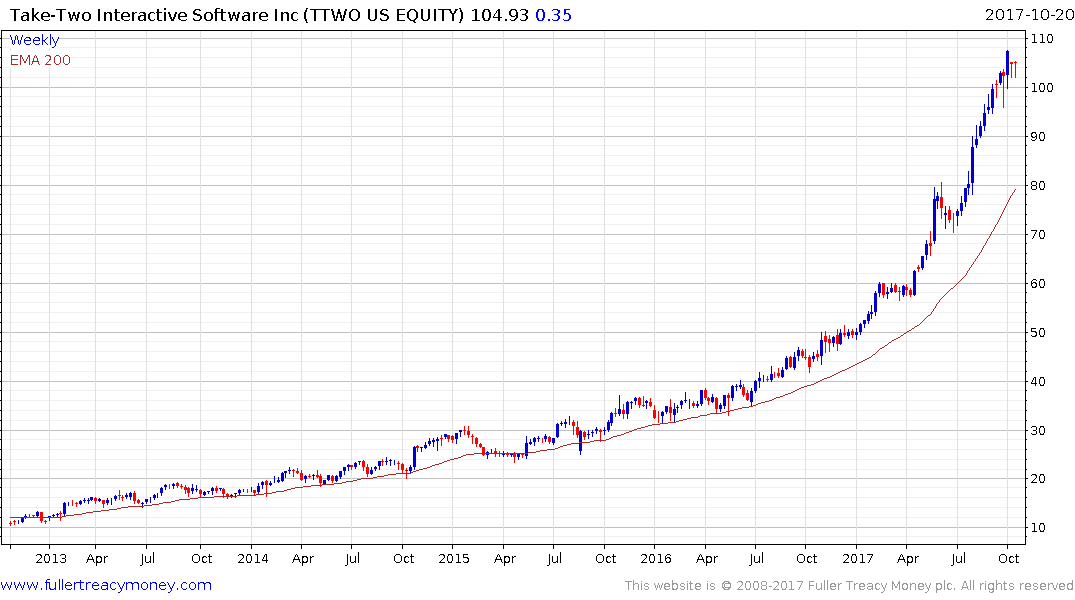 Electronic Arts has a similar pattern while Take-Two Interactive Software is now susceptible to mean reversion following a particularly impressive advance over the last year.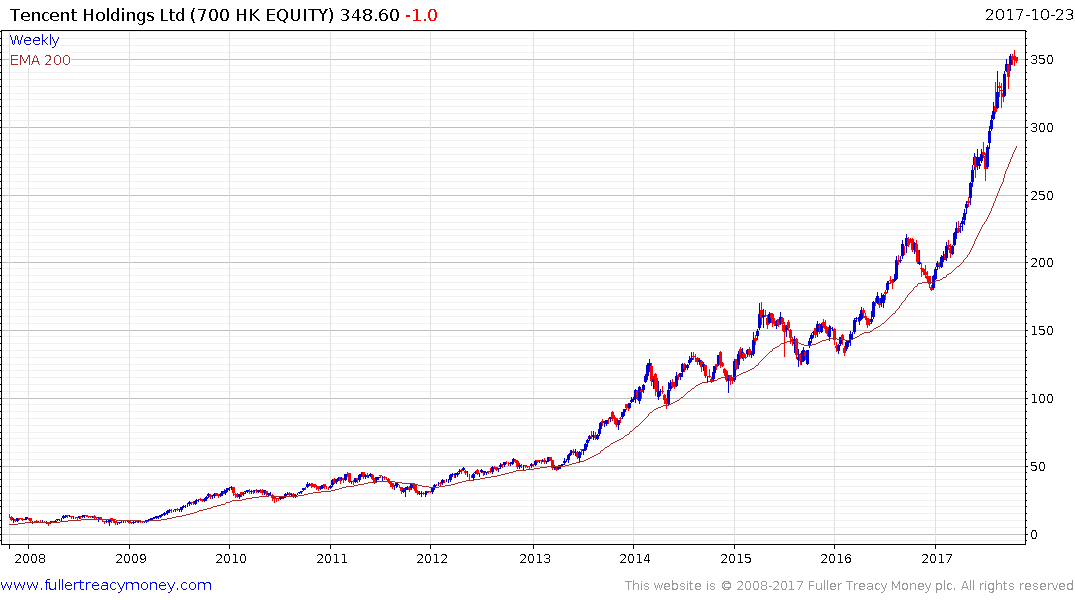 Gaming represents almost half of Tencent Holdings revenue. The share is also susceptible to some consolidation following what has been an accelerated advance over the last few months.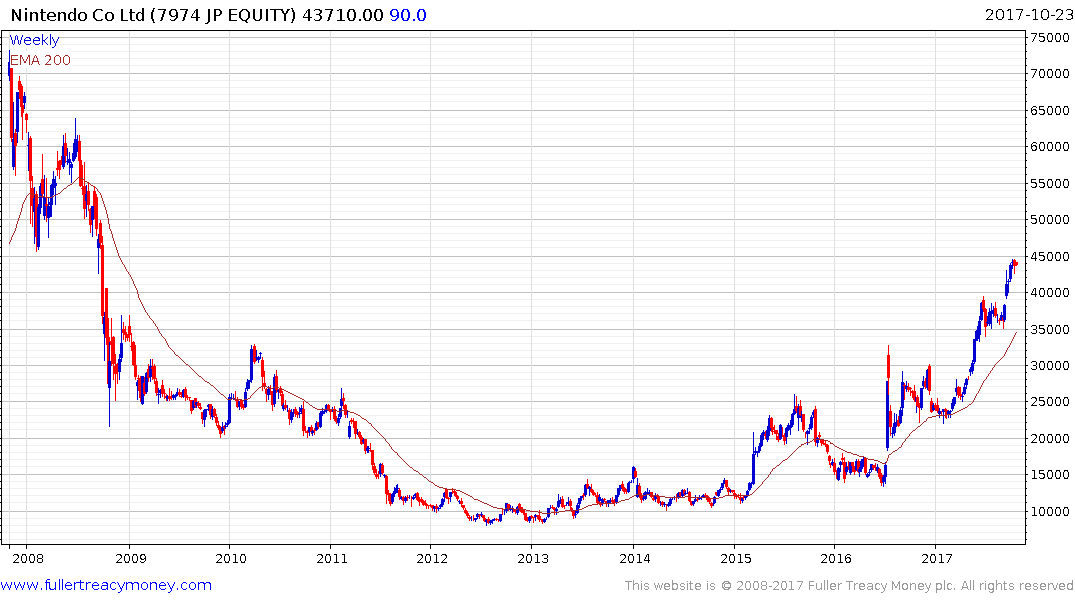 Nintendo completed its base formation in 2015 and completed a first step above it when it released the Switch console. It is somewhat overextended relative to the trend mean at present but a sustained move below it would be required to question medium-term scope for additional upside.
Back to top