Cummins Westport Recalls 25,000 Nat-Gas Engines
This article from Transport Topics may be of interest to subscribers. Here is a section:
The recall covers 16,746 ISL G 8.9-liter engines that had their engine control modules recalibrated between September 2007 and January 2013, as well as 5,713 ISL G engines produced in 2013 and 2014. It also includes 2,554 ISX12 G 12-liter engines produced in 2013 and 2014, Cummins and Cummins Westport told the National Highway Traffic Safety Administration, which publicized the recalls Feb. 28.

Cummins and Cummins Westport told NHTSA that in cold weather, the temperature and pressure sensor may ice over, causing the engine to take in too much fuel. This could overheat the exhaust and cause fires in the exhaust pipe, as was reported in two cases.
Subscribers will be familiar with our long held view that unconventional oil and gas production is a game changer for the energy sector. As demand for natural gas as an alternative to expensive oil and polluting coal continues to trend higher, the range of vehicles that use natural gas as a fuel also remains on an upward trajectory.
A product recall is never good news but the above announcement can be interpreted in a number of ways. The negative slant would be to say that this is still a developing technology that has dangerous bugs. The more positive attitude would be to say they have already sold 25,000 engines in this class reflecting demand for their products.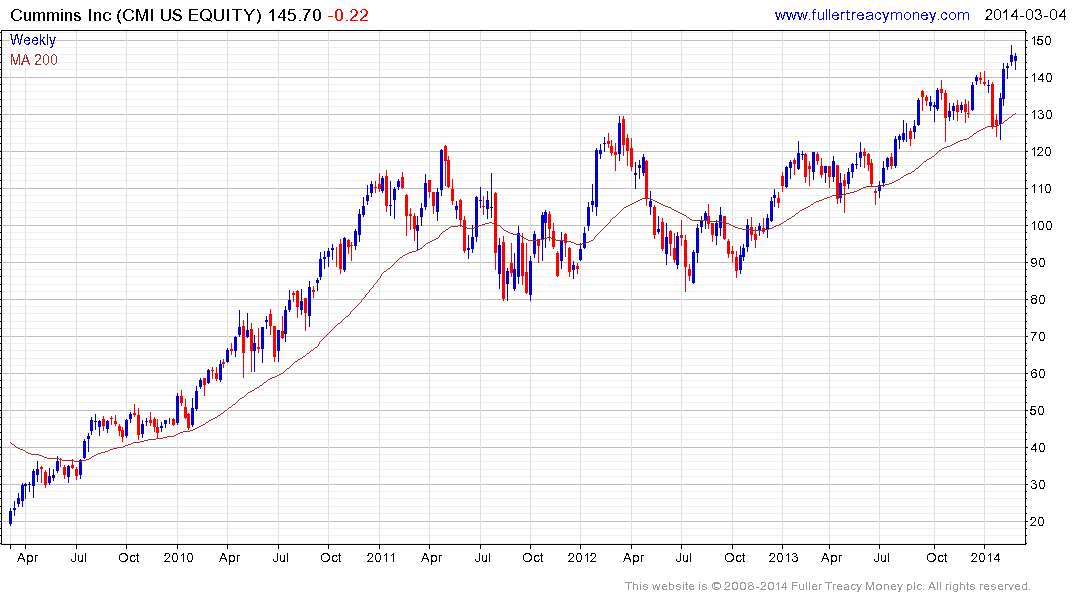 Cummins (P/E 18.94, Est P/E 16.51, DY 1.72%) is well known for its diesel engines but also builds natural gas powertrains for cars, trucks, trains and ships, all of which represent growth segments. The share broke out of an almost three-year range in August, spent six-months consolidating the advance and broke out again in February. While somewhat overbought in the very short-term a sustained moved below $120 would be required to begin to question medium-term scope for additional upside.
Back to top